Restorative Dentistry Research
Hard Tissue, Biomaterials and Translational Research to Improve Patient Care Outcomes Heading link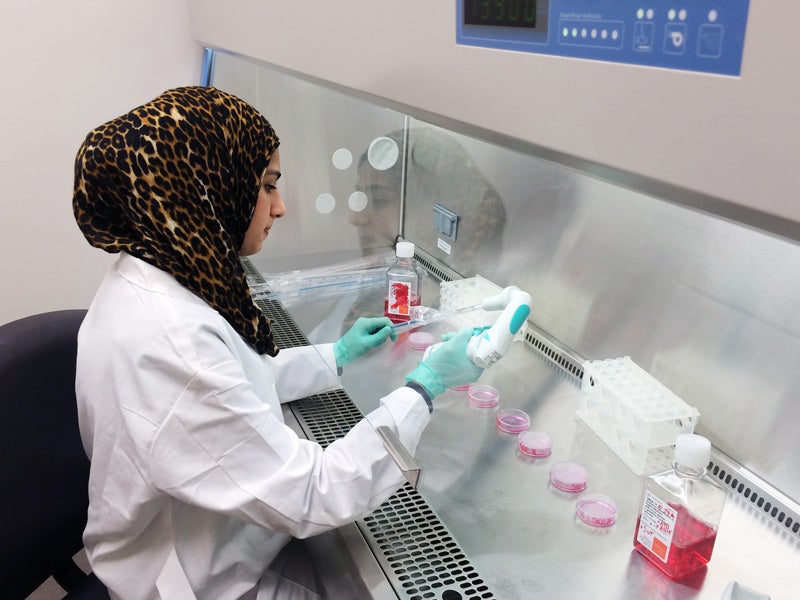 The Department of Restorative Dentistry is committed to ongoing research focused on advancing oral health and in support of the ongoing scholarly development, enrichment, and programs for our students and faculty. This includes laboratory-, clinical-, and educational-based research initiatives. We have a broad range of internal and external collaborations that embrace biomaterials science, molecular biology, education, and the clinical sciences. Our faculty are recognized experts and leaders in their respective disciplines.
Department research is funded through a variety of sources including NIDCR, the University of Illinois at Chicago and College of Dentistry competitive Grant Programs, as well as numerous competitive grant programs established by corporate and professional organizations. Many of our students, faculty, and programs have been recognized with national honors for their research.
The Department Research is focused on three core areas:
Hard Tissue, Biomaterials and Translational Research
Clinical – Patient Care Outcomes Research
Educational Research
The Department has extensive ongoing patient care research related to a wide variety of topics including outcomes related to: 1) educational programs, 2) implant and prosthetic patient care, 3) and esthetics. We have over a dozen active IRB's approved for these research efforts. The Advanced Prosthodontic Students complete meaningful research projects as part of their program and in the process of working towards the Master of Oral Sciences degree. We have a formal mentoring program for our students and faculty that ensures guidance and the development of sound research programs and careers. There are currently 30 students engaged in graduate level research as part of our programs.
Hard Tissue, Biomaterials and Translational Research
Diverse tissues/biomaterials and their unique biointerfaces have been designed by nature to build a complex and sophisticated mastication system. Particularly tooth and supporting tissues are composed of biomaterials with a distinct biochemistry that respond differently to internal and external stimuli. The tooth is a very complex structure that can be modified over time due to aging and disease processes. Much progress has been observed regarding the tissue composition and mechanical behavior, but there are still many questions that remain unanswered that can provide insights into the development of new biomaterials and effective therapies. Using state-of-the-science technology and inter-disciplinary team approaches, the UIC group is on the forefront of the translational and applied sciences for the characterization of tissue response to biomaterials and the development of bioinspired preventive, restorative/reparative therapies.
The goals of the group include: 1) develop and systematically characterize bioinspired strategies to enhance the properties of the tissue and biointerfaces; 2) develop novel therapies to replace and repair tooth structures and supporting systems, 3) translate and validate bench-top technology to every day clinical practice. The ultimate goal is to improve dental therapy outcomes and the quality of life. The group is also engaged in broad range of classic laboratory based biomaterials and prosthodontic sciences, as well as caries research.
Another focus area of research is Tribology and the modification of surfaces for implantation. Specific expertise and efforts focus on the impact of Tribocorrosion on titanium and endosseous dental implants. In addition, the modification of titanium surfaces with novel methodologies is being employed to create more robust surfaces that can provide for a stable long-term interface.
Research Group: Interactive and continuously growing core of clinicians and scientists, inter-disciplinary collaborators and specialized staff.
Faculty
Ghadeer Thalji
Stephen Campbell
Priscilla Chang
Mathew Mathew
Adriana Semprum-Clavier
Cortino Sukotjo
Christos Takoudis
Clinical – Patient Care Outcomes Research
The Department has established a very robust recall program that embraces the collection and analysis of patient care outcome information as a core tenet. We have an established, well-defined database and guidelines for clinical outcome data collection. Our expansive patient pool and clinical services as it relates to Prosthodontics and patient caring places us in a unique position. We are engaged in prospective and retrospective studies related to important clinical outcomes for a broad range of prosthodontic and other interventive therapies. An important aspect of the research includes patient mediated outcomes that embrace the patient's perspective as a critical aspect of clinical outcomes. Connecting this to the perspective of the oral health professional provider is important in identifying the most appropriate therapy for our patients.
The clinical research program focuses on a broad range of outcome variables including specific treatment modalities (e.g., implant, prosthodontic), patient satisfaction, patient perspectives, esthetics, maintenance, and long-term survival.
Faculty
Fatemeh Afshari
Stephen Campbell
Rand Harlow
Alexandra Rodriguez
Ghadeer Thalji
Cortino Sukotjo
Judy Yuan
Educational Research
The Department is engaged in a broad range of innovative educational programs (e.g., patient scenario, small group learning, dental implant/technology curriculum) and seeks to continue to advance the best in oral health education. As such, we are focused on studying a broad range of educational areas that include an analysis of the existing national landscape. An important aspect of our educational research program is examining the outcomes of our focus areas and curriculum.
Faculty
Fatemeh Afshari
Stephen Campbell
Priscilla Chang
Farhad Fayz
Rand Harlow
Ghadeer Thalji
Ales Obrez
Alexandra Rodriguez
Adriana Semprum-Clavier
Cortino Sukotjo
Judy Yuan