Prevention & Public Health
Making a difference through community service-learning Heading link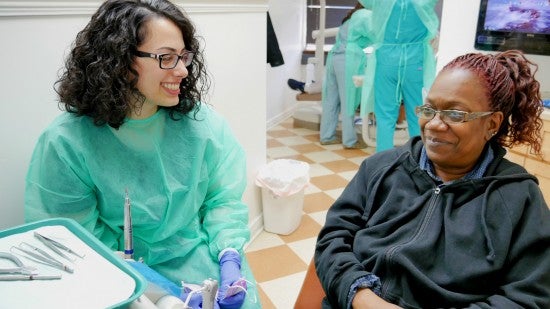 The Division of Prevention and Public Health Sciences is responsible for the planning and execution of clinical and non-clinical community-based extramural experiences and public health coursework for dental students. Our goal is to prepare an oral health care workforce that is competent and committed to addressing the oral health needs of vulnerable and underserved populations and to play its part in eliminating health disparities.
Our goal is to prepare an oral health care workforce that is competent and committed to addressing the oral health needs of vulnerable and underserved populations.
UIC College of Dentistry's Division of Prevention & Public Health Sciences improves access to care in many ways:
Academic Stewardship (advocacy, development, oversight, delivery) of the prevention curriculum
Stewardship of the dental public health curriculum
Stewardship of service-learning initiatives
Ensuring the content and progression of the prevention curriculum is sound and appropriate and the strength of the cultural diversity curriculum
Service Managing the community-based extramural experiences, particularly the 50 days of extramural experiences which are a rotation component of the Extramural Education course (DADM 325)
Developing new sites for extramural rotations necessary to assure students have options for a broad array of experiences
Managing and operating all activities and commitments regarding extramural rotations
Developing and conducting service-learning opportunities (stewardship of service-learning initiatives in the College)
Developing and sustaining pertinent community-based partnerships and collaborations
Developing and sustaining partnerships with universities, organizations, and state and federal government agencies that are demonstrably linked to fulfilling the main mission of the division
Facilitating volunteer community-based opportunities for students and faculty Conducting conferences, special guest lectures and seminars regarding prevention, public health sciences, and extramural community-based rotations
The Value of Community-Based Preventive Oral Health Care Heading link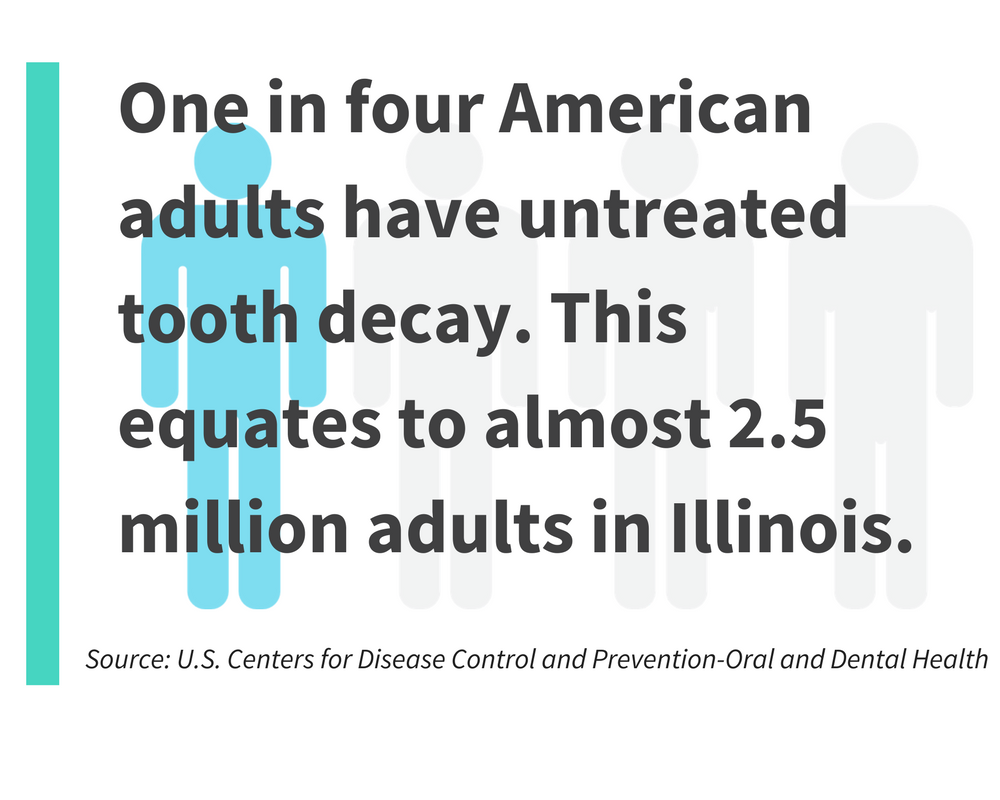 Oral health is often taken for granted, but it is an essential part of our everyday lives.
Good oral health enhances our ability to speak, smile, eat, and show our emotions through facial expressions. 1  And preventive oral health habits — such as regular dental care and good oral hygiene — developed early in life can lead to better overall oral health throughout a person's life.  While oral health in America has improved overall over the past several decades, a sizable number of Americans still go without basic dental care, which leads to greater rates of oral diseases.  Oral diseases, from tooth decay to gum disease and oral cancer, still cause significant pain and hardship for many adults and children in the US, particularly those lacking access to care and preventive services. One in four American adults still has untreated tooth decay. 2 This equates to almost 2.5 million adults in Illinois suffering from various oral diseases.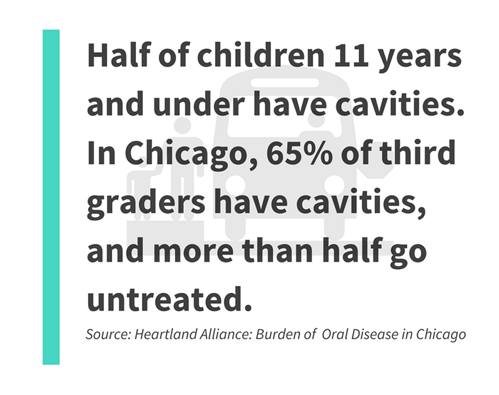 Access to affordable preventive dental care helps decrease disparities in oral health in these communities of need. In particular, early prevention and early intervention in early childhood and adolescent years are important because losing teeth has a lot of implications on a person's overall well-being that continues throughout their life.
Dental care also remains as one of children's most prevalent unmet health needs.3  For instance, cavities (tooth decay) are still one of the most common chronic health problems of childhood in the United States. Almost half of children 11 years and under have cavities. In Chicago, 65 percent of third graders have cavities, and more than half go untreated. 4
The elevated prevalence of tooth decay among under-served children has even more negative impacts on family's quality of life given the potentially long-term impact  on speech, nutrition, and school effectiveness. And, children and adolescents with special health care needs have a particularly high risk of dental caries, yet even higher unmet needs.
The impacts start at childhood, and last a lifetime.
Untreated cavities can lead to real effects on a child's health, and for the whole family–from severe pain and health issues to impacts on school attendance and performance, as well as great financial expense. And, the burden is worse for lower-income families because those children do not get timely treatment for cavities. 5
Many Americans are at higher risk of being uninsured, lacking access to care, and experiencing worse health outcomes, including people of color and low-income individuals. For instance, Hispanics, Blacks, American Indians/Alaska Natives, and low-income individuals are more likely to be uninsured relative to Whites and those with higher incomes, which is a key reason they have limited access care, receive poorer quality care, and experience worse health outcomes.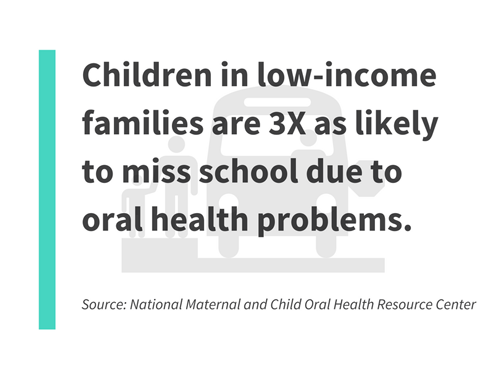 Additionally, poor oral health can have a real impact on a child's ability to learn. Oral diseases such as cavities can cause decreased appetite, depression, and inability to focus attention – all of which can lead to lower school attendance and learning performance. On average, a child with poor oral health will miss another day of school per year. Children in low-income families with limited access to preventive care will miss 3 times as many school days due to oral health problems.9
And, inadequate preventive care and untreated oral disease have long-standing consequences. Over time, teeth and gums can become seriously diseased and require costly treatment or worse – lead to multiple or complete loss of teeth. Adopting good oral hygiene habits early in life combined with preventive care helps to maintain optimal oral health into old age and ensures you live not only a longer life, but also one free from the physical pain and often emotional suffering caused by oral disease.10
UIC College of Dentistry Division of Prevention & Public Health Sciences
801 South Paulina Street, Room 102GD
Chicago, Illinois 60612
Scott L. Tomar, DMD, DrPH
Professor and Associate Dean
stomar@uic.edu
(312)-413-7365
Fax: (312) 413-9050
Patrick Smith, DMD, MPH
Clinical Assistant Professor
psmith26@uic.edu
(312) 996-3465
Fax: (312) 413-9050
Khatija Noorallah, MPH, MEd
Clinical Assistant Professor
knoorula@uic.edu
(312) 355-4549
Fax: (312) 413-9050
Laila Iqbal, BDS, MPH
Research Associate
liqbal3@uic.edu 
(312) 355-4598
Fax: (312) 355-4598
Sobia Bilal, BDS, MSc, PhD
Associate Professor
sbilal@uic.edu 
(312) 355-4598
Fax: (312) 413-9050
Support programs that address the oral health needs of vulnerable and underserved populations