Master of Science in Oral Sciences
Interdisciplinary Master's Degree Program in Oral Sciences Heading link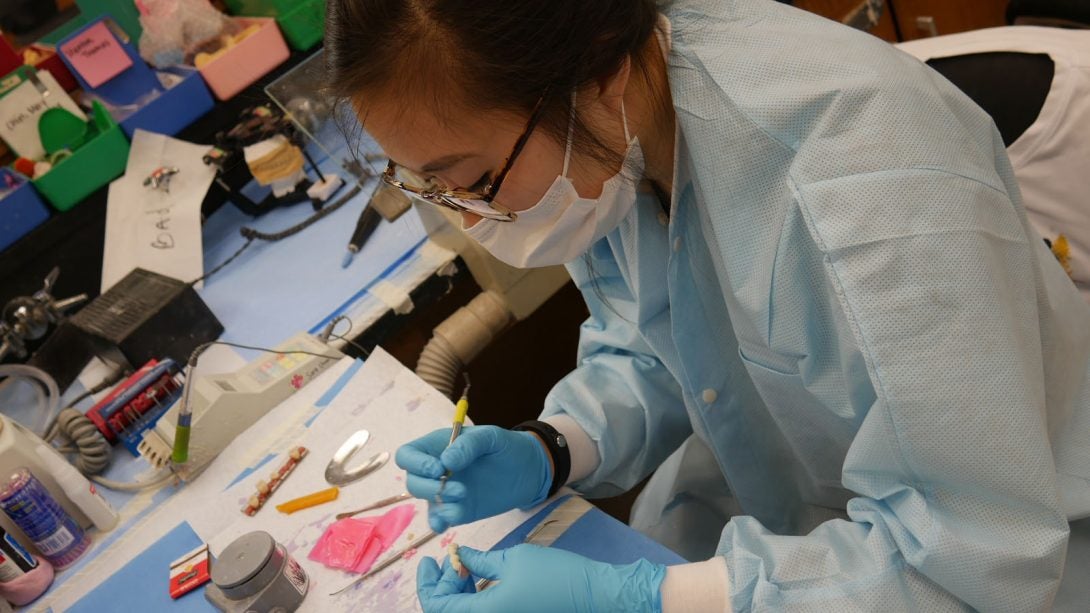 The MS in Oral Sciences prepares the next generation of oral scientists and/or clinicians who will serve as leaders in oral healthcare, and those within their respective dental specialties. Graduates of the program will be able to use research skills and knowledge in their career to improve health outcomes for a variety of populations.
C1
Program Description
The University of Illinois Chicago College of Dentistry in conjunction with the Graduate College offers a program of study and research leading to the degree of Master of Science. The Master of Science in Oral Sciences prepares the next generation of oral scientists and/or dental clinicians and faculty who will serve as leaders in oral health care and those within their respective dental specialties. Graduates of the program will be trained to think critically, enabling them to readily apply research skills and knowledge to improve health outcomes for patients.
Curriculum
MS in Oral Science candidates must complete a minimum of 32 credit hours of course work, of which at least 20 must be devoted to didactic course work. Each student must satisfactorily complete an original research project and submit a defended, Graduate College approved thesis or defend a MS Committee approved Capstone Project.
Core Courses
All MS in Oral Sciences candidates must complete five core courses totaling 20 of the 32 credit requirement. These courses are
OSCI 560 – Structure, Organization and Regulation of Dental Healthcare and Research (4 credit hours)
OSCI 561 – Molecular Basis of Oral Disease (4 credit hours)
OSCI 562 – Craniofacial Biology (4 credit hours)
OSCI 563 – Wound Healing and Regenerative Sciences (4 credit hours)
OSCI 564 – Interdisciplinary Research Seminar (1 credit hour; repeated 2 semesters)
Additional Requirements: only required if research involves animals.
GC 470 – Essentials for Animal Research (1 credit hour)  Note: This course is only offered during the fall semester.
Selectives
2-4 credit hours of selective courses are required for students in the Capstone Project Track, which will provide didactic content relevant to the student's research project and interests. Students should seek input from their MS advisor and/or postgraduate program director to choose selective courses at the 500 level.
Non-Credit Courses: Human Subjects Research
Students whose research projects involve human subjects must complete all appropriate trainings prior to commencing work with their subjects.
Investigator 101 (all research involving human subjects)
HIPAA (for research utilizing protected health information)
Research
Candidates complete a Research Protocol approved at the college level before beginning MS Thesis Research or Capstone Project Research. After completion of the protocol, students will begin a research project for their MS Thesis or Capstone. For the Thesis option students must earn a minimum of 12 semester hours in OSCI 598; additional hours beyond 12 will not be applied towards degree requirements. For the Capstone option students must earn a minimum of 6-12 semester hours in OSCI 597.
Students register for OSCI 597 or 598 for up to two hours per semester with their advisor as the instructor.
Note – 1 credit hour  or research time is equivalent to two 50-minute periods per week for 15 weeks.
C2
Admission Requirements
All applicants are considered on an individual basis. Transcripts of all undergraduate and post-baccalaureate work must be submitted. In addition to Graduate College minimum requirements, applicants must meet the following program requirements:
Baccalaureate Field BS/BA in relevant field of Science; and/or DDS/DMD, or equivalent, per Program Director.
Grade Point Average At least 3.00/4.00 for the final 60 semester (90 quarter) hours of undergraduate and all postgraduate study.
Letter of Recommendation Required.  From a practicing clinician and/or research mentor.
Personal Statement Required. The statement should include a brief summary describing the applicant's career goals, area of interest, purpose, and desired discipline of study.
For international candidates, minimum levels of English proficiency as set by the University's Office of Admissions.
Minimum English Competency Test Score

TOEFL 80, with subscores of Reading 19, Listening 17, Speaking 20, and Writing 21 (iBT Internet-based); 60, with subscores of Reading 19, Listening 17, Writing 21 (New Paper-Based—after August 2018); 550 (Institutional Testing Paper-Based—prior to August 2018), OR,
IELTS 6.5, with subscores of 6.0 for all four subscores, OR,
PTE-Academic 54, with subscores of Reading 51, Listening 47, Speaking 53, and Writing 56.
Tuition & Fees
Please visit UIC's tuition and fees page for current tuition rates for the MS program. Please note that annual increases in tuition should be expected. Information about how to fund your education can be found at the UIC Office of Financial Aid.
How to Apply
Candidates may apply to the MS in Oral Sciences after acceptance to one of the Colleges' Advanced Specialty (post-graduate) programs ("dual-enrolled PG students"). We also accept applications from individuals with prior experience/training in dentistry or related fields who are looking to further develop their research skills and knowledge of advanced oral biology ("MS-only"). We only accept candidates for entry to the program in the Fall; applicants should apply the preceding Spring for matriculation into the Fall cohort.
International candidates must apply no later than February 15th of the spring prior to Fall matriculation.
Domestic candidates: Please note, there are separate application deadlines for applicants who have been accepted into post-graduate (PG) dentistry programs (e.g., Periodontics, Endodontics, Orthodontics, Pediatric Dentistry, Prosthodontics) at UIC and those who will not be dual-enrolled in a PG-program ("MS-only).
For MS-only applicants: Application review will begin April 15th. For fullest consideration, MS-only applicants should submit their complete application by April 15th. 
For dual-enrolled PG applicants who have been accepted into a UIC Advanced Specialty program: While you are encouraged to apply at your earliest convenience, the final application deadline is 5/15.
Applications received after May 15th, or which are not complete by May 15th, cannot be considered
For those accepted in one of the College's Advanced Specialty programs: The application for the MS in Oral Sciences is separate from that completed for the candidate's Advanced Specialty program. An electronic application must be completed through UIC's online application system.
The following items must be uploaded by the individual applicant through UIC's application system:
Personal statement (no longer than 1-2 pages- candidates should discuss their motivation for conducting research and how research supports their career goals)
Transcripts
One Letter of Recommendation from a practicing clinician and/or research mentor.
Evidence of English proficiency (international candidates only).
Incomplete applications cannot be considered. Applicants are responsible for checking the status of their applications online and ensuring that all required documents have been uploaded.
For more information about the Master of Science in Oral Sciences program, please contact Director of Graduate Studies, Dr. Christina Nicholas, PhD.
Andrea Magallon
MS Liaison
UIC College of Dentistry