Orthodontics Advanced Specialty Training Program
Orthodontics Advanced Specialty Training Program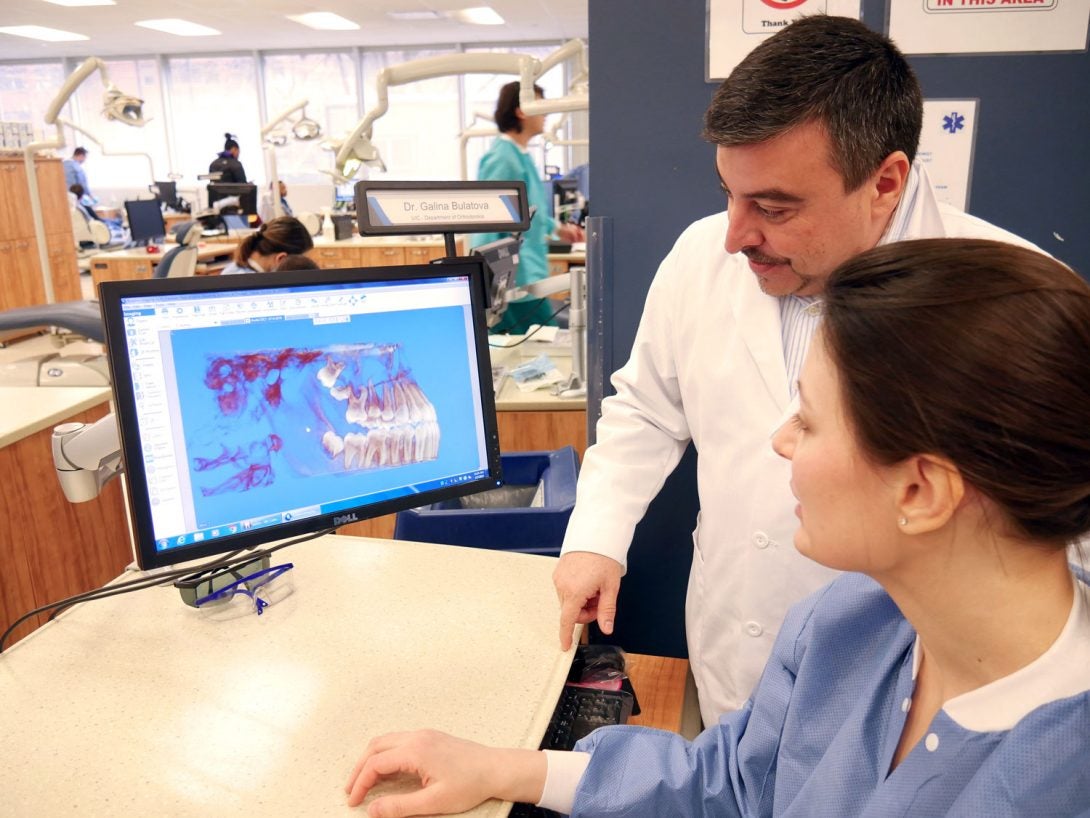 The Department of Orthodontics, University of Illinois at Chicago, offers a program which leads to a Specialty Certificate in Orthodontics through the College of Dentistry and the M.S. in Oral Sciences degree under the auspices of the Graduate College.
Learn more about the Department of Orthodontics.
Program Description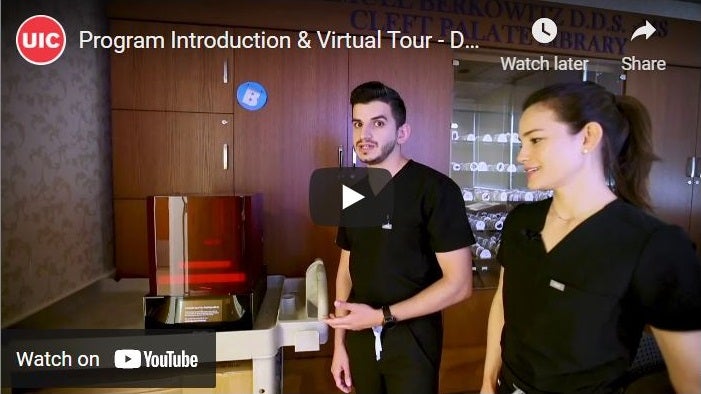 (Last updated on 9/15/2021)
A minimum of 34 consecutive months of continuous attendance is required of candidates for the Specialty Certificate and M. S. degree. Eight to nine residents begin the program each July. Students must register for a full program each semester during their residency, which will include the clinical and didactic courses required for the Specialty Certificate, Oral Sciences courses, research, and teaching.
The program is designed to prepare residents for American Board of Orthodontics diplomate status. The curriculum is composed of seminars, lectures, clinical practice with emphasis on critical thinking and problem solving. The program includes instruction and extensive experience in diagnosis and treatment planning, biomechanics, orthognathic surgery and other interdisciplinary procedures. The residents will have the opportunity of treating the full range of different malocclusions in children and adults in a state-of-the-art orthodontic facility.
An original research project intended to produce results suitable for publication in a peer reviewed journal is required for the receipt of the Certificate in Orthodontics as well as the MS Degree. Residents are also encouraged to present their scientific results at regional and national meetings.
The program can be individualized for those who wish to combine specialty training in orthodontics with a Ph.D. degree. The program is accredited by the Commission on Dental Accreditation of the American Dental Association. The content follows the ERASMUS recommendations.
Special notice:
Currently we do NOT offer any Externship – Preceptorship – Volunteering opportunities in the department in order to comply with COVID-19 guidelines.  Please check the website periodically for further notice.
Admission Eligibility
Applicants must possess a DDS, DMD, or equivalent degree or be on track to graduate with required degree prior to matriculation into the program.
Tuition & Fees
The 2020 – 2021 total programmatic tuition and fee rate is $41,501, pending approval by the Board of Trustees.  Billing will occur in each of the 3 semesters, Fall, Spring and Summer.  The rate for fall and spring is estimated at $13, 501 per semester and $8,808 for summer. Additional expenses include university student fees estimated to be $5,602 per year; a camera, laptop, licensing and board exams, memberships and instrument costs estimated to be $11,453. International students will be assessed an additional service fee of $3,331 per year. (Note: All fees are subject to change for the next academic year.)
The college does not provide a tuition waiver. Consequently, you may wish to apply for financial assistance to help cover the cost of your education. Consideration for federal and/or state aid programs require applicants to complete the FAFSA. For eligibility and further information visit the UIC Office of Student Financial Aid.
Compensation plan – UIC Advanced Education Specialty Program in Orthodontics provides the below compensation plan for eligible students as follows:
First year of program – $12,000 per year
Second year of program – $15,000 per year
Third year of program – $18,000 per year
International student fee: There is a fee of $130.00 per semester (Fall and Spring) and $65.00 per summer session for all international students attending UIC in valid non-immigrant status such as F-1, J-1, H-4, and J-2 The fee will allow the Office of International Services to continue to provide essential services, upgrade technologies used for student advising, increase programming options, and host cultural events to increase and expand upon the UIC Experience.
How to Apply
The UIC College of Dentistry, Department of Orthodontics participates both in PASS (Postdoctoral Application Support Service) and in the National Matching Services. Applicants should request BOTH Applicant Agreement Packages.
The deadline to apply to the program for the 2021-2022 admission cycle is August 15th, 2021.
ALL OF THE FOLLOWING REQUIRED OFFICIAL DOCUMENTS MUST BE UPLOADED THROUGH THE PASS WEBSITE (https://www.adea.org/pass/) ONLY.
DO NOT MAIL ANYTHING DIRECTLY TO THE DEPARTMENT.
Original Copies of Official documents will be required only upon acceptance to the program.
1. Completed PASS Application Form
2. 3 Professional Evaluations
3. Official Dean's/Institution Evaluation
4. Curriculum Vitae/Resume (Two pages maximum)
5. Official undergraduate college transcripts
Official undergraduate college transcripts are required for all undergraduate colleges attended.
6. Official dental school transcripts
Official dental school transcripts are required for all dental schools attended.
7. Tests required
If the applicant has not taken the DAT, ADAT, MCAT or National Dental Board Examinations (NBDE or INBDE), the GRE General test with a score in the upper 50th percentile is REQUIRED.
Institution code to use when ordering your GRE score report is 1851. No departmental code is required
Note: As stated above, foreign-trained applicants unable to submit NDBE Part I/INBDE exam results are REQUIRED to take one of the three standardized tests ADAT, DAT, or GRE.
8. Official TOEFL (Test of English as a Foreign Language) examination results is REQUIRED of all applicants educated in a country where English is not the primary language.
Our TOEFL requirements are the same as for the MS in Oral Sciences degree program as set by the UIC Graduate College (Refer to the section of English proficiency under the following link: https://admissions.uic.edu/graduate-professional/requirements-deadlines/international-requirements).
9.  2 x 2 photo of applicant (Photo needs to be emailed to ortho@uic.edu)
10. Application Fees (payable to UIC Department of Orthodontics)
All applicants are required to submit a non-refundable processing fee of $70.00 through our online Payment Portal:
https://appserv7.admin.uillinois.edu/FormBuilderSurvey/Survey/UIC_College_Of_Dentistry/administration/orth_app_fee/Survey
Should there be any question in regards to the online payment portal please contact
Attn: Huibi Liu
E-mail: ortho@uic.edu
Regarding the Graduate College Application and Fee
AT THIS TIME, PLEASE DO NOT COMPLETE THE APPLICATION AND DON'T PAY APPLICATION FEE TO THE UIC GRADUATE COLLEGE.
The Graduate College Application will have to be filled only by the candidates who are ACCEPTED in the Program, after the matching process is complete. The links below for Domestic and International applicants are simply informational.
Admission criteria are applied equally to all applicants regardless of race, sex, gender, color, national origin, religion, or sexual orientation.
Please Note: The Department of Orthodontics will only interview applicants that exclusively apply to match-only programs.
Additional resources for prospective applicants and potential evaluators.
ADEA PASS and Match application video tutorial
Information on detailed application prerequisite and matriculation requirements
ADEA PASS Contact: JonesY@adea.org or 202-289-7201 Ext. 190
More information about UIC Graduate/Professional Degree Seeking applicants can be found at:
Interviews
Covid-19 Alert! Regarding your Interview Process:
IMPORTANT:
Attention to residency program applicants: We will conduct VIRTUAL interviews this year. The interviews will be held on October 14 and October 15, 2021.
All interviews are scheduled by invitation from the Department of Orthodontics. Faculty and applicants meet during interviews. After the interview is concluded, the admission committee meets and the results are forwarded to the Match Program.
Any questions regarding application procedures should be directed to:
Department of Orthodontics (M/C 841)
College of Dentistry
University of Illinois at Chicago
801 South Paulina Street
Chicago, IL 60612-7211
Fax: 312-996-0873
E-mail: ortho@uic.edu