Periodontics Postgraduate Programs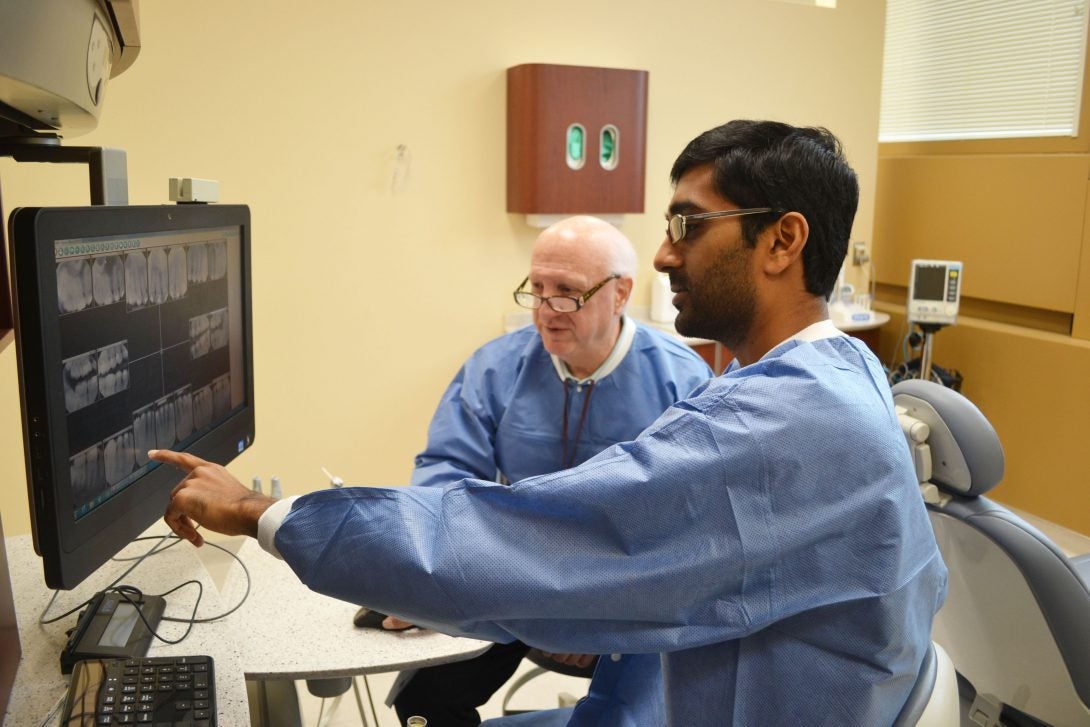 The Department of Periodontics provides advanced instruction and clinical experience in the clinical management of the periodontium and dental implants in health and disease. This includes etiology, diagnosis, prevention and treatment of periodontal diseases and surgical placement of implants, treatment of peri-implant disease and implant maintenance. Experienced faculty at the predoctoral and postdoctoral education levels conduct programs for dental professionals.
Learn more about the Department of Periodontics
Learn more about the Periodontics Continuing Education Program
Meet our Current Residents
Periodontics Postgraduate Programs Body Content Heading link
Certificate Program
The postdoctoral (residency) program is a 34-month clinical specialty training awarding a Certificate of Advanced Specialty in Periodontics. Residents gain research experience leading to a MS, MPH, or PhD degree. The Departmental goal is to provide postdoctoral students (residents) with a strong educational foundation for a productive career in periodontics and implant dentistry and to contribute new knowledge through guided preclinical (basic) and clinical research efforts.
Admission Requirements
The Department of Periodontics welcomes applications from both domestic and international dentists. All prospective residents must hold a DDS, DMD or equivalent degree from an accredited dental school. Prospective applicants must submit their applications through the ADEA Postdoctoral Application Support Service (PASS).
NBDE Part 1 and NBDE Part 2 examinations are no longer being given, thus scores from these examinations are no longer required.  However, if a candidate has scores from an exam which was challenged in the previous two (2) years, we ask that you submit these results with your application as they will be considered.  In lieu of the NBDE Parts 1&2, there is now the INBDE examination process.  We do understand that the INBDE examination is held in the autumn and spring of a candidate's fourth year of dental school and that these scores may not be available at the time of application screening or candidate interviews.  Please note that the INBDE must be successfully completed prior to matriculation into the residency program.  
The UIC Advanced Education in Periodontics residency program has determined it is now highly encouraged that all candidates submit results from the ADA Advanced Dental Admission Test (ADAT) examination.  While not yet compulsory, challenging this examination and providing results will be looked at favorably. 
TOEFL requirement:  Applicants should take the test no later than May of  the year in which you are submitting your application, to ensure that your score arrives by the application deadline. TOEFL scores older than two years are not acceptable.
The following are the scores which are the minimums accepted by the program:
TOFEL iBT > 95
TOFEL PBT > 560
IELTS > 7
ECE Course-by-Course Evaluation
A highly competitive comprehensive Grade Point Average (GPA) per the ECE course-by-course evaluation is required. UIC Department of Periodontology only accepts evaluations from the Educational Credential Evaluators (ECE). For more information please visit the ECE website.
Tuition & Fees
Information on tuition and fees is available on the university website. (Refer to the "Advanced Certificate Program" row, "Range I" column.)
The Department of Periodontics equipment, book, and licensing fees are estimated as follows:
Textbooks: $1,000.00 (first year only)
Computer and Camera: $2,900.00 (first year only)
Upon acceptance to the program a deposit of $5000.00 is required to secure a position in the class. For candidates that matriculate into the program, the deposit will be credited to their student account. The deposit is non-refundable for candidates who hold a slot and then do not matriculate.
Compensation
This program is intended to provide a source of income for eligible post-graduate students. Compensation is based upon a College of Dentistry mandated amount to be disbursed at the end of each semester.
How to Apply
The UIC College of Dentistry Periodontics Postgraduate Program participates in the Postdoctoral Application Support Service (PASS), which is administered by the American Dental Education Association (ADEA). Applicants must be submit all documents through PASS. UIC does not accept applications or documents sent directly to the Department of Periodontics.
Complete the Postdoctoral Application Support Service (PASS) Application 
Rolling admission process. A rolling admissions process will be utilized to fill the class. For applicants who applied last year, they should resubmit all application materials. Personal interviews will begin in June and continue until the class is filled. THE APPLICATION DEADLINE IS JULY 31st.
International Applicants. Applicants educated mainly outside of a country where English is not the primary language must take the Test of English as a Foreign Language (TOEFL). Countries recognized as English-speaking are the United States, the United Kingdom, Canada (except Quebec), Australia, and New Zealand. The TOEFL test is administered by the Educational Testing Service (ETS), CN6151, Princeton, New Jersey 08541-6151. Please follow the PASS instructions for submission of the scores to PASS. When registering for the test, you should also indicate the University of Illinois at Chicago (Institution code 1851).  For more information, call the Educational Testing Service at 609-771-7100.
Interviews. A personal, on-site interview is required for admission except in unusual circumstances. Interviews are usually held June through August for applicants selected by the Admissions Committee. All interviews are scheduled by invitation from the Department of Periodontics. Faculty and applicants meet during formal interviews as well as during social events hosted by the current residents. However, in light of COVID-19, virtual interviews and social events will be not permitted until further notice.  Time is provided for applicants to ask questions of faculty, residents, and staff. Currently, virtual tours of the Graduate Periodontics Clinic and other facilities will be given.
Additional requirements for the MS, MPH and PhD program applications. After provisional acceptance into the Periodontics Postgraduate Program, students must apply to the UIC Graduate School for acceptance into the Certificate and Oral Sciences Master's programs. Individuals seeking to participate in the Certificate/PhD option will need to gain acceptance independently to both the Periodontics Residency Program and PhD in Oral Sciences Program.
Individuals seeking to participate in the Certificate/MPH program must gain acceptance independently to both the Periodontics Residency Program and respective program at the College of Public Health.
Prepare Supplemental Materials. Application to the certificate program would require the following supplemental materials: Original Transcripts (from all professional schools and colleges); National Boards- I (required), and II (if available); TOEFL (if applicable); Resume; Personal Statement; Minimum of three recommendation letters; Copies of degrees, certificates, diplomas (if studied outside of U.S.)
Department of Periodontics
801 S. Paulina, MC 859
Chicago, IL 60612