Teaching and Learning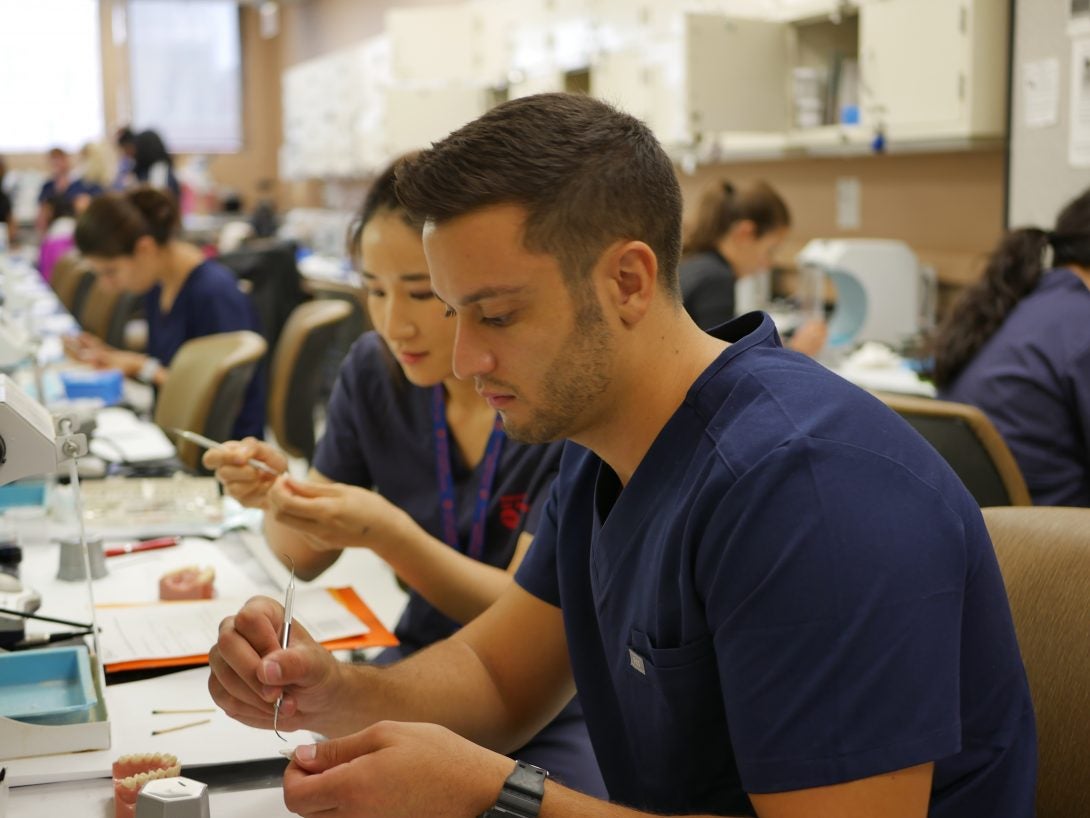 Patient centered. Problem focused. Innovation and community driven. This is how our curriculum is changing the future of oral health.  
The College of Dentistry offers comprehensive and advanced dental education and research opportunities, powered by innovative methods and cutting-edge technology, and enriched by a diverse and collaborative community of faculty, staff and students. Curriculum innovations have resulted in the College receiving the prestigious William J. Gies Award from the American Dental Education Association. Additionally, the College has implemented a sequence of improvements in clinical education to prepare students to provide oral health care to traditionally underserved patients, and to advocate for universal oral health care for all Americans.
The DMD curriculum offers a variety of learning formats that integrate basic science with real-world clinical competencies. Biomedical science courses are organized to provide comprehensive instruction into each organ system concurrently so that students can see the whole picture. Starting in their first year, students learn foundational clinical skills in pre-patient care clinics designed to simulate real-world patient care environments and scenarios.  The curriculum also emphasizes evidence based practices to build competency in finding, evaluating and applying the best available evidence to patient treatments.
In Small Group Learning (SGL), student teams investigate real-world patient cases representing key concepts of the curriculum. The cases model typical clinical scenarios they will encounter in their 3rd and 4th years, as well as throughout a dental career. This approach of learning helps students develop valuable critical thinking and problem solving skills that are highly sought after in today's healthcare professions.
These sessions are highly interactive in which student inquiry and exploration drive the discussion and learning process. Faculty facilitators – representing a diverse academic background including basic biomedical science, clinical dentistry, academic dentistry, and social science – guide the students to stimulate the thought process and ensure case objectives are met.
The SGL learning approach helps students to integrate knowledge of the basic, clinical and behavioral sciences into the management of patients. The desired outcome of these discussions is to develop a safe and effective management plan for the "patients" based on understanding of the basic and clinical sciences.
D4 students have the opportunity to engage in an advanced version of SGL called Oral Systemic issues in Dentistry, or DOSI, where they observe/ deliver case presentations involving a broad scope of dental disciplines and discuss clinical patient management grounded in basic science principles and evidence- based research. In addition to enhanced presentations skills, students receive more in-depth training in comprehensive management of patients with various diseases and conditions of body systems.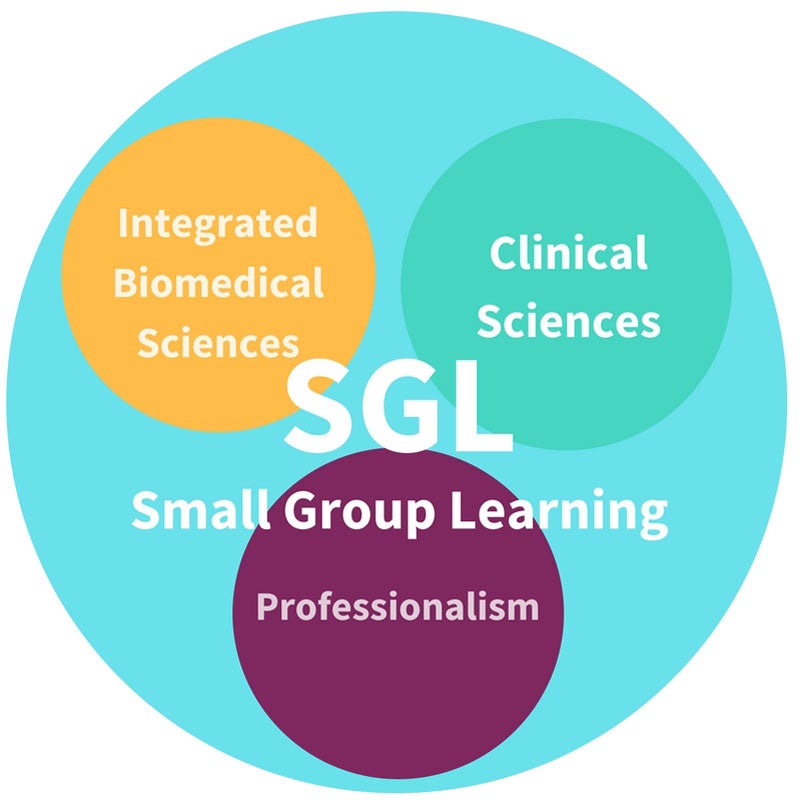 SGL Features
Integration of biomedical sciences, clinical sciences and professionalism.
Development of critical thinking, structured problem solving, peer evaluation, and self-reflection.
Collaborative and cooperative learning style and the development of skills for life-long learning.
Collaborative and Patient-Centered Learning
Students appreciate our curriculum because it is highly collaborative, patient-centered, and medically comprehensive in nature, including behavioral science education, evidence-based dentistry, and implant dentistry. They also appreciate the rich diversity represented across the student body, and in our patient population. And, while our patients will be the first to agree that dental education is rigorous and challenging – especially given all of the new
biomedical and clinical discoveries advancing the profession – they also appreciate why the College re-invented our educational programs, moving from static lectures (that are often outdated) to a dynamic, interactive, team-based learning (or Small Group Learning/SGL), placing the student and patient
at the center of the educational experience.
Integrated and Evidenced-Based
Students learn in an integrated way that brings together several key aspects of scientific and medical knowledge. This includes a strong foundation in the basic scientific principles pertaining to all relevant human biological systems such as musculoskeletal, immune and nervous systems, cardiovascular. Students will learn how these systems work together and relate to oral health on a physiological and molecular level. Additionally, students will explore aspects of infections and pharmacology to understand how medications interact with these systems.
In addition to developing up-to-date scientific and clinical skills, students also gain enhanced critical thinking and analytical skills through our innovative learning format called small group learning (SGL). This innovative approach integrates scientific and clinical knowledge with team-based cases designed to improve students' ability to  apply the latest evidence to solve real-world patient care problems. The interdisciplinary case scenarios emphasize the relationship between systemic and oral diseases, health and prevention, family and community context, disease diagnosis and evidence based practice. The SGL curriculum structure offers students several benefits:
Increased capacity to find and apply information relevant to clinical cases
Improved higher-order reasoning
Enhanced communication and collaboration
Community Focused
In their first three years, students are introduced to the issues that contribute to health disparities in the U.S., and lead to higher levels of poor oral health in under-served populations. Students visit local communities and community organizations to learn about such issues firsthand. Through these experiences, students provide care to the underserved urban, rural, and special needs populations including pediatric, developmentally disabled, HIV-positive, and geriatric patients. Fourth year students engage in service-learning experiences as part of a required course which involves community-based rotations at partnering health centers. Students devote a minimum of 50 days at these sites providing care to underserved urban, rural, and special-needs populations including children, developmentally disabled, HIV-positive and geriatric patients.
The faculty of UIC College of Dentistry (COD) have transformed its long-standing undergraduate DDS degree program into a Doctor of Dental Medicine (DMD) degree in which the traditional "2 x 2" structure has been replaced by a spiral curriculum that integrates foundational learning and clinical learning throughout the four-year program.
The DMD features small group learning that is interdisciplinary in nature and prompted through the use of clinical case studies developed by a team of COD faculty. These case scenarios place all learning in the context of a patient problem/concern and emphasize the relationship between systemic and oral diseases, health and prevention, family and community context, disease diagnosis and evidence based practices. Small groups are led by trained facilitators who ensure adequacy of learning through in-depth discussions that remain on target in order to achieve specified learning objectives. The group dynamics are healthy and productive for all members of the group and students are empowered to take responsibility for their own learning. Also, students work metacognitively as they proceed with the case.
The goals of small group learning are to:
Enhance acquisition of content knowledge,
Develop students' capacity to find and apply information relevant to clinical cases
Foster higher-order reasoning skills,
Promote accurate self-assessment and a sense of responsibility for one's own learning, and
Build effective communication and collaboration skills.
I love the (SGL) approach because it teaches me to interact with colleagues in a professional manner, actively listen, and contribute in meaningful ways.
The College of Dentistry provides Pre-Doctoral Dental Students with the clinical patient care experiences necessary to develop skills, knowledge, and attitudes needed for the practice of 21st century dentistry by integrating biomedical, behavioral and clinical knowledge through patient care.
During the first two years of the DMD program, students gain comprehensive, in-depth understanding of dental biomedical and clinical sciences covering several biomedical topics including human biology, anatomy, general health, oral health, dental sciences, pharmacology, and pathology. The principles of oral disease prevention, patient management, and physical examination are also studied.  This is complemented with rigorous training to apply those concepts in pre-patient clinics to gain hands-on knowledge, under close supervision of expert faculty. Students achieve high levels of competency and become very well prepared prior to entering patient care clinics to continue training in the third and fourth years of the program.
Digital dentistry solutions that enhance learning and patient care
Our clinical facilities incorporate the latest in health technology to meet patient care and student learning needs. Predoctoral and postdoctoral students, faculty, and staff have access to leading edge digital equipment to enhance learning and apply best practices for patients. Instructional and Patient-based Technology tools include AxiUm (Electronic Health Record) and Blackboard Learning Management System.  State-of-the-science digital radiography includes digital radiographic imaging(Dexis) and 3D Cone-Beam Computed Tomography (CBCT), all allowing for digitally-based patient assessment, diagnosis, and treatment planning.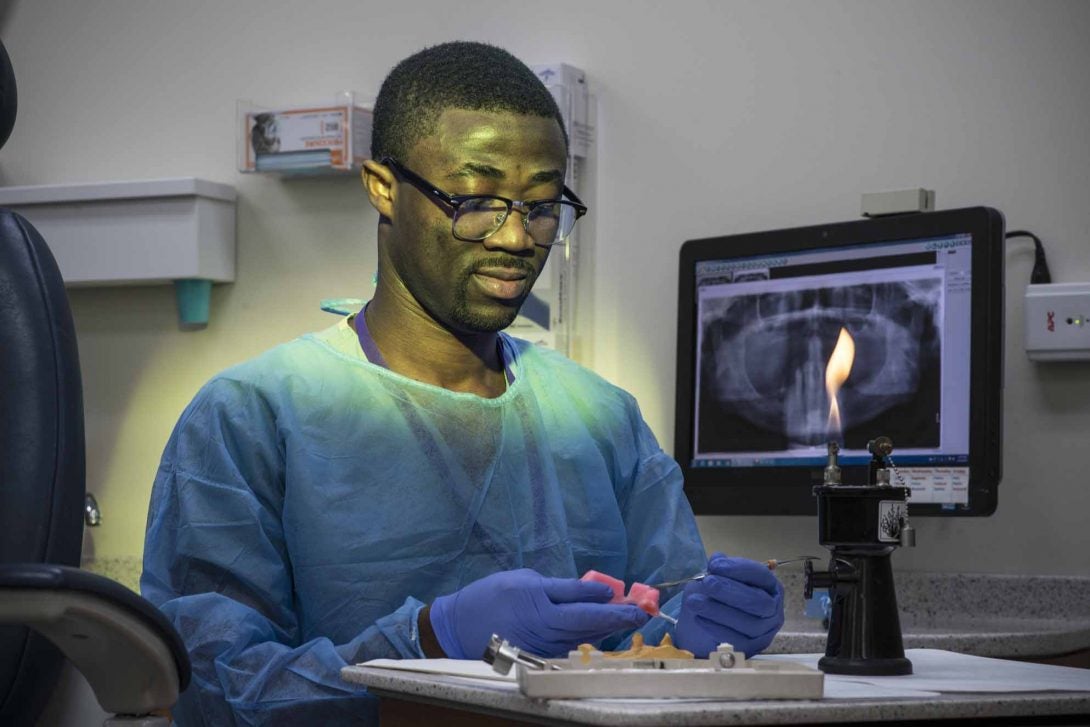 Digital Technology solutions include intraoral optical scanners (E4D and TRIOS), lab-based scanners and design software (Dental Wings and 3Shape), in-office milling unit (Planmeca), Orthocad 3D modeling, and 3D Digital assessment and Teaching Tools (Romexis Compare System).  The chairside digital solutions offer same day ceramic restoration strategies for our students and patients. The Laboratory Based 3D Digital workflows include the full range of diagnosis, planning, design, and fabrication of the most complex restorations from a broad range of materials.
Instructional Technology: In the classroom, we offer several software tools and services to support students and faculty in instruction.
Instructional Technology tools unique to the College include:
AxiUm Ed
ExamSoft
iPads
Faculty developed learning modules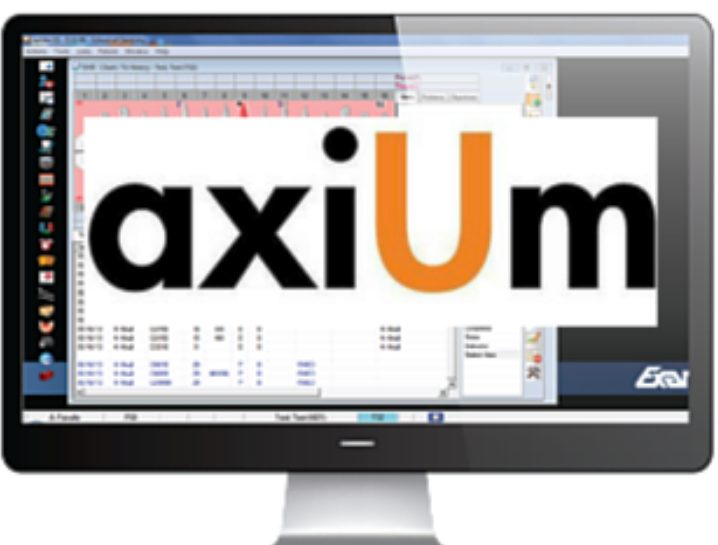 The axiUm Electronic Health Record Module (EHR) is a patient information data entry, access, and control system developed for use in a dental school clinic environment. The purpose of the EHR is to achieve as near a paperless environment as possible while making patient information easy to find, simple to enter, and uncomplicated to control for dental school staff and students.
Examplify by ExamSoft is our online assessment and curriculum management platform training, support, and resources.
A number of technology tools are available for our faculty (and students). If you are interested in learning more about any of the technologies listed below, please contact Nancy Norman.
ECHO360 and Panopto video capture
Blackboard Learn
Box
Google Docs
Polling software (iClicker & Acadly)
The Illinois Online Network offers free, online classes for faculty.
Linkedin learning  provides training videos on thousands of technology topics.