White Coat Ceremony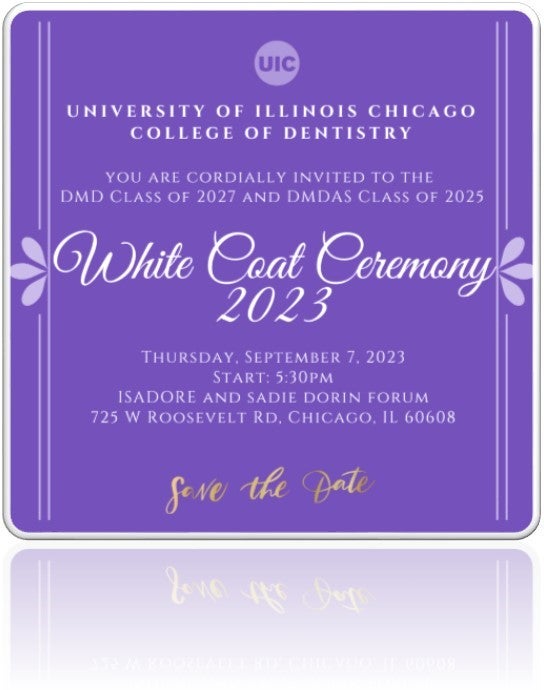 The White Coat Ceremony is an annual tradition marking the matriculating class of students entering the dental profession.  It celebrates the choice to pursue a life in service to the health of society. During the Ceremony, University of Illinois Chicago College of Dentistry deans and faculty members cloak students in their first white coat as a symbol of the trust bestowed upon them to carry on the healing profession of dentistry.  
The Ceremony will acknowledge and honor the DMD Class of 2027 and DMD Advanced Standing Class of 2025 students as they affirm their commitment to professionalism, humanism, integrity and ethics in dentistry.  The 2023 White Coat Ceremony will take place on Thursday, September 7, 2023 at the Isadore and Sadie Dorin Forum located at 725 W Roosevelt Rd, Chicago, IL 60608.
The ceremony will tentatively begin at 5:30pm.  Doors will open at 4:30pm for general seating and seating will be provided on a first come, first served basis. No tickets are required.
Livestream on YouTube: https://go.uic.edu/dentistrywhitecoat2023
Parking
Students and guests should use parking Lots 5 and 6 on the East campus. The cost for parking will be $10.00 and payment will be accepted via credit card.  Please be reminded that traffic in Chicago on a Friday evening is extremely heavy. Please plan accordingly.
Below is the link to the East Campus Lot Locations located one block from the Forum: https://parking.uic.edu/facilities-and-maps/
Map: https://uofi.app.box.com/s/0kq3jrq6sula294nscmlnliodssyxgzl
The White Coat Ceremony will also be live streamed for guests that are unable to attend. Link will be provided, closer to date.

Want to Support the Incoming Class?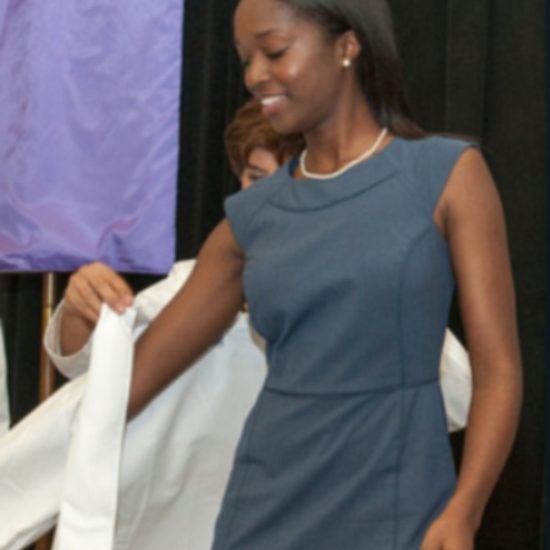 As I walked across the stage and slid my arms into the sleeves of my freshly steamed white coat, I knew I was taking my next big step toward making my childhood dream of becoming a dentist, a reality. Dr. Nakib straightened the coat across my shoulders and I sensed being enveloped with a cloak of armor in order to protect and serve my patients. The white coat not only represented my entry into the healing profession of dentistry, but also my commitment to accept the responsibilities that come with the dental oath and the honor of wearing the white coat. I also vividly remember the reception. Here, my first order of business was to find my family in the large crowd. Having them in attendance and sharing this special day with me meant more than they will ever know. The reception welcomed me into the UIC dental family, the new world of professional school, and celebrated my choice to pursue a life of service to the health of society. My white coat ceremony was a day I will cherish and remember for years to come.

|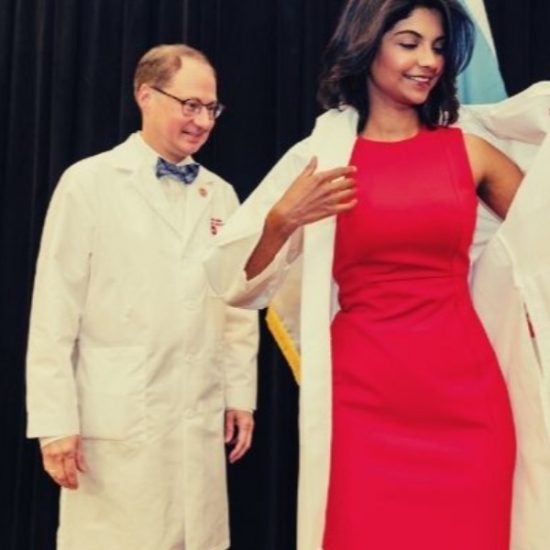 My white coat was a symbol of my dedication to my patients. Getting it from Dr. Ashrafi was the most touching moment in my life.

|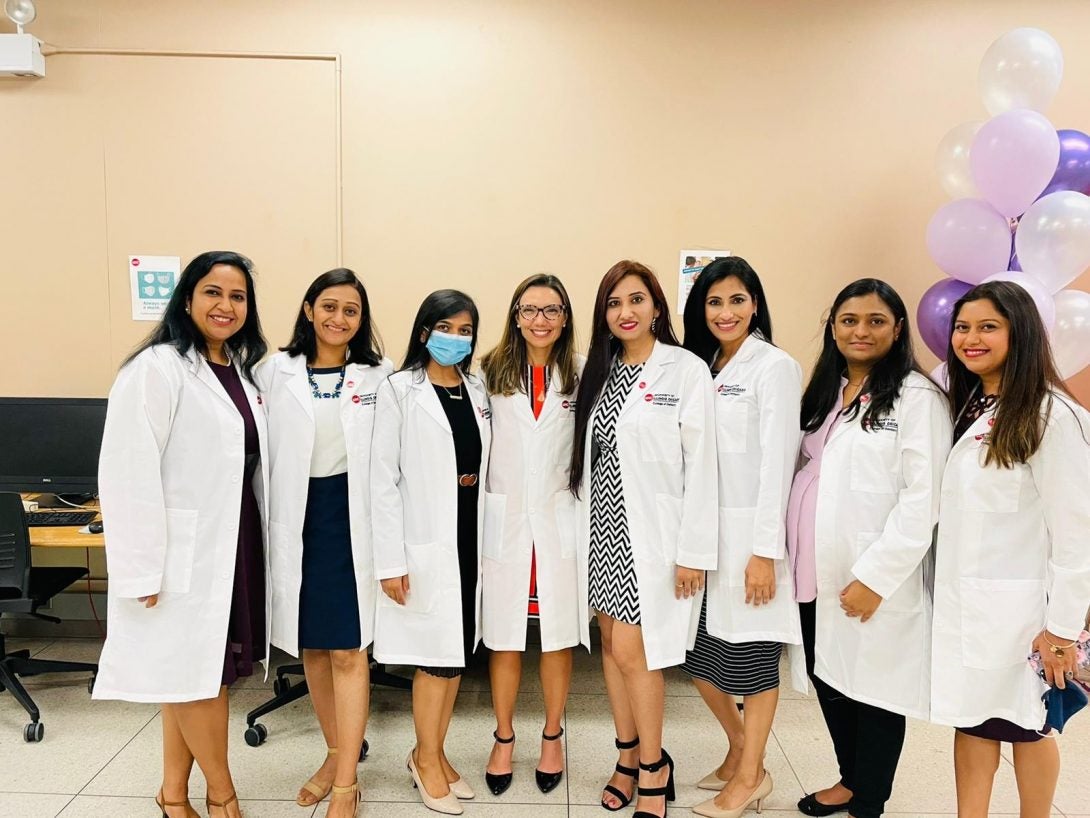 We invite our alumni and faculty to participate in a new tradition at the University of Illinois at Chicago College of Dentistry of providing words of wisdom to the next generation of dentist.  Your words will provide inspiration and encouragement as our future alumni don their coats before faculty, family and friends, and take an oath affirming their commitment to the highest standards of ethics in patient care.
Keep scrolling to find out how to become a white coat sponsor for a 2023 White Coat participant!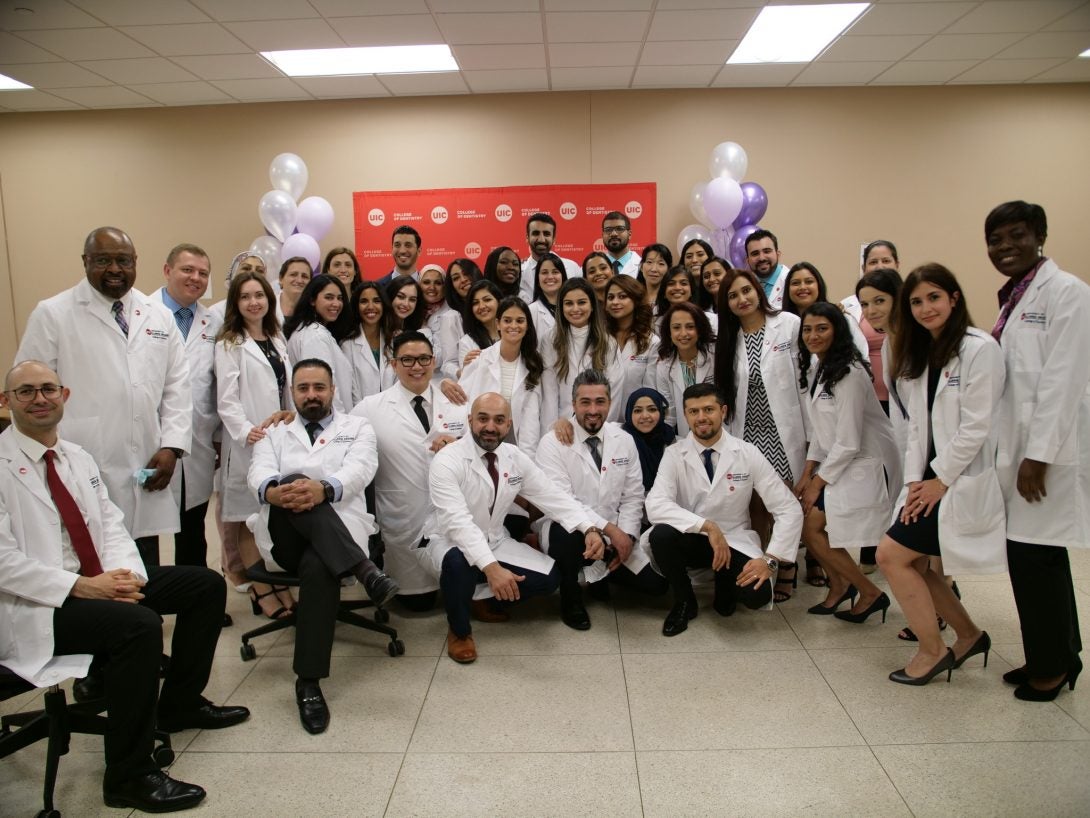 You are invited to become a 2023 White Coat Sponsor and contribute to the success and journey of the next generation of UIC dentists. You have an opportunity to support our students as they transition into oral health care professionals. The sponsorship of a coat is also a message of encouragement from the alumni before them. Sponsors' names will be listed as donors in the White Coat Ceremony program book and will also have the opportunity to provide an inspirational message or words or wisdom to be included in the book.
For more information on the College of Dentistry's Student Services & Resources:
Contact

Dr. Darryl D. Pendleton
Associate Dean for Student and Diversity Affairs
801 South Paulina Street, Room 102GD
312-355-1670

Dr. Rhonna Cohen
Associate Professor, Director and Advisor of Pre-Dental Undergraduate Program
801 South Paulina Street, Room 104

Dr. Sheela Raja
Director of Resilience Center
801 S. Paulina Street, Room 104
312-413-0559

Ms. Carolyn Feller
Director of Student and Diversity Affairs
801 South Paulina Street, Room 104A
312-996-2873

Ms. Braulia Espinosa
Director of Student and Diversity Affairs
801 South Paulina Street, Room 104B
312-355-0320

Ms. Meah Rogers
Assistant Director of Student and Diversity Affairs
801 South Paulina Street, Room 104C
312-355-1327

Ms. Millie Mendez
Student Advocate
801 South Paulina Street, Room 104