Department of Restorative Dentistry
Restorative Dentistry and Advanced Prosthodontics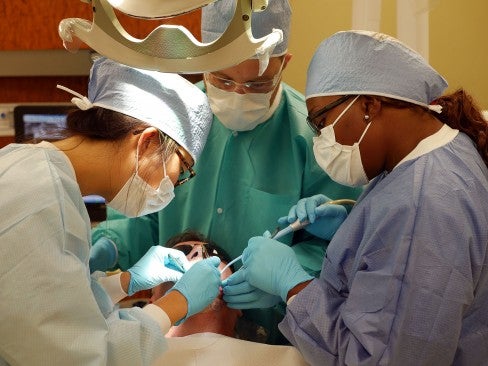 The Department of Restorative Dentistry consists of more than 115 full-time and part-time faculty, residents and staff.  The Department plays an active leadership role with forward-looking initiatives as part of the College of Dentistry.  We are engaged in ongoing curriculum reform and the integration of emerging technologies into our educational and patient care environments. We are well recognized for our Evidence-based Dentistry training programs, and have integrated EBD education into our predoctoral and advanced training programs.
The Department of Restorative Dentistry supports the patient care and educational programs associated with the Predoctoral and Advanced Educational Programs of the College of Dentistry. This includes the predoctoral digital dentistry, implant program, fixed partial dentures, operative dentistry, removable prosthodontics, occlusion, and biomaterials, as well as numerous collaborative efforts.  Department faculty are responsible for up to 40% of the predoctoral educational program.
Along with our predoctoral educational activities, the Department sponsors an Advanced Education Program in Prosthodontics, and graduate training in a variety of basic science areas, most notably biomaterials and clinical outcome research leading to MS and PhD degrees.  Please visit those sites for additional information.  The Department is very active in both educational, biomaterials, and patient mediated outcomes research, with grant support from both public and private agencies.  Collaborative efforts are extensive, and research areas include:
Clinical outcomes research;
Applied digital technologies;
Applied dental materials and interfaces;
Molecular biology;
The prosthodontic sciences;
Ceramics for biomedical applications;
Computer application to the dental and medical sciences and
Dental education.
There are research opportunities for students interested in building on their dental experiences.
Prosthodontics
A prosthodontist is a dentist who:
Specializes in the esthetic restoration and replacement of teeth;
Receives three years of additional training after dental school; and
Restores optimum appearance and function to your smile.
Additional training for prosthodontists is earned through a hospital- or university-based program accredited by the American Dental Association. The training includes reviews of the literature, lectures, treatment of patients, and laboratory experience in fabricating restorations.
Prosthodontics is one of the nine dental specialties recognized by the American Dental Association. Graduate programs in prosthodontics include classroom lectures and seminars, laboratory and clinical training in esthetics/cosmetics, crowns, bridges, veneers, inlays, complete and removable partial dentures, dental implants, TMD-jaw joint problems, traumatic injuries to the mouth's structures, congenital or birth anomalies to teeth, snoring, sleep disorders, oral cancer reconstruction, and continuing care. Prosthodontists are masters of complete oral rehabilitation and provide comprehensive primary care at the specialty level.
A prosthodontist is dedicated to the highest standards of care in the restoration and replacement of teeth.
Please visit these sites for more information on prosthodontics:
American College of Prosthodontists
Department Heads & Directors
Request an Appointment in Prosthodontics
Our advanced prosthodontics and implant innovation clinic at UIC College of Dentistry in Chicago treats a wide variety of dental care needs, from simple tooth decay repair and single implants to the most complex reconstructions and full mouth implant prosthesis. We use the latest in digital dentistry tools and methods that provide the highest levels of precision and accuracy, and time-saving convenience.  We offer a free initial consultation to evaluate need for prosthodontics services.