Prosthodontics & Implant Innovation
A Team of Specialists Restoring Smiles and Changing Lives Through Innovation and Research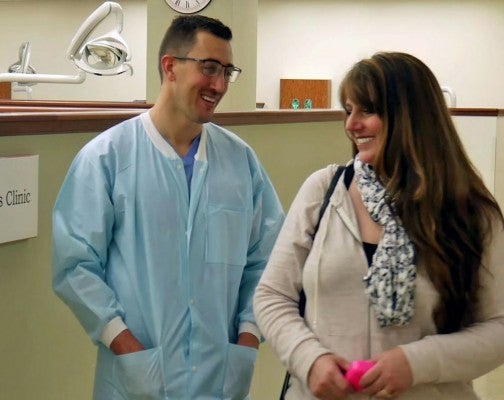 We treat a wide variety of dental care needs, from simple tooth decay repair and single implants to the most complex reconstructions and full mouth prosthesis.
Restoring smiles– returning optimal esthetics and function to teeth — is a distinction we value.  Restorative dental treatment can have a transformative impact on the lives of our patients because of the renewed confidence it provides. Our approach is comprehensive — we treat a wide variety of dental care needs, from simple tooth decay repair and single implants to the most complex full mouth implant prosthesis.  We use the latest in digital dentistry tools and methods that provide the highest levels of precision and accuracy, and time-saving convenience.  We offer a free initial consultation to evaluate your need for prosthodontics services.
We are dedicated to helping our patients achieve their most natural looking smile with the highest level of function and comfort. We design and create solutions for each dental restorative issue, from the simple to the complex, with precision, skill and a high regard for esthetics, biocompatibility, and longevity.
A team of experts – all in one place
At UIC, you get a team of experts – all in one location – to save time and visits. Our dental team has specialized experience in prosthodontics, oral surgery, periodontics, restorative and reconstructive oral care.  We follow a collaborative approach to experty diagnose and treat each case with personalized attention to your specific needs. And, we take pride in handling the most complex cases referred from physicians across the country.
Are you missing teeth? We can restore your confidence to eat, speak, and enjoy life with confidence.
The next best thing to real teeth is a dental implant or multiple implants to bring back your healthy smile.  Dental implants are designed to look, feel, and function like your natural teeth so you can be confident in your smile. The actual dental implant is a tiny titanium post surgically inserted into the jawbone where the tooth or multiple teeth are missing. Over several months, the titanium bonds with the jawbone, creating a strong foundation for the new artificially implanted tooth. The dental implant also helps to preserve facial structure, preventing the bone deterioration which occurs when teeth are missing.
For most patients, the placement of dental implants involves two surgical procedures. First, implants are placed within your jawbone. The implant itself is not visible, and over the course of three to six months, the bone and implant bond together, in a process called osseointegration. You should be able to wear temporary dentures and eat a soft diet during this time. At the same time, we will design the final replacement teeth, bridgework or denture, which will ultimately improve both function and aesthetics. After this stage, we perform a second surgical procedure to attach a small post which serves as an anchor for the new artificial tooth.
When properly cared for, dental implants can last a lifetime, making them one of the best investments for long-term tooth replacement.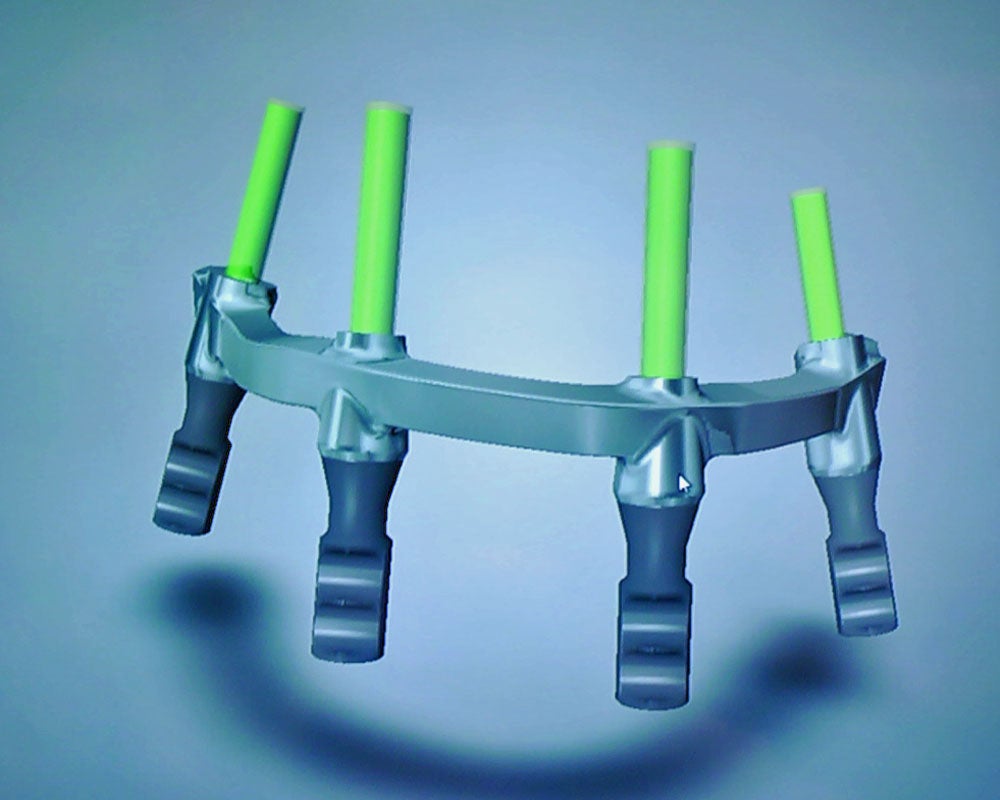 Guided Restorative Surgery using 3D CAD/CAM Technology
Our team is specially trained in the most advanced techniques in guided restorative surgeries, using 3D CAD/CAM technology, which provides our patients with outstanding results in the shortest amount of time. Through the use of CAD/CAM technology, our dentists can plan and fabricate implants, crowns and other restorative treatments through digital modeling. For patients this means a more comfortable and time-saving dental experience.  Procedures that used to require weeks and an outside dental laboratory are now possible in just a few days, or even on the same day. With the addition of digital impression systems, no longer do patients have to experience the mouth full of impression material formerly required for procedures such as crowns, bridges or dental implants.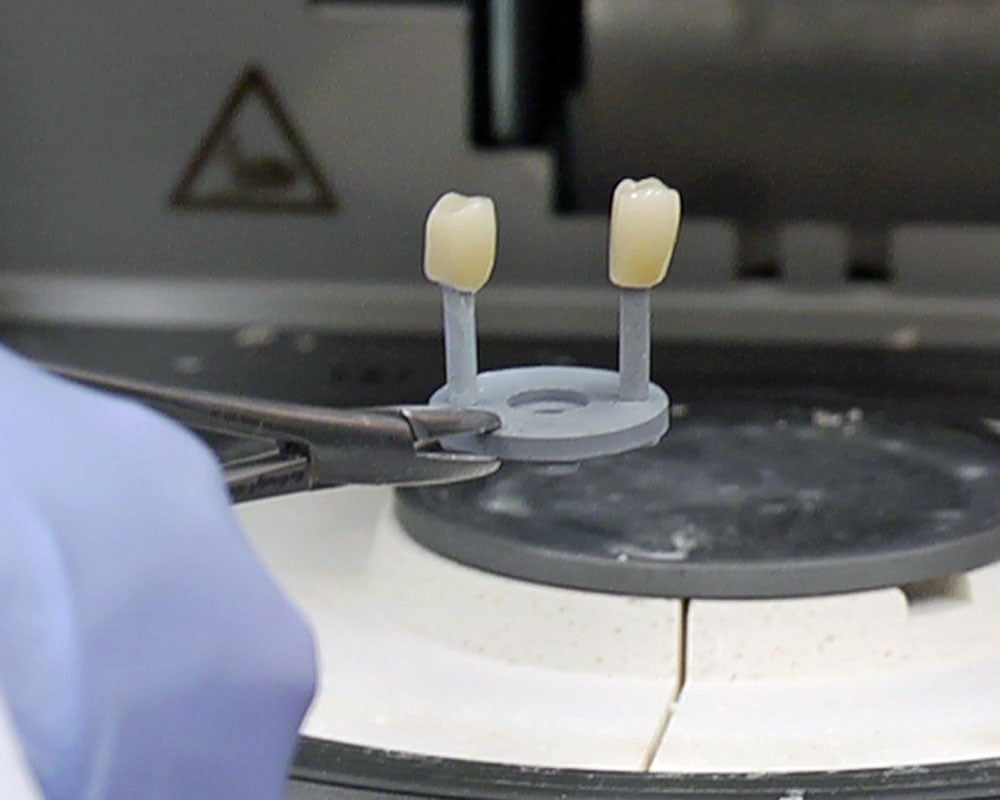 Crowns look and feel just like your natural teeth. A crown may be placed over an existing tooth after it has been prepared or it may be placed over an implant that has been placed where a tooth has been lost. Either way, in a few short visits you will have a beautiful and long-lasting solution to a cosmetic problem.
A crown can offer the support and esthetics needed when a tooth is cracked or a filling is large and compromises the strength of the tooth. In the case of a crack or large decayed area necessitating a root canal procedure, the tooth will be restored with a crown. It will typically take a few visits for the completion of your crown. Each crown is custom designed using either impressions or our in-house 3D CAD/CAM technology for optimal fit, function and a natural look.
We provide several implant and crown treatments based on your particular needs:
Implant Supported Crowns are ceramic/metal ceramic restorations retained by dental implants that have been placed in the jawbone to replace missing roots. When a natural tooth is lost or missing, an implant and its corresponding crown is the best choice for replacement since it is not removable by the patient, leaves the adjacent teeth remain unchanged, is disease resistant, and closely mimics the feel and function of a natural tooth.
Implant Supported Fixed Prostheses are full arch restorations of porcelain/metal ceramic crowns/bridges or complete dentures retained/supported by multiple, strategically placed titanium implants. This is the ideal restorative solution when a patient is fully edentulous (without any teeth) because unlike its conventional denture alternative it is not removable by the patient and closely resembles natural teeth, both functionally and esthetically.
Implant Supported Removable Prostheses is an affordable alternative for replacing all of your teeth. Basically, a complete denture supported and retained by multiple (2-6), strategically placed dental implants. This can provide an incredible esthetic and functional result.
Custom Shade Matching of Teeth
Color formulation is carefully selected and restorations are then individually designed and created to match your individual needs. This includes careful control of the shape, form, and color of your customized restoration. This process is especially valuable when restoring a single anterior tooth, where a slight variation in shade can cause a restoration to look obvious and unnatural.
Ceramic Crowns (Metal-free)
Ceramic crowns are the preferred alternative to traditional porcelain-fused-to-metal restorations in the front of the mouth. We fabricate ceramic crowns from high-strength materials that are extremely durable, and offer the best in esthetics. Each crown is custom designed using either impressions or our in-house 3D CAD/CAM technology for optimal fit, function and a natural look.
A bridge is exactly what it sounds like – a bridge over the space left by a missing tooth supported on either end by the adjacent teeth. Whether fixed or removable, a bridge may be a viable solution to bring back a complete smile.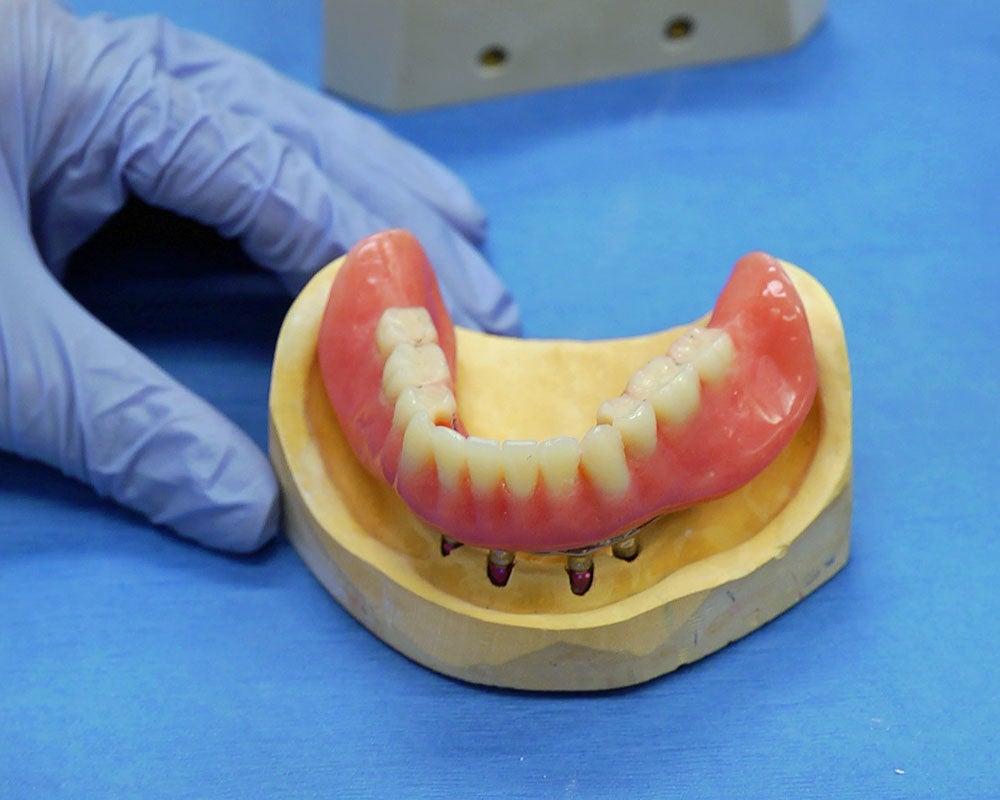 Complete Dentures
With the introduction of implants, denture therapy is becoming less widely used but continues to be a real solution for many patients who have lost some or all of their teeth due to periodontal disease, decay or trauma. Dentures may be implant-supported or tissue-supported. They may be removable or fixed (unable to be removed). We will determine the best choice for your unique situation after a thorough examination along with digital imaging to determine the extent of bone loss. While an implant-supported denture will be the most stable appliance, conventional (tissue-supported) dentures, when fitted properly, will also improve the quality of your life by enabling you to once again feel confident to smile and enjoy eating.
Fixed and Removable Partial Dentures
Fixed partial dentures differ from removable partial dentures in that they may not be removed from the mouth. Whether permanently attached to an implant or to adjacent teeth, the appliance will afford the patient a stable chewing surface to solve the problem of the missing teeth. When several missing teeth need to be replaced, a removable partial denture can provide many years of trouble-free service.
Metal Ceramic Crowns and Fixed Bridges
Metal Ceramic Crowns and Fixed Bridges are the mainstay of esthetic restorations for individual teeth and replacing teeth as part of fixed (cemented) bridges. They combine a long history of success, esthetics, while offering the greatest durability. We use the best in materials including high noble gold alloys covered with the leading tooth matching porcelains. We combine metal ceramic and ceramic crowns to provide the very best in esthetic and durable outcomes for our patients. Bridges are an ideal choice for replacing teeth for patients who aren't candidates for implants.
Patient Story: Restoring a Smile and Confidence Heading link
Digital Dentistry Innovation at UIC College of Dentistry Heading link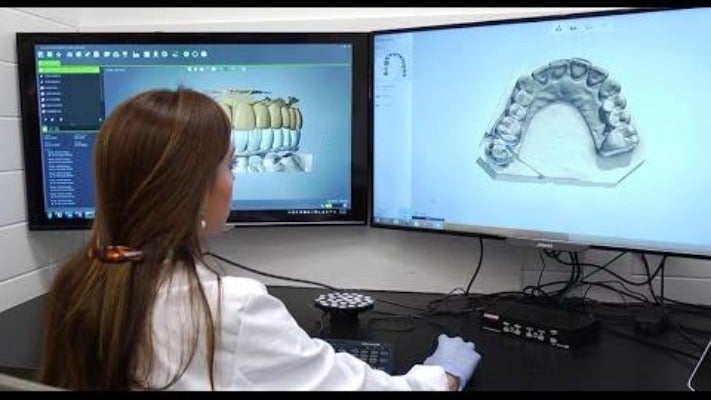 Leading implant and restorative treatment innovation to improve your care
The Implant & Innovations Center at UIC College of Dentistry is committed to providing excellence in dental implant services , as well as educational programs for the next generation of oral health professional serving Chicago and beyond.
The center is founded on the recognition that replacement of missing teeth with implant-supported restorations (crowns, bridges, dentures) is an increasingly attractive alternative for our patients.  We follow a collaborative and comprehensive approach customized to each patient's unique needs to ensure the best outcomes throughout the planning and provision of care.
The center is responsible for coordinating and managing the implant supported patient care and educational programs of the University of Illinois at Chicago's College of Dentistry. We have created a collaborative environment that engages a broad range of experts and specialists (prosthodontists, periodontists, and oral surgeons) in providing the best patient care and professional education.
360 Virtual Tour of the Restorative Dentistry Clinic Heading link
Prosthodontics Clinic
(312) 996-9223
prosthodontics@uic.edu
Implants & Innovation Center
(312) 996-3145
cdic@uic.edu
UIC College of Dentistry
Implants & Innovation Center
801 S. Paulina St. Room 361
Chicago IL, 60612
The Department of Restorative Dentistry consists of more than 115 full-time and part-time faculty, residents and staff.  The Department plays an active leadership role with forward-looking initiatives as part of the College of Dentistry.  We are engaged in ongoing curriculum reform and the integration of emerging technologies into our educational and patient care environments. We are well recognized for our Evidence-based Dentistry training programs, and have integrated EBD education into our predoctoral and advanced training programs.
The Department of Restorative Dentistry supports the patient care and educational programs associated with the Predoctoral and Advanced Educational Programs of the College of Dentistry. This includes the predoctoral digital dentistry, implant program, fixed partial dentures, operative dentistry, removable prosthodontics, occlusion, and biomaterials, as well as numerous collaborative efforts.  Department faculty are responsible for up to 40% of the predoctoral educational program.
Along with our predoctoral educational activities, the Department sponsors an Advanced Education Program in Prosthodontics, and graduate training in a variety of basic science areas, most notably biomaterials and clinical outcome research leading to MS and PhD degrees.  Please visit those sites for additional information.  The Department is very active in both educational, biomaterials, and patient mediated outcomes research, with grant support from both public and private agencies.