Periodontal (Gum Disease) Therapy
A Team of Periodontists and Scientists Fighting Periodontal Disease Heading link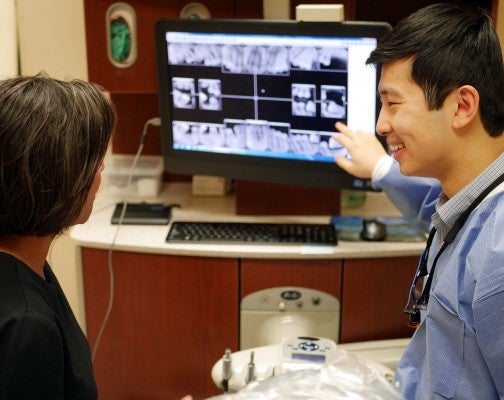 Invest in your smile.  Get help from gum disease.
UIC periodontists are experts in treating periodontal (gum) disease, saving and replacing teeth using the latest research.
Periodontal disease, also known as gum disease, is a chronic inflammatory disease that affects the gums and bone supporting the teeth. And if left untreated – it can lead to significant tooth loss. Periodontists at University of Illinois at Chicago College of Dentistry are experts in treating periodontal disease and replacing missing teeth with dental implants and in the management of implant diseases. UIC periodontists have specialized training to perform non-surgical treatments and advanced periodontal surgery procedures.
We provide a full range of periodontics care. Services include periodontal non-surgical treatments as well as advanced surgery and gum / bone grafting, regenerative procedures, dental implants, dental crown lengthening, and pocket reduction. We are also dedicated to educating our patients about the scientific link between periodontal disease and systemic disorders such diabetes, cardiovascular disease and complication during pregnancy.
A Team of  Experts – All In One Place
When you choose UIC, you get a team of dental experts conveniently located in one Chicago location. Our periodontists – many of which are board certified, and are research scientists – work closely together  with our other dental specialties to coordinate dental care . And, because we're a research & educational institution, we all teach, learn and perform research together.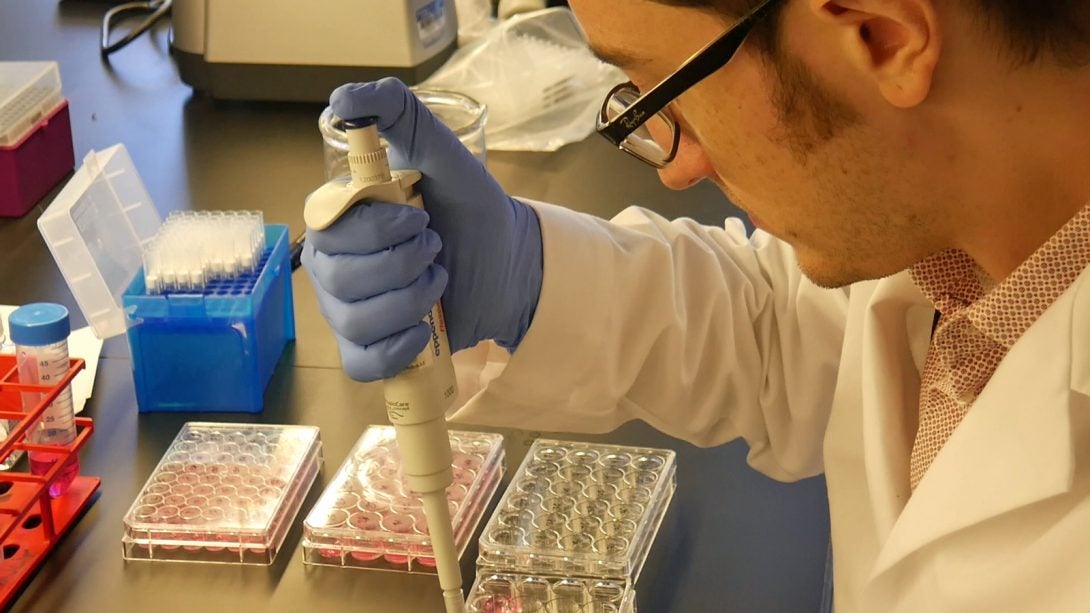 Our periodontists are specially trained to provide care related to the gingiva ("gums") and bone structures supporting your teeth. We use advanced techniques to diagnose, treat and manage periodontal disease and related conditions as part of maintaining good overall oral health. We provide comprehensive dental implant care including treatment planning, surgical placement, and implant site development (bone / tissue grafting).
Advancing the Science of Periodontal Therapy to Improve Care
Our team of periodontal experts also includes research scientists who enable our team to incorporate the latest scientific advances, technology and clinical research findings into how we provide dental care. Through this we not only learn, and apply this knowledge to benefit our patients' care, but we also contribute back to the scientific community and the profession through our own scientific endeavors.
As a research university, we can offer patients the most up-to-date treatment methods backed-up by data and scientific rigor not typically found in most dental offices. And, our patients appreciate being well informed and confident in their decision making about their health.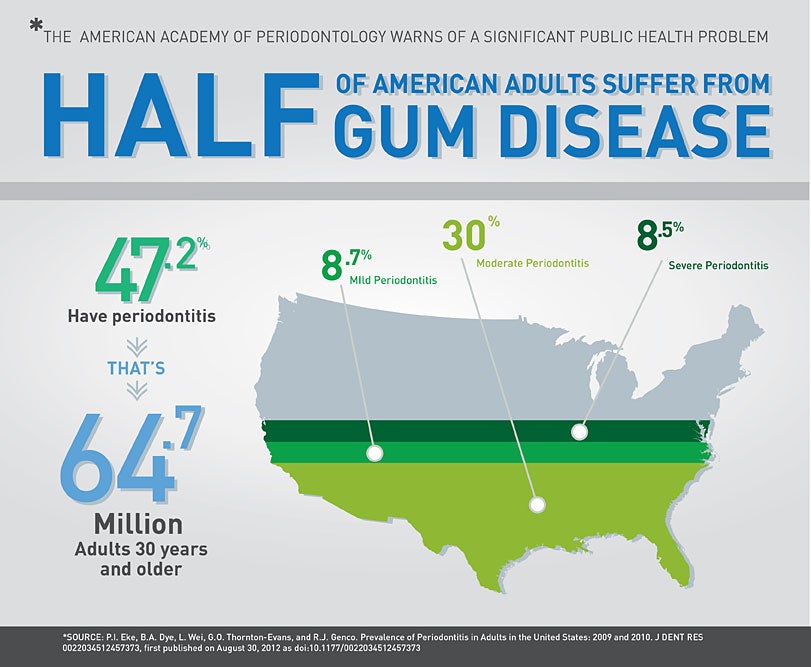 One out of every two American adults aged 30 and over has periodontal disease, according to recent findings from the Centers for Disease Control and Prevention (CDC). A study titled Prevalence of Periodontitis in Adults in the United States: 2009 and 2010 estimates that 47.2 percent, or 64.7 million American adults, have mild, moderate or severe periodontitis, the more advanced form of periodontal disease. In adults 65 and older, prevalence rates increase to 70.1 percent. This study is published in the Journal of Dental Research, the official publication of the International and American Associations for Dental Research.  Because there is such a high prevalence of periodontal disease in the U.S. population, the American Academy of Periodontology encourages yearly comprehensive periodontal evaluations to assess for disease. (Source: American Academy of Periodontology Perio.org)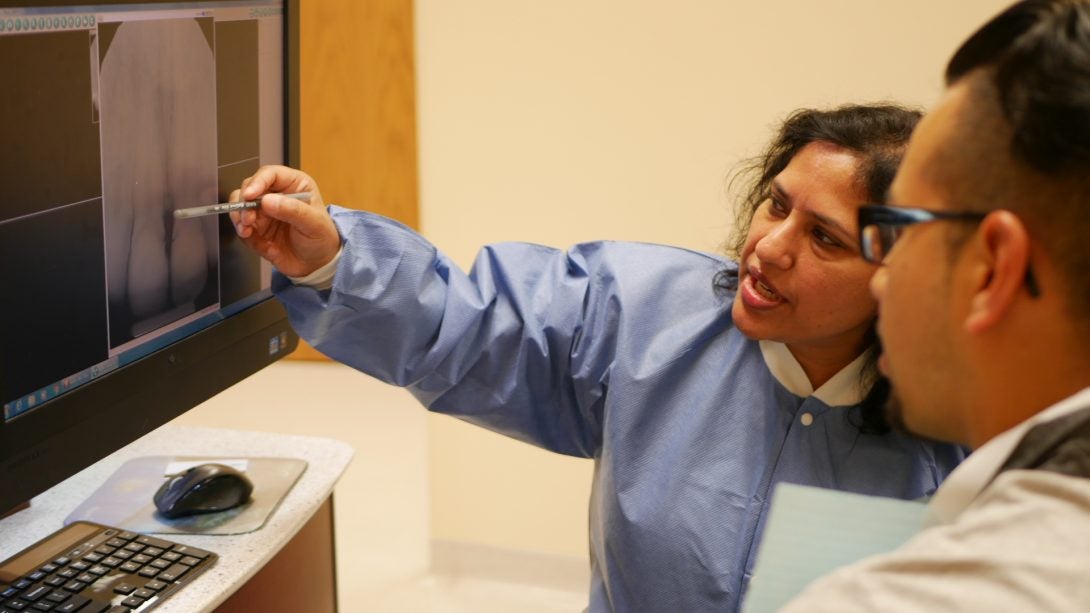 Learn more about what causes periodontal disease, the risk factors and how we treat it.
Similar to a natural tooth, bacteria can build up on the base of dental implants, below the gum line. This condition is called peri-implant disease and causes inflammation affecting the soft and hard gum tissues around dental implants. Without good oral hygiene and regular check-ups, even artificially implanted teeth (dental implants) can become affected by periodontal disease. In the US, periodontal disease affects about 12% of dental implants.
Periodontal (gum) disease affects about 12% of dental implants.
The risk of disease associated with dental implants is even higher if the replaced teeth were lost due to periodontal disease. So, implant teeth need regular care and maintenance just as much as natural teeth do.
At UIC, periodontists, dental implant specialists and oral surgeons all work together, using the latest techniques to help patients fight periodontal disease, even with dental implants.
Our goal is to provide innovative and compassionate therapy in a caring environment. We are dedicated to educating our patients and helping them make knowledgeable decisions about their treatment. We believe in developing a strong partnership with each of our patients. We will help you learn about the importance of taking care of your teeth, working closely with you to obtain optimum dental health. You will appreciate our commitment to excellence, as well as the state-of-the-art care you will receive from our team.