Orthodontics
Comprehensive treatment of bite problems, misaligned teeth and jaws, and jaw growth problems for children and adults.
Our orthodontic specialists will help you feel better about your smile. Heading link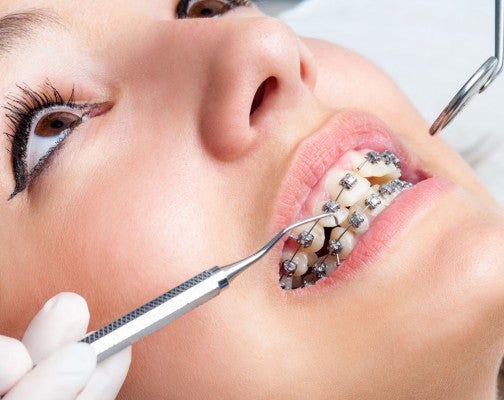 Our orthodontics department provides comprehensive treatment of bite problems, misaligned teeth and jaws, and jaw growth problems for children and adults in a modern, open-design clinic. We provide a free initial examination to determine your needs and provide an initial estimate of the treatment costs and the time it will take.
The UIC team of orthodontic specialists includes 11 board certified orthodontists working closely with a team of resident trainees to provide the highest standard of care.
To request an appointment at the UIC Orthodontic Clinic, please call (312)996-7505 or (312)996-7506. Thank you!
University of Illinois Chicago (UIC) College of Dentistry offers a wide range of orthodontics services including comprehensive treatment of bite problems, misaligned teeth and jaws, and jaw growth problems for children and adults. We offer traditional braces, Invisalign® and SureSmile®.
Regular / standard metal braces, clear braces, and self-ligating braces from a variety of established manufacturers and companies, so that each treatment is specialized and tailored to each patient
Orthodontic treatments for children, including early treatment and growth guidance
Orthognathic/surgical, and cleft lip and palate treatment
Comprehensive adult, adolescent and teen orthodontic treatment
Esthetic orthodontic treatment
Two phase, and mixed dentition treatment
Invisible (clear aligner trays) including Invisalign® 
Computer driven appliances including SureSmile® and Insignia
Hidden (lingual) braces including 3M Incognito and Harmony (hidden, or lingual braces, are fixed on the back of teeth instead of the front)
Advanced orthodontic diagnostics including 3D CBCT imaging, 3D facial scanning, 3D treatment simulation and intraoral scanning
Our healthcare facility is now using telehealth, or virtual appointments, to reduce the risk of potential viral transmission between healthy and affected patients at our facility. Consultations with a clinician or the care team can now be booked from the comfort of your own home.
Using the Latest Orthodontic Technology to Improve Your Smile Heading link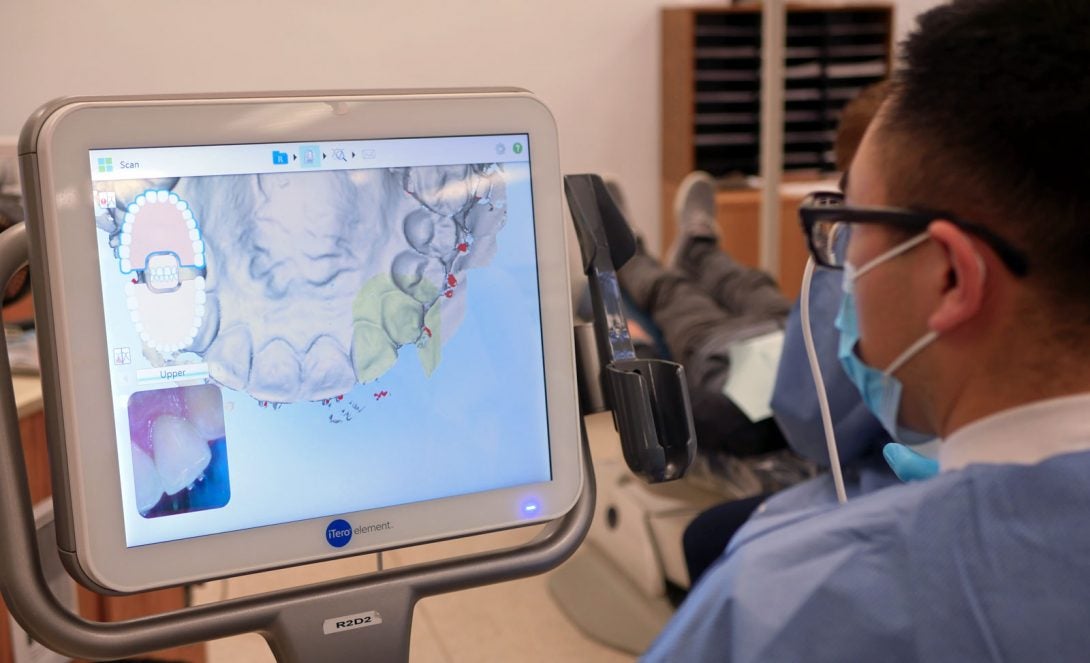 Orthodontics has changed considerably in the last few decades. Our orthodontists use the latest in imaging and diagnostic tools and techniques to help you decide if orthodontic treatments are right for you. Using 3D imaging technology, our specialists can detect and diagnose potential problems earlier, and then review your accurate, detailed digital scan with you so you can better understand your oral health.  In addition to traditional appliances, we offer the latest in invisible and computer driven orthodontics such as Invisalign®, self-ligating brackets and SureSmile®, for more efficient treatment and optimum comfort.
Digital Diagnostic and Treatment Planning
UIC orthodontists use state of the art technology and methods to diagnose and plan your orthodontic care. Digital treatment planning provides the highest level of accuracy and detail to enhance your smile through effective, safe and efficient treatment.
i-CAT 3D Treatment Planning
We use the i-CAT CBCT 3D scanning system during our treatment planning to produce a 3D analysis of your mouth to improve diagnosis of hidden issues such as impacted teeth, craniofacial anomalies, facial discrepancies, and bone irregularities or malformation, such as TMJ.
The i-CAT 3D Scanning technology produces a three-dimensional (3D) image of the jaws and teeth that you can you see within minutes, and discuss with your specialist during the visit. This 3D technology allows us to quickly and precisely determine the exact movement of teeth, for a more accurate diagnosis of many orthodontic problems including impacted or missing permanent teeth and other dental abnormalities. The i-CAT emits 95% less radiation than traditional hospital-based CT scan machines, while producing a better visualization of the hard and soft tissues of the craniofacial structures from several perspectives.
Digital Airway Diagnosis
For some cases, we also perform an airway study from the scan to assess nasal obstructions such as enlarged adenoids and tonsils, deviation of nasal septum, and swollen nasal tissues. Diagnosis of mouth breathing habits due to nasal obstructions is extremely important because of the adverse affect on proper jaw growth.
Dental Monitoring
UIC orthodontists are now using an innovative Dental Monitoring system to monitor patients remotely using a smartphone app for patients, integrated with an online dashboard where our team can view treatment progress and pre- or post-treatment changes.
The Dental Monitoring system enables our orthodontists to receive instant notification should there be any problem with the patient's braces or other factor that might inhibit the progress of their treatment as well as monitoring unwanted side effects. This real-time patient-doctor interaction represents an innovative move into the area of 'telemedicine' for the UIC Department of Orthodontics.
Learn more about Dental Monitoring
Not everyone with less than perfect teeth needs to have "braces." A reasonable estimate is that about 50% of individuals will gain enough benefit from wearing "braces" to go ahead with the time and expense of orthodontic treatment. While we treat children commonly – a child's head and mouth are still growing and teeth are easier to straighten – we specialize in adult treatment, as well. Once you've started your orthodontic treatment, our specialists and highly-trained staff will help you to practice good oral care to keep food and plaque from accumulating. This will prevent staining, white spots, tooth decay, and gum disease.
Certain conditions, such as many missing teeth or periodontal ("gum") disease, may make orthodontic treatment difficult or inadvisable. While orthodontic treatment can often improve the appearance and fit of the teeth, it will not make your teeth healthier or prevent tooth loss due to cavities or periodontal disease. Nor is orthodontic treatment a "cure" for jaw joint (TMJ) problems.
Invisalign®
Invisalign® straightens your teeth using a custom-made series of aligners created for you and only you. These aligner trays are made of smooth, comfortable and virtually invisible plastic that you wear over your teeth. They gradually and gently shift your teeth into place. There are no metal brackets to attach and no wires to tighten.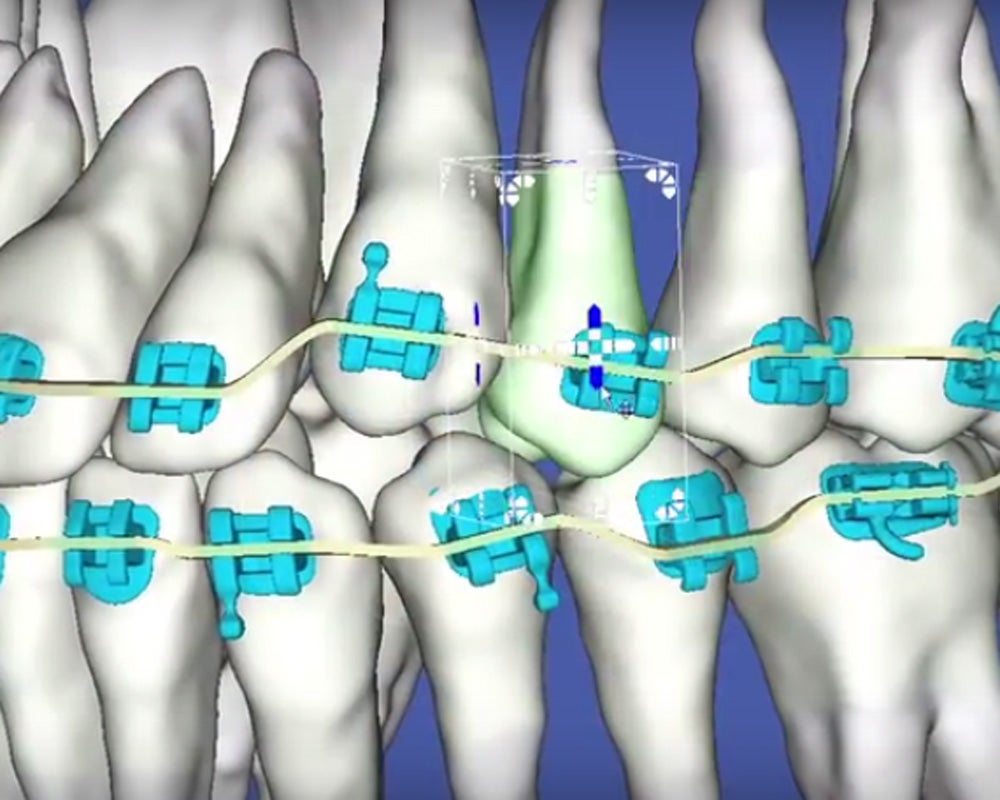 SureSmile®
We offer SureSmile®, an advanced orthodontic treatment that uses 3D modeling of your mouth that allows our orthodontic specialists to precisely identify the desired teeth position for each patient. This provides a more precise bite adjustment, and less time in braces. Compared to traditional braces, SureSmile saves time and requires fewer visits for manual adjustments and tightening of the braces.