Alumni Affairs
You are Part of our Alumni Family
Welcome, graduates!
You are now part of our alumni family and among 6,000+ dental alumni. We welcome your involvement as a lifetime representative of the College of Dentistry. Remaining engaged with the College makes sure your success is achieved and celebrated beyond your dental school days. We are here to create a lifetime of engagement and connection to alumni resources, leadership, and continuing education opportunities.
The UIC Dental Alumni Board is an arm of the UIC Alumni Association and is a leadership opportunity as the College and Directors provide a voice and support policy and programming for a variety of issues that impact alumni. As a Director, you'll have the opportunity to network, renew old acquaintances and make new ones, become a strong ambassador for the College, interact with dental students, postgraduates, and residents, and make meaningful changes at the College of Dentistry.
Your Dental Alumni Board advocates on behalf of the College and our alumni community, advises the Dean on matters central to the health of the College, presents awards to alumni and students, and sponsors student and alumni events.
For more information, call us at (312) 996-0670 or email dentalumniboard@uic.edu.
News Corner
Alumni in the News. (July 2020 – June 2021)
Dr. Suvidha Sachdeva, 09, was featured in the podcast "From the Bottom to the Top," which highlighted her dental practice, Sunshine Smiles Dentistry in Roswell, Georgia.
 Dr. John Tran, '18, was featured in an article by UIC Alumni titled "Learning About Health Disparity by Leaving Home."
Dr. Erick Quintana Raya, '20, was the subject of an article by UIC Alumni, highlighting the different paths that exist to serving the underserved in the field of dentistry.
Dr. John Nusstein, '87 was appointed to a two year term as President of the American Association of Endodontists Foundation (AAEF). His term began April 30, 2020.
Dr. Mark Humenik, '88, was presented with the Chicago Dental Society Foundation Vision Award for his generous support of access to care and dental education for the underserved during the virtual Opening Session of CDS' annual Midwinter meeting on February 25, 2021.
Get to know Drs. Kelsey Brar, '17, MS Oral Science '20, Tamara Oweis, Ortho '12, and Adam Winckler, '06.
Dr. Norman Wahl, '59, Authored a book, "Dentists at War: 12 Who Went Beyond the Call of Duty" in June 2020.
Dr. Genaro Romo, '97, was featured in a Delta Dental of Illinois article honoring his accomplishments during Hispanic Heritage Month.
Dr. Lina Al-Chaar joined Marietta Dental Professionals in November 2020
Dr. Christopher Bingham, '05, was featured in Dental Town magazine for his Robotic-Assisted Dental Implant Surgery.
Dr. Thomas Schneider, '86, was appointed president-elect of the Chicago Dental Society.
Dr. Denise D. Sorpassa, '88, Clinical Instructor in the Department of Restorative Dentistry, who was installed as the Treasurer of the Chicago Dental Society for 2021.
Dr. Michael Durbin, '88, Orthodontics '90, was appointed as the 2021 secretary for the Chicago Dental Society!
Get to know Dr. Bernard O'Reilly, '87.
Dr. Courtney Botica, '16, was featured in a New Lenox Patch article highlighting her new practice in her hometown.
Dr. Brian Caraba, '95, and Dr. Lorenzo Prieto, Prosthodontics '16, have created Well Articulated: A Dental Podcast. The podcast covers a range of topics including public health and applying to dental school.
Dr. Cheryl Watson-Lowry, '87, former Chicago Dental Society president, was interviewed in a Glamour article on the importance of oral hygiene and steps you can take prior to visiting your dentist during the pandemic.
Dr. Anthony Markiewicz, '85, was featured in the Daily Herald for completely renovating his office in Mundelein to ensure a safe and responsible re-open
Dr. Terri Tiersky, Loyola '86, JD '91, and Chicago Dental Society President, was interviewed by AP News on the reopening of dental practices in the U.S.
Are you in the news?  Let us know at DentNews@uic.edu. 
Alumni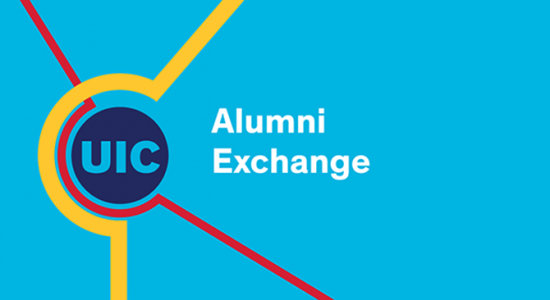 UIC is at the forefront of the most pressing issues affecting our city and our rapidly changing world. Our alumni, faculty and students fight disease and injustice, educate leaders, serve and care for our most vulnerable and contribute to our vibrant culture. Amazing things happen when we learn together and share ideas.
Alumni Exchange is a new virtual event series that brings news, knowledge and entertainment to help you learn, grow, explore, connect and even escape from the everyday with a community of UIC alumni and faculty. Join us online.
UICAA Virtual Alumni Book Club
UICAA Virtual Alumni Book Club aims to provide UIC alumni with enriching discussions around a variety of fiction and nonfiction genres, including career and lifelong learning resources to aid in your professional development. Hosted on the Goodreads website and app, this virtual community is open to all UIC alumni and reading enthusiasts. Join us at go.uic.edu/virtualbookclub.
Related Events
August 09, 2021
Virtual (Zoom)
Friday, 12:00 pm–2:00 pm
Virtual (Zoom)
Thursday, 12:00 pm–1:00 pm