Alumni Affairs
Welcome, graduates!
You are now part of our alumni family and among 6,000+ dental alumni. We welcome your involvement as a lifetime representative of the College of Dentistry. Remaining engaged with the College makes sure your success is achieved and celebrated beyond your dental school days. We are here to create a lifetime of engagement and connection to alumni resources, leadership, and continuing education opportunities.
The UIC Dental Alumni Board is an arm of the UIC Alumni Association and is a leadership opportunity as the College and Directors provide a voice and support policy and programming for a variety of issues that impact alumni. As a Director, you'll have the opportunity to network, renew old acquaintances and make new ones, become a strong ambassador for the College, interact with dental students, postgraduates, and residents, and make meaningful changes at the College of Dentistry.
Your Dental Alumni Board advocates on behalf of the College and our alumni community, advises the Dean on matters central to the health of the College, presents awards to alumni and students, and sponsors student and alumni events.
For more information, email dentalumniboard@uic.edu.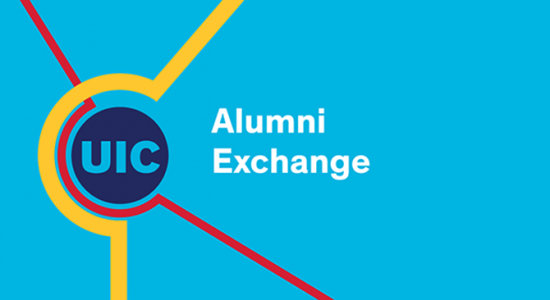 UIC is at the forefront of the most pressing issues affecting our city and our rapidly changing world. Our alumni, faculty and students fight disease and injustice, educate leaders, serve and care for our most vulnerable and contribute to our vibrant culture. Amazing things happen when we learn together and share ideas.
Alumni Exchange is a new virtual event series that brings news, knowledge and entertainment to help you learn, grow, explore, connect and even escape from the everyday with a community of UIC alumni and faculty. Join us online.
UICAA Virtual Alumni Book Club
UICAA Virtual Alumni Book Club aims to provide UIC alumni with enriching discussions around a variety of fiction and nonfiction genres, including career and lifelong learning resources to aid in your professional development. Hosted on the Goodreads website and app, this virtual community is open to all UIC alumni and reading enthusiasts. Join us at go.uic.edu/virtualbookclub.
Friday, 12:30 pm–4:00 pm
Lecture Hall North
Wednesday 20th, 8:00 am–Friday 22nd, 1:30 pm