Service Learning
Providing a broad range of service learning opportunities Heading link
The UIC College of Dentistry aims to prepare an oral health care workforce competent and committed to addressing oral health needs of vulnerable and underserved populations, and a workforce that plays its part in eliminating health disparities. Our Service Learning curriculum is integrated throughout all four years of dental school. It is a progressive curriculum, which includes didactic components as well as introducing students to a variety of community-based, hands-on experiences outside of the College.
There are many ways our students get involved and enhance their training through Community Health programs.
Students can:

Participating in running a dental clinic.
During first year, students provide valuable early prevention education in fun ways in numerous community schools and health centers.
Students serve the unique and complex need scenarios of special needs and disabled patients.
Dedicate up to half of their fourth year experience to a community health focus on rotations across several domestic sites.
Gain first-hand knowledge and expertise practicing within private practices, hospitals, community health centers, and mobile units in both rural and urban locations.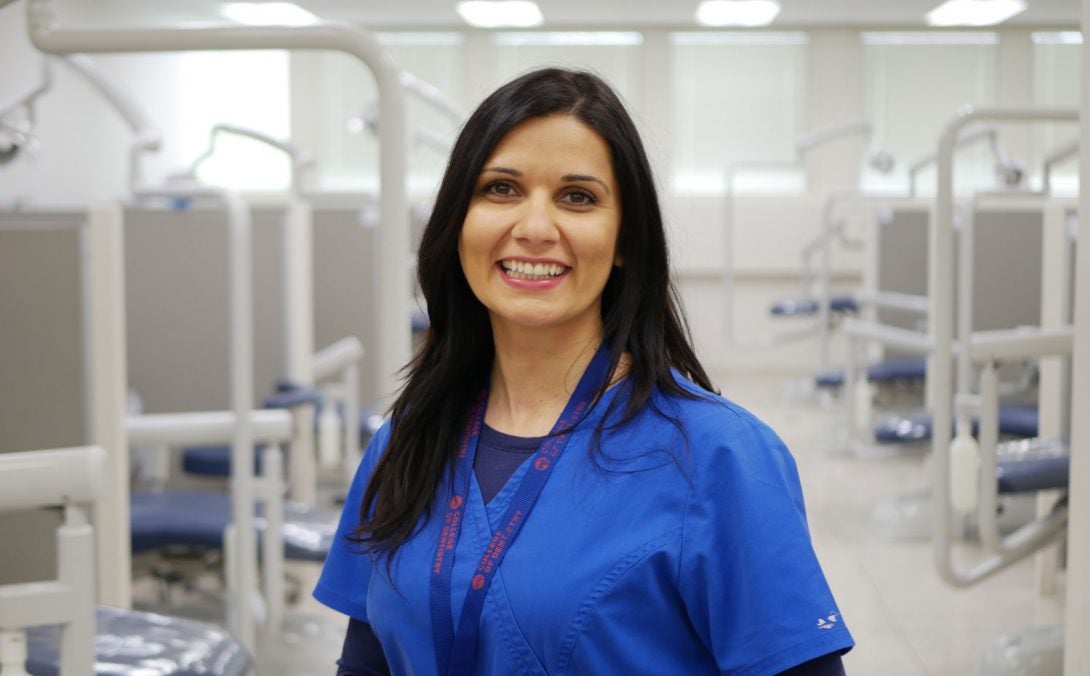 Over the first three years at the College, students are introduced to issues contributing to health disparities in this country, thereby impacting a person's oral health status. While visiting local communities and community organizations, students are provided with first-hand learning experiences including providing oral health education in elementary schools and engaging in a variety of volunteer opportunities which lend themselves to explore the following topics: health education, access to health care, social determinants of health, risk factors, and literacy, language, & culture.
Fourth year students engage in service-learning experiences as part of a required course which involves community-based rotations at partnering health centers. Students devote a minimum of 50 days at these sites providing care to underserved urban, rural, and special-needs populations including children, developmentally disabled, HIV-positive and geriatric patients.
Community service learning realy opens your eyes to the world outside dental school. I've become much more aware of the issues that impact our profession.
Community Based Service Learning Infographic
Check out this infographic for statistics on the amazing impact ours students have on prevention and public health locally and around the world.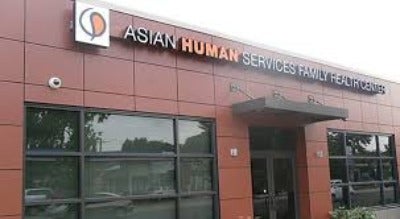 Chicagoland and Illinois
Asian Human Services Family Health Clinic strives to provide comprehensive, culturally-sensitive care to all patients. We serve patients from 55 countries in more than 25 languages, with a focus on serving immigrants and refugees from all over the world in addition to other underserved members of our West Ridge and Greater Chicago communities. The clinic has two locations at 2424 W. Peterson and 2501 W. Peterson in Chicago, IL.  As an FQHC (Federally Qualified Health Center) Asian Hunan Services offers the following dental care: exams and diagnostic services, digital radiology, cleanings, fillings, basic restorative dental care, extractions, removable partial dentures, sealants, and oral health outreach and education.

The Oak Park River Forest Infant Welfare Society sponsors The Children's Clinic, a community supported health care organization that provides medical, dental and social services to children, ages birth to 18, of families who are unable to afford the cost of private health care. Located at in Oak Park, IL, through partnerships with other community organizations Children's Clinic supports the physical and social well-being of children. It gives UIC dental students the opportunity and experience of delivering oral health services in a suburban community health center whose focus is pediatric care, showing positive aspects of public health dentistry and to increate patient access to oral healthcare. Dental services include Oral examinations, cleanings, fluoride varnish treatments, sealants, cavity repair and extractions.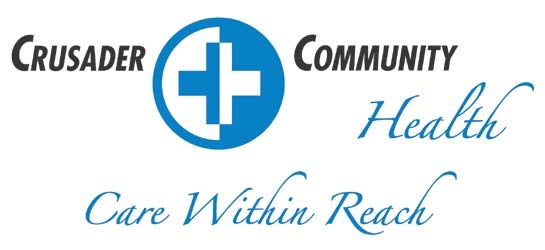 Crusader Central Clinic Association was chartered as a not-for-profit corporation in 1970 by a group of citizens in Rockford, Illinois who were concerned about low-income residents' access to medical and dental care. Crusader offers a wide variety of services from family practice, podiatry, ENT, optical services, a pharmacy, to health and diabetes education. Crusader serves more than 35,000 patients a year in multiple locations throughout north central Illinois:
Crusader Community Health (Broadway)- 1100 Broadway, Rockford, IL 61104
Crusader Community Health – Loves Park- 6113 N. 2nd Street, Loves Park, IL 61113
Crusader Community Health – State Street-  1200 W. State Street, Rockford, IL 61102
The Douglas County Health Department offers several programs and public health services including nursing, environmental health and health education. Located approximately 162 miles outside of Chicago in Tuscola, IL, Douglas County Health Department continually works toward providing the best and most up to date services for all the communities of the area and to protect and promote healthier lifestyles through prevention and education. Dental services include but are not limited to: exams, cleaning, sealants, fillings, extractions, crowns, root canals, and dentures.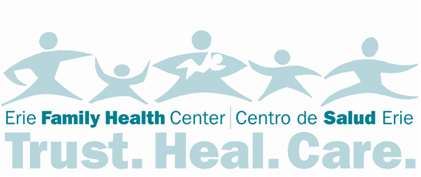 Erie Family Health Center believes health care is a right, not a privilege and provides accessible, affordable and high quality health care for those in need. Erie's objective is to provide quality, community responsiveness, and cost effective primary health care regardless of color, creed, gender, age, language, or ability to pay. Erie provides dental care at the following locations: Erie Evanston/Skokie, Erie Foster Avenue, Erie HealthReach Waukegan, Erie Humboldt Park.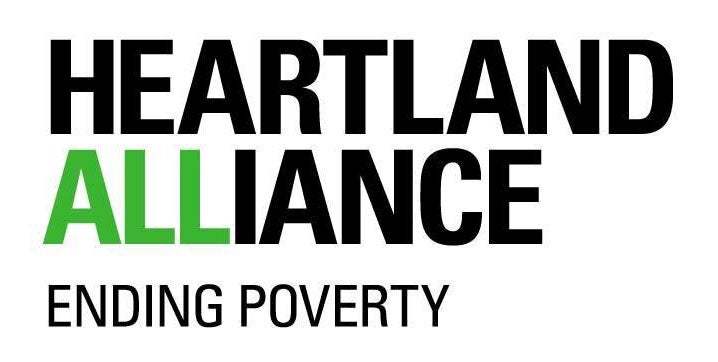 Heartland Health Outreach believes that all persons, regardless of financial status, language or cultural differences, have the right to receive quality health care in a supportive, inclusive atmosphere.  Services include preventive and restorative care, oral surgery, periodontics, and endodontics. Patients are seen at the dental clinic located 1015 W. Lawrence Ave in Chicago. Serving at Heartland gives students the opportunity and experience of delivering oral health services in an urban FQHC setting to a special needs population, specifically people living with HIV/AIDS and people experiencing homelessness.
Illinois Masonic is one of eight hospitals part of Advocate Health Care, an Oak Brook-based not-for-profit health care delivery system in metropolitan Chicago. The hospital is located in the Lakeview neighborhood on the north side of Chicago at 811 West Wellington; it is home to one of the leading trauma centers and leading research hospital in cancer, cardiology, and obstetrics. Illinois Masonic also has a dental residency program.  Illinois Masonic provides two unique programs to specialized populations; one is the Special Patient Dental Care Program, providing comprehensive dental care to adults and children with developmental disabilities, and the other is a Dental Van Program, which provides on-site dental care to the underserved in the Chicago area. Services include: examinations, routine x-rays, cleanings, fillings, root canal therapy, restorative treatment, oral surgery, implants, dentures, and bridges.

The Infant Welfare Society was initially established in 1911 to combat infant mortality by dispensing "safe" milk at stations located in low-income areas; the Infant Welfare Society now provides a comprehensive program of medical, dental, educational and mental health services to poor mothers and children up to age 19. A community health based health center, its comprehensive pediatric dental services include preventive care, advanced pediatric restorative treatment, oral surgery procedures, space maintainers, interceptive and comprehensive orthodontics.

In the early 1980s, a group of Lawndale residents gathered together and identified a pressing need for a health care center for the community. As a result, Lawndale Christian Health Center (LCHC) was founded as a ministry of Lawndale Community Church. LCHC, a federally qualified community faith-based health center, serves under-resourced communities on Chicago's west side through primary medical care, dental and optometry, behavioral health, additional health support services, and fitness. The mission of LCHC is to show and share the love of Jesus Christ by promoting wellness and providing quality, affordable health care for Lawndale and the neighboring communities. Services include full range of general dentistry for adults and children including diagnostic and preventive services such as exams, cleanings, fluoride treatments, sealants and x-rays. Restorative services include composite resin fillings, amalgam fillings and crowns. The clinic also performs simple extractions as well as offering root canal therapy.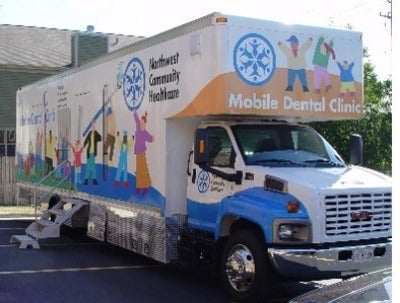 Northwest Community Healthcare's (NCH) Mobile Dental was launched in 2003 and provides preventative and restorative oral health services to individuals and families who are without dental insurance and who live at less than 200% of the federal poverty level. While many dental clinics focus on treating emergencies, NCH's program emphasizes the importance of overall oral health by helping patients develop a habit of regular cleanings and exams, and establishing a permanent dental home. The experience gives students the opportunity to deliver oral health services in a community utilizing a mobile dental van to underserved populations in four suburban townships. The Clinic operates in partnership with Elk Grove, Palatine, Wheeling and Schaumburg townships, and serves more than 2,800 patients a year. Dental services include: oral exams, cleaning, fluoride treatment, X-rays, sealants, cavity treatment and simple extractions.
Peoria City County Health Department dental clinic works toward goals to prevent dental disease, promote oral health, and protect the community by promoting education and oral health competency. Students gain skills in the procedures of general dentistry as performed in the hospital, clinic and private practice settings.  Located approximately 166 miles from UIC in Peoria, IL, the dental clinic seeks to provide both clinical and dental care for the patients of Peoria County and to develop inter-professional relationship within medicine and dentistry. Services include general dental exams, preventive and routine dental care for special populations, and dentures.
Lake County Health Department is a state-certified public health department responsible for the prevention of disease and disability, promotion of health and maintenance of a healthy environment.  Primary care and dental services are provided to uninsured and underserved residents of Lake County.  It specializes in serving both HIV/AIDS patients and nursing home dentistry.  To give students the opportunity and experience of delivering oral health services in a semi-rural and small town setting at a community center operated jointly by a non-profit organization and a county health department. Located in Round Lake Beach, IL, Lake County Health department offers the following services basic oral exams, dentures, cleanings, fillings, sealants, and extractions.
St. Bernard Hospital, Chicago, IL – Englewood
OSF Saint Francis Medical Center, Peoria, IL
Outside Illinois
Indian Health Service, locations in several states including Alaska, Oklahoma and Wisconsina, and Wyoming
Salud Family Health Center, locations in Fort Lupton, Fort Morgan, Frederick, and Longmont, CO
Contact
For more information about our Community Based Education efforts please contact:
Khatija Noorallah, MPH, MEd
Clinical Community Academic Manager
Clinical Instructor
(312) 355-4549
Our curriculum is designed to offer a broad range of community service learning opportunities that prepare dental students for careers in diverse settings and to encourage their interest in working with the underserved populations. The College has partnered with community-based organizations throughout Chicagoland to offer students a remarkable set of community-based service-learning experiences.
The program begins in the first year, culminating in a fourth-year course during which students rotate through three, four, and sometimes five different community-based service settings, with a format of 1 week at a site followed by 1 week at the college for an 8-week cycle. The process is repeated at another site for another 8-week cycle, and so on. This is a required 12-unit course that is for credit and graded. The sites are specifically selected to provide a full and rich range of different types of delivery systems.
We partner with several Federally Qualified Health Centers (FQHCs), and each is based in a different kind of community or serves a specific population—eg, rural, predominantly Hispanic or African American or migrant workers in Colorado—or serves a specific population, such as developmentally disabled patients. Two sites provide care via mobile vans.  Each of our 20+ partner sites is a medical–dental facility in which oral health is highly integrated into the healthcare delivery system.