Community-Based Research
Leading transformative studies to improve oral health outcomes both in the clinic and the community.
We have several centers and investigators focused on the study of the incidence and prevalence of disease; measuring outcomes of interventions; and safety and efficacy of drugs, devices, and treatments in individuals. We are also investigating how and why efforts to promote oral health through intervention are accepted by communities.
Integrating Research Into Education
The College of Dentistry's integration of research into education and patient care will continue to change the future of oral health by focusing on health promotion and disease prevention. Several researchers are conducting transformative studies that look at individuals and populations to better understand the risk of oral diseases such as periodontitis. Our investigators have identified risks that include a range of factors from social background, to individual compliance, to personalized health issues that, when considered as part of the patient management plan, can improve overall care.
UIC College of Dentistry offers several educational, clinical and research programs to improve the oral health of families and communities, especially in Chicago. For instance, UIC is developing a wide range of outreach programs to reduce cavities in Chicago's low-income and minority infants and toddlers under a five-year, $5 million grant from the National Institutes of Health (NIH). Through the Great Cities Commitment, UIC faculty, students and staff engage with community, corporate, foundation and government partners in hundreds of programs to improve the quality of life in metropolitan areas around the world.
Additionally, our programs integrate training in clinical and laboratory skills as well as in the epidemiology of oral diseases. Research emphasis is placed on statistical analysis and evidence-based decision-making to guide health policy making given current public needs, especially those of populations with limited access to dental care.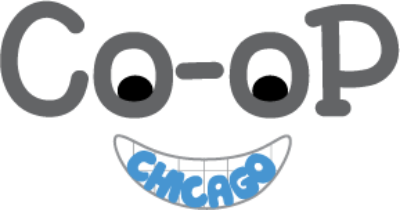 Almost half of children 11 years old and younger suffer from dental caries, making caries one of the most common chronic diseases of childhood. Low-income and minority children bear a disproportionate portion of this burden. We see this disparities clearly in the Chicago area, where 63% of third-graders have dental caries, and over half of those caries are untreated.
One way to improve a child's oral health is to improve the health of the whole family. Through a new outreach program, called CO-OP Chicago, UIC dentists and researchers are working to reduce cavities in Chicago's low-income and minority infants and toddlers. The program brings together a team of clinical pediatricians and dentists, researchers, health psychologists, and policy experts to rigorously test the ability of an oral health promotion intervention to improve child and family oral health. The program will emphasize family-focused education and support from community health workers in a range of settings (at home and in health centers) to find the best methods of reaching people and changing behaviors. Pediatric dentists in the College of Dentistry are developing a training curriculum for community health workers to educate some 1,500 families in Chicago, and evaluate their overall oral health and the incidence of cavities in the children. CO-OP Chicago is funded by a grant from the National Institutes of Health.
The team's hypothesis is that participants receiving home-based CHWs and clinic-based or WIC-based CHW interventions will have the best oral health outcomes at 12 months. The study employs the RE-AIM framework (reach, efficacy, adoption, implementation, maintenance) to evaluate program effectiveness. The results of this study have the potential to influence oral health programming, workforce development, and reimbursement on the local, state, and national levels.
Program Website
Research Partner(s): Illinois Chapter, American Academy of Pediatrics
Affiliated Center/Program: Center for Health Behavior Research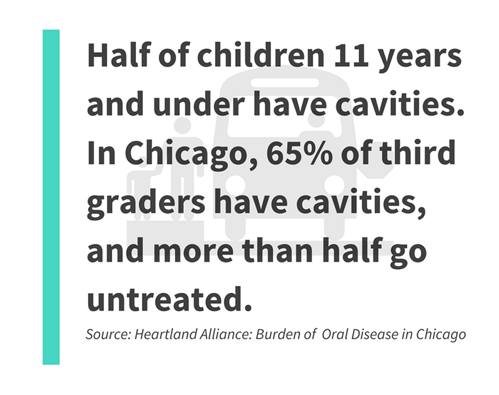 Oral health is often taken for granted, but it is an essential part of our everyday lives.
Good oral health enhances our ability to speak, smile, eat, and show our emotions through facial expressions. [i] While oral health in America has improved overall over the past several decades, a sizable number of Americans still go without basic dental care, which leads to greater rates of oral diseases.  Oral diseases, from tooth decay to gum disease and oral cancer, still cause significant pain and hardship for many adults and children in the US, particularly those lacking access to care and preventive services.
For instance, cavities (tooth decay) are still one of the most common chronic health problems of childhood in the United States. Almost half of children 11 years and under have cavities. In Chicago, 65 percent of third graders have cavities, and more than half go untreated. [ii]
The impacts start at childhood, and last a lifetime.
Untreated cavities can lead to real effects on a child's health, and for the whole family–from severe pain and health issues to impacts on school attendance and performance, as well as great financial expense. And, the burden is worse for lower-income families because those children do not get timely treatment for cavities. [iii]
Many Americans are at higher risk of being uninsured, lacking access to care, and experiencing worse health outcomes, including people of color and low-income individuals. For instance, Hispanics, Blacks, American Indians/Alaska Natives, and low-income individuals are more likely to be uninsured relative to Whites and those with higher incomes, which is a key reason they have limited access care, receive poorer quality care, and experience worse health outcomes.
Lack of insurance (and increased cost) is a significant barrier to good oral health.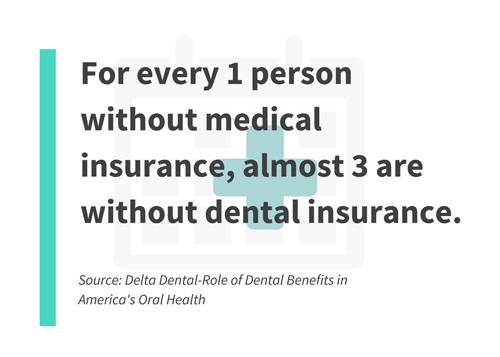 In 2010, more than 132 million children and adults lacked dental insurance [iv], and only about one-third of U.S. dentists accept Medicaid. [v]. In fact, for every person without medical insurance, almost 3 people are without dental insurance. [vi] . As a result, dental care is one of the first health-related services that people have to delay without adequate benefits to help with the costs.
Lack of access to oral health care in particular can have serious consequences, including progressive dental disease, costly hospital use, and missed days at school or work. And preventive care is key because people who receive regular preventive dental care and develop good habits as children tend to have better oral health over their lifetime.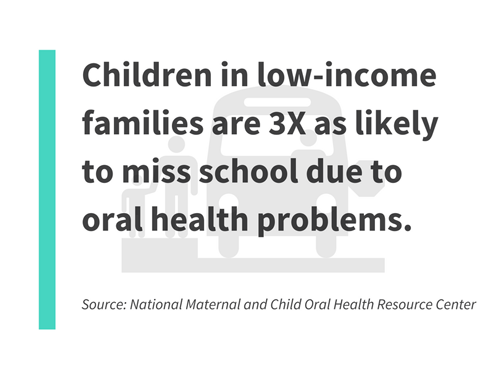 Additionally, poor oral health can have a real impact on a child's ability to learn. Oral diseases such as cavities can cause decreased appetite, depression, and inability to focus attention – all of which can lead to lower school attendance and learning performance. On average, a child with poor oral health will miss another day of school per year. Children in low-income families with limited access to preventive care will miss 3 times as many school days due to oral health problems. [vii]
And, inadequate preventive care and untreated oral disease have long-standing consequences. Over time, teeth and gums can become seriously diseased and require costly treatment or worse – lead to multiple or complete loss of teeth. Adopting good oral hygiene habits early in life combined with preventive care helps to maintain optimal oral health into old age and ensures you live not only a longer life, but also one free from the physical pain and often emotional suffering caused by oral disease. [viii]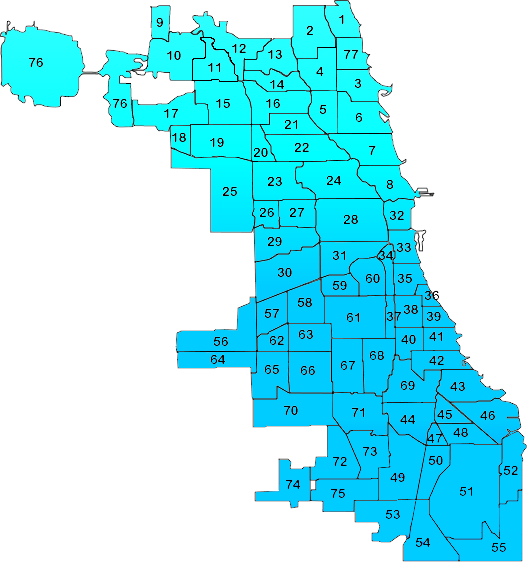 The Chicago Community Research Map is a resource to find out about the health-related research taking place in the community.  The Community Research Map is a collaborative effort between the University of Illinois at Chicago, University of Chicago, Northwestern University, Rush University Medical Center and the Chicago Consortium for Community Engagement.
The Center for Clinical and Translational Science (CCTS) is UIC's hub for clinical and translational research to translate scientific discoveries into better health and better medicine, and to conduct innovative clinical and translational research.
2010
J. Howard, Koerber A, Matthews A, Bolden A, Punwani I. Clinical decision making among pediatrics dentists and oral health disparities. Poster presentation at the 2010 American Association for Dental Research held at Washington DC.
2009
Evans C, Bolden A, Hryhorczuk C. Comments from the University of Illinois at Chicago College of Dentistry. J Dent Educ 2009;73(2 Suppl):S132-134.
2008
Hryhorczuk C, Bolden A, Knight GW, Punwani I, Mulvihill D, Noorullah K, Evans C. A Model for Selection and Assessment of Community-Based Sites for Dental Students Extramural Clinical Experiences. J Dent Educ 2008;72(2);153-171.
2007
Noorullah K, Ryan A. Service Learning Experiences for Fourth Year Dental Students. CCPH, Toronto, Canada.
2006
Kaste L, Ryan A. Example of University of Illinois at Chicago College of Dentistry service learning in Dr. Michelle Henshaw's Chapter "Service-learning, Oral Health Disparities and the Shift in Dental Education" in Joseph V.M. Welie, ed. , Justice in Oral Healthcare: Ethical and Educational Perspectives. Marquette University Press, 2006.
Bolden A, Hryhorczuk C, Noorullah K, Evans C, Punwani, Pendleton, Knight. UIC College of Dentistry's Development of Clinical Community-Based Student Training. ADEA/IADR, Orlando, FL.
Hryhorczuk C, Bolden A, Knight GW, Evans C. UIC College of Dentistry's Process for Selecting Community-Based Sites. ADEA/IADR, Orlando, FL.
Mulvihill D, Bolden A, Hryhorczuk C. Creating and Using a Database of Oral Health Programs at Community Health Centers in the Management of an Extramural Education Program for the UIC College of Dentistry. NOHC- AAPHD, Little Rock, AK.
Hryhorczuk C, Bolden A, Mulvihill D, Knight GE, Punwani I, Evans C. Credentialing of Dental School Adjunct/Preceptors for Extramural Community Clinical Rotations. NOHC-AAPHD, Little Rock, AK.
Bolden A, Hryhorczuk C, Noorallah K, Evans C, Punwani I, Pendleton D, Knight GW. Considerations in Establishing Dental Student Community-Based Clinical Training Experiences. NOHC-AAPHD, Little Rock, AK.
Hryhorczuk C, Bolden A, Mulvihill D, Noorullah K, Evans C. Teaching Dental Students about Oral Health Disparities through a Community-Based Dental Education Program. APHA, Boston, MA.
2005
Koeber A, Kaste L, Crawford J, Lopez E, Noorullah K, Peters K, Torres I. HCPs and the Periodontal / Diabetes Link in a Latino Community. J Dent Res 84(Spec Iss A): Abstract #3177, 2005; Poster presentation at the 2005 International Association for Dental Research and American Association for Dental Research Annual Meeting, Baltimore, MD.
Kaste L, Koeber A, Lopez e, Torres I, Noorullah K, Crawford J, Peters K. Latino Community Challenges to Disseminating Information about the Oral Health- Diabetes Link. Poster presentation at the 2005 Association of Public Health Dentistry meeting, Pittsburgh, PA.
2004
Ryan A, Kaste L. A Positive Community Experience for Dental Students: Lessons Learned. Poster presentation at 2004 AAPHD/National Oral Health Conference, Los Angeles, CA.
2003
Noonan A, Evans C. The need for diversity in the health professions. J Dent Educ 2003;67(9):1030-3.