Doctor of Dental Medicine (DMD)
Training the Next-Generation of Oral Health Professionals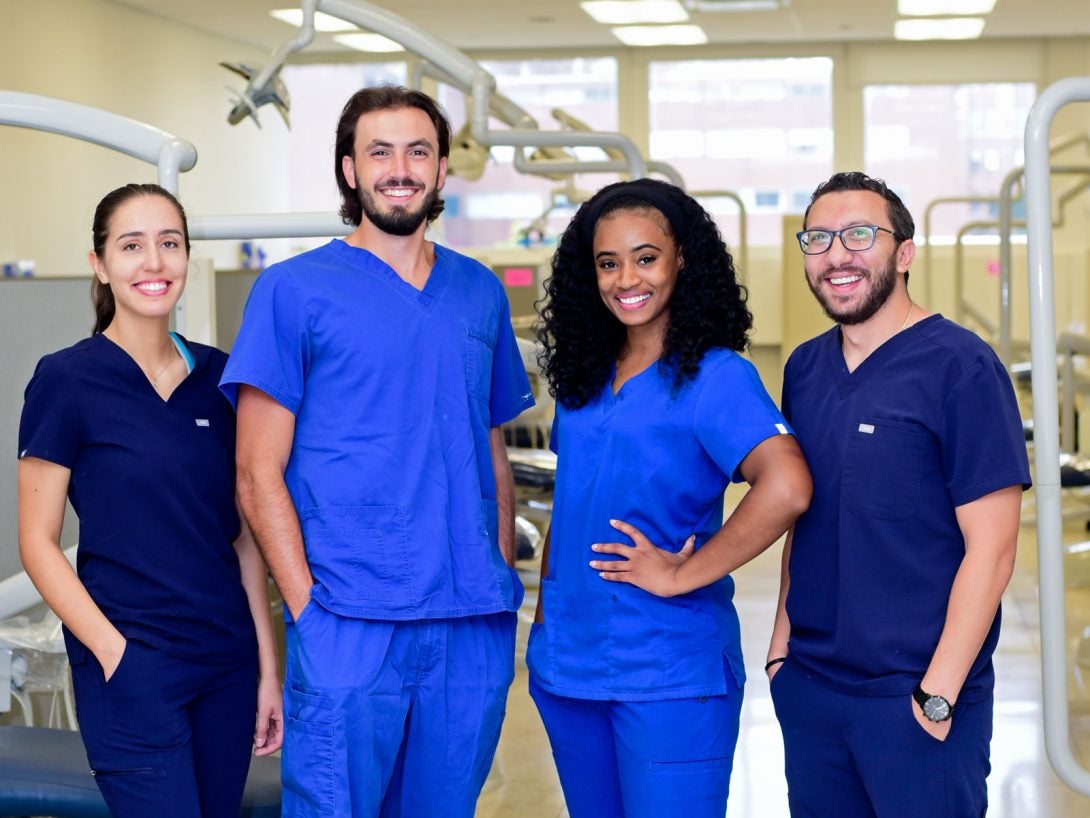 Integrated, problem-based and patient-centered curriculum combining clinical care with research and technology driven innovation. The UIC College of Dentistry offers an innovative pre-doctoral degree program, the Doctor of Dental Medicine (DMD). The program is designed to graduate oral health professionals with strong competencies in health promotion and disease prevention, diagnosis, evidence-based practice, communication, collaboration, and community engagement. This is a full time, year round four-year program with a fall term start.
Due to COVID-19, our office is unable to accommodate walk in prospective students until further notice. Please contact us virtually. However, you may review a DMD information packet to learn more about us!
DMD Cont.
DMD C1
Case-Based Curriculum
The DMD features small group learning that is interdisciplinary in nature and prompted through the use of clinical case studies developed by a team of COD faculty. These case scenarios place all learning in the context of a patient problem/concern and emphasize the relationship between systemic and oral diseases, health and prevention, family and community context, disease diagnosis and evidence based practice.
Small Group Learning
A central feature of the DMD curriculum is small group discussions. In addition to acquiring content knowledge, the goals of SGL are:
to develop students' capacity to find and apply information relevant to clinical cases
to foster critical thinking and higher-order reasoning skills
to promote accurate self-assessment and a sense of responsibility for one's own learning
to build effective communication skills and, collaboration skills.
To advance these goals, small group discussions must be skillfully facilitated to ensure that discussions remain on target. Our trained facilitators ensure that specified learning objectives are achieved and that the group dynamics are healthy and productive for all members of the group. We invite you to browse the DMD course list to become familiar with the curriculum we teach.
More about our innovative curriculum.
Tuition & Fees
The comprehensive College of Dentistry tuition and fees [DMD Resident Tuition /Non-Resident] include equipment rental and a CTA U-Pass.  Please see UIC's Tuition & Fees page for the most current rates.  Please note that annual increases in tuition should be expected. Information about how to fund your education can be found at the UIC Office of Financial Aid.  The American Dental Association publishes the Financial Planning Issues for Dental Students guide.
How to Apply
Ready to apply? Follow these steps.
Frequently Asked Questions
Still have questions? Get more answers from our list of frequently asked questions.
DMD C2
Why Students Choose UIC for Dental School
Virtual Tour of the College
Curriculum At A Glance
Dentistry Applied Behavioral & Oral Sciences (DAOB) Topics
Instrument Identification/Mirror Skills
Treatment Planning
Intraoral/Extraoral Examination
Making Alginate Impressions
Dentistry Biomedical & Clinical Sciences (DBCS) Topics
Small Group Learning
Interactive Didactic Sessions
Ethics/Issues of Professionalism
Anatomy Lab
Histology Lab
Small Group Learning (SGL) Topics
A central feature of the  curriculum is the small group learning format
Contact Us
Questions regarding the DMD program can be directed to either one of our Directors of Admissions. Please have your AADSAS number and UIN available. We request that you please carefully review all of the information on this website. Application updates will be posted on the AADSAS portal. Please be aware that due to the Family Educational Rights and Privacy Act (FERPA), we are only able to provide status updates to applicants.
Ms. Carolyn Feller
Director of Student and Diversity Affairs
Ms. Braulia Espinosa
Director of Student and Diversity Affairs
Ms. Meah Rogers
Assistant Director of Student and Diversity Affairs
Ms. Hannah Bonecutter
Program Coordinator
801 South Paulina Street, Room 104
Ms. Laura Macias
Extra Help
Dr. Rhonna Cohen, DDS, PhD
Associate Professor, Director and Advisor of Pre-Dental Undergraduate Programs