Advanced Education Program in Prosthodontics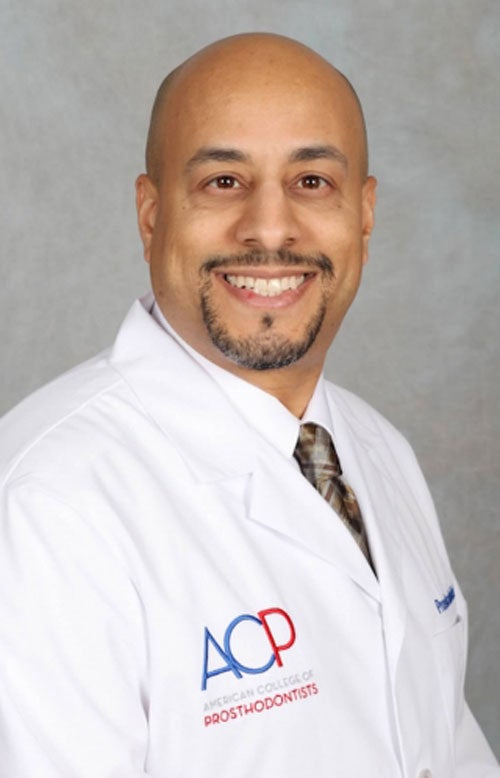 The objective of our Program is to support highly motivated students with proven clinical and scholastic abilities, achieve clinical excellence in Prosthodontics. The UIC Advanced Prosthodontics Program is an internationally recognized center for patient care, research, education and service.
The focus of Prosthodontics is comprehensive patient rehabilitation to improve esthetics and function by replacement of missing teeth and adjacent anatomic structures. From traditional prosthodontic therapy (crowns, fixed partial dentures and removable dentures), to the most complex therapy (full-arch restorations supported by dental implants utilizing three-dimensional digital technology for diagnosis, planning and treatment), patients at UIC receive a wide variety of high quality treatment options.
This is a dynamic, patient-centered learning environment where patients receive treatment using the latest technologies and techniques. Prosthodontics specialty students provide restorative and surgical care as part of the clinical program. Multiple Board-Certified prosthodontic faculty members are dedicated to the program and supervise all aspects of patient care. Our goal is to provide patient care at the highest levels, while providing a rewarding program experience.  Our proud Alumni are prevalent nationally and internationally in practice, leadership, education and research, and are the greatest endorsement of the program.
Thank you for visiting and we sincerely hope you will consider UIC for your Advanced Prosthodontics Education Program!
Program Description
This program leads to specialty certification and eligibility for examination by the American Board of Prosthodontics. Students may concurrently pursue a Master of Science in Oral Sciences (MSOS) Degree. Specific goals of the program include acquisition of in-depth knowledge and clinical experience in fixed prosthodontics, removable partial denture prosthodontics, complete denture prosthodontics, implant prosthodontics, digital dentistry, maxillofacial prosthetics, and occlusion.
Limited class size provides an opportunity for students to individualize programs to meet their particular career goals. In addition to the didactic and clinical focus, postdoctoral students pursue study in basic science or clinical research and also participate in teaching predoctoral dental students. The Department of Restorative Dentistry believes this program will prepare specialists of high leadership potential by integrating sound clinical principles with knowledge and skills in a research discipline. Program length is a minimum of three years. Faculty range from prosthodontists in full-time clinical practice to scholars engaged solely in research.
Students participate in teaching at the preclinical and clinical levels in fixed prosthodontics, removable prosthodontic and/or implant prosthodontics for predoctoral students during their second and third years. These experiences provide students an opportunity to develop communication skills critical for teaching and interdisciplinary communication in practice.
The urban setting of the University of Illinois at Chicago provides a large and diverse patient population, as well as an extensive offering of meetings and conferences for local, national, and international organizations. Students will be prepared for, and encouraged to take the American Board of Prosthodontics Certifying Examination. Following successful completion of the program, opportunities exist for further study in basic science or clinical research.
Clinical Experiences
The UIC Advanced Prosthodontics Program is progressive and stands out as a leader in providing comprehensive, interdisciplinary patient care. Modern clinical facilities are available for patient care. Clinical care occurs totally within the Advanced Prosthodontics clinic. Fixed, Removable, Implant and Digital Prosthodontics are standard patient care experiences.  Interdisciplinary communication for patient therapy occurs regularly with other specialties throughout the College. Surgical experience occurs within the Advanced Prosthodontics Clinic. There are also observation opportunities of complex surgical procedures in other specialty clinics.
Students treat patients collaboratively in the Oral Medicine and Orofacial Pain Clinic housed on the first floor for their Temporomandibular Disorder clinical experiences. For Maxillofacial Prosthetics experiences, the program has two Maxillofacial Prosthodontists that help students manage these complex patients.  Students gain experience in diagnosis and treatment planning, surgery observation and prosthodontic treatment of patients with acquired or congenital defects.
Digital Curriculum
Digital dentistry is a vital component of the modern Prosthodontics specialty. It is thus a strong focus of students' training in the Advanced Prosthodontics Program at UIC. Exposure to digital dentistry begins immediately with didactic seminars on the available technology and equipment in the market and at UIC.  It continues with application of the acquired knowledge in the clinic. This systematic approach helps student gain a solid understanding about digital workflows and ultimately become competent in digital dentistry.
Digital dentistry at UIC involves all aspects of patient care including gathering 2D and 3D diagnostic data using intra-oral camera, scanner, and CBCT analysis. Merging this data in designing software helps students simulate a virtual patient during the treatment planning process. During the treatment phase, digital technology is used regularly, allowing students to deliver accurate, predictable, and precise patient care. These treatments range from simple milled single crown restorations to complex full arch plans on implants or natural teeth.
The Advanced Prosthodontics Program receives support from its on-site digital design and production services, as well as offsite digital laboratories to provide state of the art prosthodontic care. The on-site lab is equipped with multiple lab scanners, chairside and Lab designing software, a 3D Printer, and a 5-Axis milling machine. Clinical and laboratory activities are supervised and supported by trained faculty and a digital design technician. The UIC digital program is continuously improving in effort to sustain excellent patient care.
Tuition & Fees
Tuition and fees are approximately $40,000 per year.
Visit UIC Graduation Tuition & Fees for the most current information.
Estimated equipment and educational fees are as follows:

Textbooks and other educational expenses: $1,000.00 (first year only)
Camera & Computer: $3,000.00 (first year only)
Compensation
Post-graduate students will have the opportunity of earning a graduated compensation. The postgraduate compensation plan is intended to provide a source of income for eligible students in the Advanced Education Programs. It is designed to partially offset tuition assessments. Details of the compensation plan are available by contacting the Program Director.
How to Apply
All applications for the program are ADEA/PASS. The program participates in the MATCH. A personal interview is required for program acceptance.
The application deadline is August 15th of each year, but if you submit your application sooner, it will be reviewed upon receipt. After your completed application undergoes the review process, the department will contact you regarding the possibility of a personal interview.
The admission evaluation includes academic record, interest and motivation, communication skills, letters of recommendation, and performance during the interview. Candidates are then ranked and submitted to the Match Program.
Minimum requirements include: 1) DDS, DMD or equivalent degree, 2) three letters of recommendation, 3) dental licensure in Illinois (or eligibility for a temporary state license), and 4) submission of TOEFL score.
The University of Illinois at Chicago admissions policies are non-discriminatory. Admission criteria are applied equally to all applicants regardless of race, sex, color, national origin or religion.
Students are encouraged to pursue the Master of Science in Oral Sciences (MSOS) degree offered by the Graduate College. The Department of Oral Biology, the Department of Oral Medicine and Diagnostic Sciences, and the Center for Molecular Biology of Oral Diseases maintain facilities for basic biologic research. The Research Resources Center provides support for student and faculty research, including laboratories and staff in these areas: atomic absorption spectroscopy; bioinstrumentation; biostatistics; scanning, transmission, and atomic force electron microscopy; spectroscopy; nuclear magnetic resonance; and protein sequencing/synthesis. The Biologic Resources Laboratory maintains research animals and oversees protocols regarding the use of animals in experimentation. Research funding for postdoctoral students is available through the College of Dentistry and the University. Students also are encouraged to obtain external funding through specialty organizations or corporate support. The program and department have established a formal mentoring program to support meaningful research experiences for students. We have a wide range of ongoing clinical, laboratory, and educational research. Graduates have been nationally and internationally recognized for their efforts with research awards.
Learn More About our Research Programs
UIC College of Dentistry Research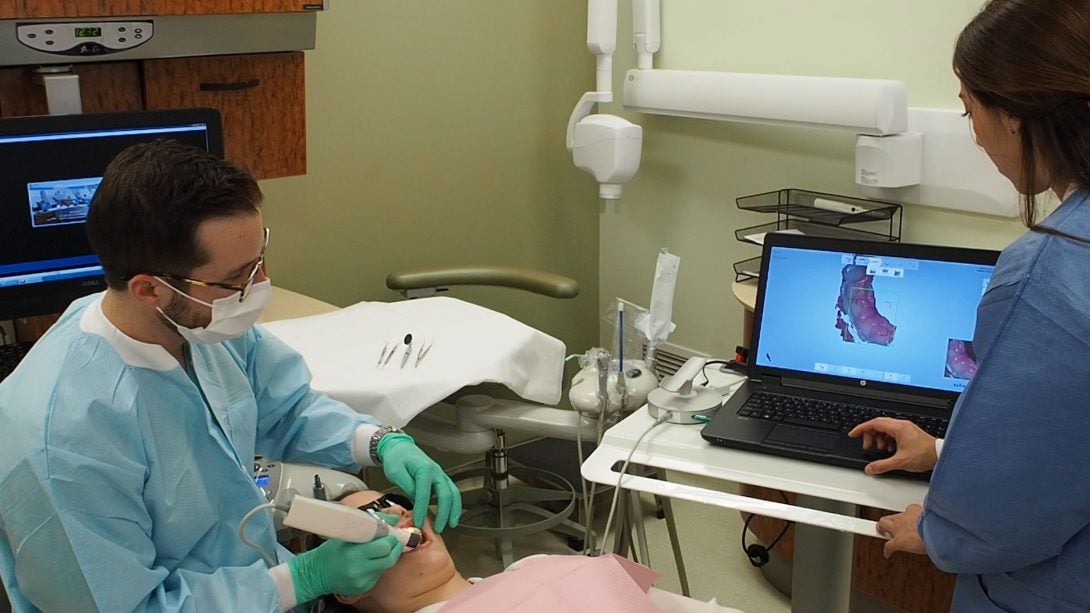 The Advanced Education Program in Prosthodontics has its own clinic, laboratory, study, and research facilities immediately adjacent to each other. The clinics and laboratories are equipped with state-of-the-art equipment for patient care and research. CT-scan facilities for implant patient diagnosis and treatment planning are available in the clinic, and the formatted scans are analyzed on-site using digital technology such as SimPlant or CoDiagnostix software. The clinic houses the UIC Implant and Innovations Center, where predoctoral and postdoctoral students diagnose, plan treatment, and provide therapy. Therapy occurs in this clinic with Advanced Prosthodontics attending faculty supervising comprehensive prosthodontic therapy including implant surgical placement.
For more information about the Advanced Specialty in Prosthodontics contact:
Rand F. Harlow, DDS, FACP
Director, Advanced Prosthodontics Program
Clinical Associate Professor
University of Illinois at Chicago College of Dentistry
Department of Restorative Dentistry (MC 555)
UIC College of Dentistry
801 South Paulina Street
Chicago, IL 60612-7212
Office: (312) 413-2837
Fax: (312) 996-3535
rharlow@uic.edu