Department of Oral Biology
An exciting environment for new discoveries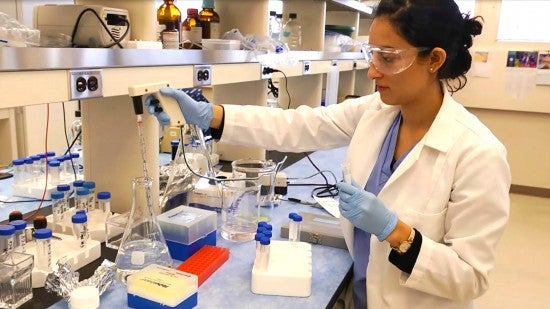 The Department of Oral Biology is comprised of Faculty, Staff, PhD students and Post-doctoral fellows engaged in scholarship and research.  The departmental expertise forms a foundation for many of the basic science topics taught to our DMD, MS and PhD students.  Beyond basic science in our state-of-the-art laboratories, departmental research extends to clinical activities through faculty involvement in the Clinical Research Center.
Our faculty provide expertise in the basic sciences with interests in topics ranging from regenerative sciences to cancer research to cariology and developmental biology.  All faculty and post-doctoral fellows contribute to the teaching mission of the College by engagement at all levels including:
Undergraduate education through Small Group Learning / Team Learning
Undergraduate education in General and Oral histology
Undergraduate education in Gross Anatomy
Graduate education in Head and Neck anatomy
Post-graduate education in the MS in Oral Sciences Curriculum
Post-graduate education in the PhD in Oral Sciences Curriculum
The department faculty participate actively in service to the college and many if not most members are intimately involved in the planning and management of our College's annual Clinic and Research Day.
Many of the Oral Biology Faculty have primary roles in research. The laboratories are supported by funding from NIH and the National Institute for Dental and Craniofacial Research, Foundation Grants, and Industry.  We have a particular rich focus in regenerative sciences including oral and craniofacial bone, cartilage of the Temporomandibular Joint, dentin and pulp tissues.  Importantly, the Oral Biology faculty laboratories are home to a DMD/PhD Trainees and PhD for Trained Dentist trainees as well as post graduate dental students seeking MS in Oral Sciences degrees.  The Department is supported by a dedicated and talented staff with over 30 years of combined service to our College.
Research Training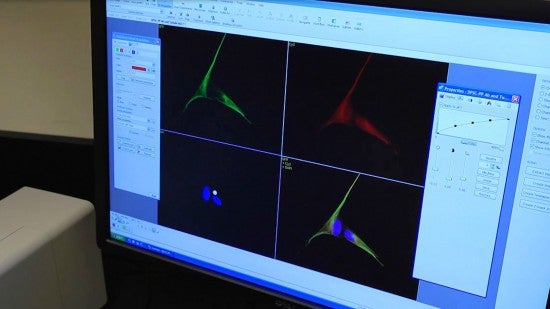 Our principal duty is to teach many of the basic sciences to UIC's dental students. We are also teaching advanced oral sciences to graduate students. The Department is responsible for dental undergraduate courses Gross Anatomy (including Head and Neck Anatomy), Neuroanatomy, General Histology, Oral Histology, and Biology of the Human Dentition. Graduate classes encompass Advanced Oral Histology and other classes of the Masters' program. We are also contributing to non-departmental Graduate Courses such as the Seminars in Oral Sciences and Research Methodology. Our first-rate teaching level has been rewarded by numerous "Golden Apple" teaching awards to our faculty
Research Centers & Labs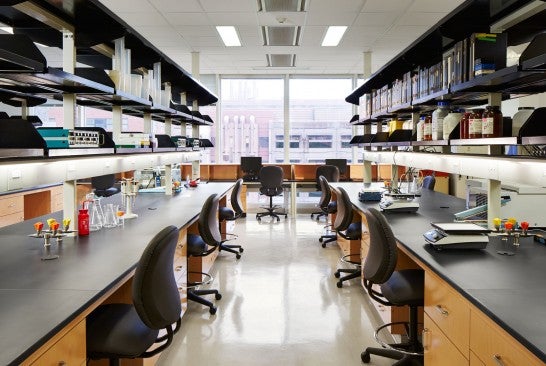 The Department of Oral Biology laboratories provide an exciting environment for new discoveries in many areas of oral biology. Annual departmental funding approaches $2 Million per year. Funding sources include the National Institutes of Health (more than 50% from the National Institute for Dental and Craniofacial Research) and the National Science Foundation.
UIC is a Leader in Research
The University of Illinois at Chicago (UIC) is Chicago's largest university and is one of the nation's top federally funded public research universities. UIC is one of only seven Academic Health Centers in the country with a full complement of Health Sciences Colleges on a single campus (including medicine, pharmacy, dentistry, public health, nursing, allied health, and social work). Student and faculty investigators in UIC's seven health sciences colleges work in an interdisciplinary research environment, with access to advanced research facilities, support for research design and data analysis, and a diverse patient population through the University of Illinois Hospital & Health Sciences System. Learn more about Research at UIC.
History
The University of Illinois at Chicago College of Dentistry prides itself in a rich leadership tradition in dental research and education. In the mid-20th century, the College boasted of brilliant teachers and educators such as Drs. E. Lloyd Du Brul, Harry Sicher, Frederick B. Noyes, Isaac Schour, Joseph-Peter Weinmann, and Allan G. Brodie Sr. Their textbooks, such as Dr. Sicher's and Dr. DuBrul's Oral Anatomy, Dr. Sicher's and Dr. Weinmann's Bone and Bones, and Dr. Noyes's Oral Histology and Embryology became classics and provided the basic oral biology education for generations of dentists. Today at the College, the Department of Oral Biology continues in that great research and education tradition. Among its teachers/researchers are several recognized as world leaders.
Faculty & Staff
Lyndon F. Cooper, DDS, PhD
Associate Dean for Research
Department Head, Oral Biology
Room 402e
801 S Paulina St., Chicago, IL 60612
cooperlf@uic.edu
Office: 312-996-7734
Direct: 312-996-7515
Virginia Buglio, CRA
Director of Research Services
College of Dentistry, University of Illinois at Chicago
801 S. Paulina St., Room 402B, M/C 621 Chicago IL 60612
P: 312-996-1027 | F: 312-413-0907
vbuglio@uic.edu
Additional Resources
College of Dentistry Research Resources
College of Dentistry Research Programs, Centers, and Labs
Research Seminars & Journal Clubs
Research at UIC College of Dentistry
The College of Dentistry has a proud history of working across disciplines and leading breakthroughs in biological and biomaterials sciences to advance scientific knowledge and improve the health of our patients beyond the clinic. Students at UIC College of Dentistry work along side world-class faculty and staff from multiple disciplines to solve the biggest problems in oral sciences and impact lives beyond the clinic.
Leading interdisciplinary investigations in the development and function of the craniofacial complex including processes that occur within cells and tissues to maintain health and control growth and development; understanding how alterations (genetic/environmental) result in disease (cancer) and study of microbiome/host interactions.
Moving beyond tissue replacement, using materials to enable our bodies to regenerate damaged and failing tissues. We are leading investigations into how materials interact with living tissues, and the building of tissue replacements for the growth of cells/tissues to replace lost tissues. The Center for Wound Healing and Tissue Regeneration (CWHTR) is a unique community of scientists and clinicians devoted to the study of injury, wound healing, and regeneration. The Laboratory of Applied Dental Biomaterials and Interfaces is a NIH funded center studying the properties of the tooth in order to develop reparative/regenerative biomaterials to replace lost tooth structure.
Clinical, Translational & Community
Leading transformative studies to improve oral health outcomes both in the clinic and the community. We have several centers and investigators focused on the study of the incidence and prevalence of disease; measuring outcomes of interventions; and safety and efficacy of drugs, devices, and treatments in individuals. We are also investigating how and why efforts to promote oral health through intervention are accepted by communities. The Oral Medicine and Pharmacognosy Research (OMPR) Laboratory focuses on medical anthropology and ethnopharmacology to study the non-destructive radiation in oral diagnostics and forensics. The Dental Medicine Responder Training (DMRT) is performing theory and policy research supporting dental professionals for emergency preparedness throughout the community.
External Resources cont.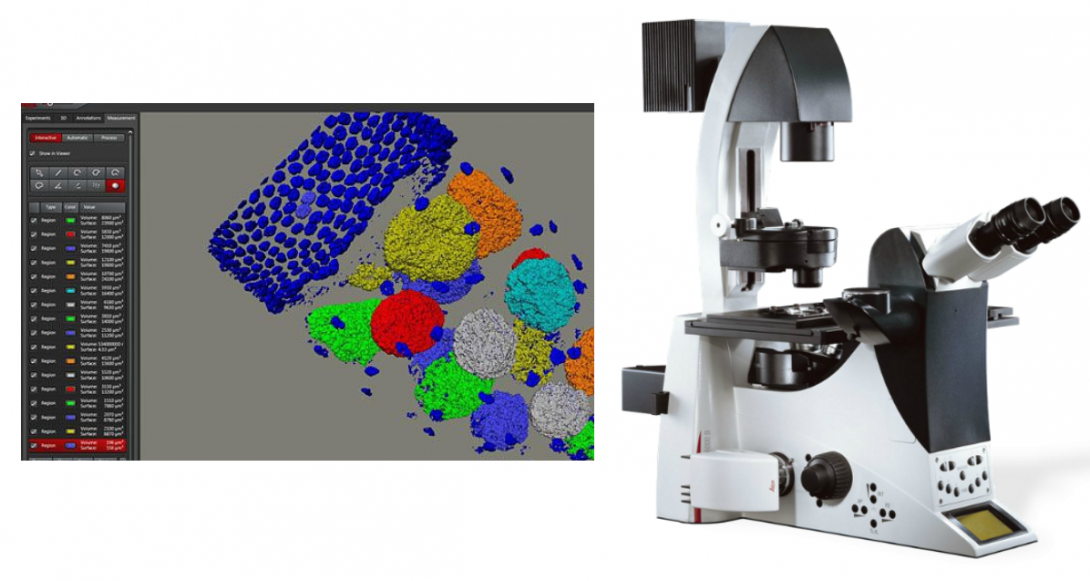 UIC Resources