Center for Diagnostic Imaging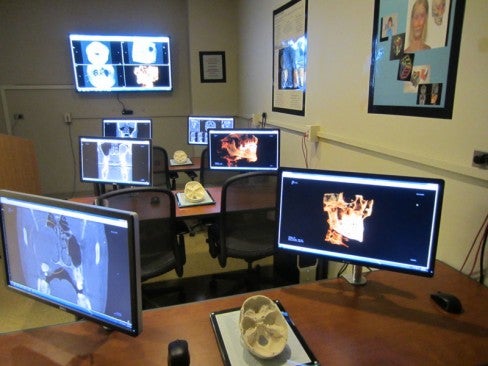 The Center for Diagnostic Imaging provides digital intraoral, panoramic, and three-dimensional state-of-the-science diagnostic imaging for optimal patient care and an exceptional educational experience. The Center offers clinicians a full spectrum of diagnostic options. In cases that require a three-dimensional assessment highly detailed cone beam computed tomography scans (CBCT) provide the opportunity to evaluate anatomy and pathology with greater detail and increased accuracy. Our patients benefit from the fact that this new technology uses significantly less radiation than traditional 3D imaging systems.
The Center enables a seamless digital workflow environment for optimal patient care and an enriched learning experience. Protective information technology allows for secure integration with the patient's electronic health record (EHR). The Center features state-of-the-science equipment including two CBCT scanners, two digital panoramic suites and eight intraoral digital operatories. A dedicated 3D LearnLab provides students, residents and faculty with hands-on training. The lab is equipped with a digital workshop of select clinical cases that illustrate anatomy and pathology of the oral and maxillofacial region.
The new equipment and training center are used throughout the College's advanced training programs where residents and supervising faculty review the scans for indications of pathology that may necessitate treatment/referral. The doctor benefits by having the necessary diagnostic information and the patient benefits by receiving optimal treatment.
Two digital panoramic suites
Two cone beam computed tomography (CBCT) scanners
Digital panoramic/cephalometric suite
Eight intraoral digital operatories
3D LearnLab with six interactive workstations
Advanced diagnostic and treatment planning software
An open access library of unique teaching cases
Secure and seamless integration of digital images into the Electronic Health Record