Student Services & Resources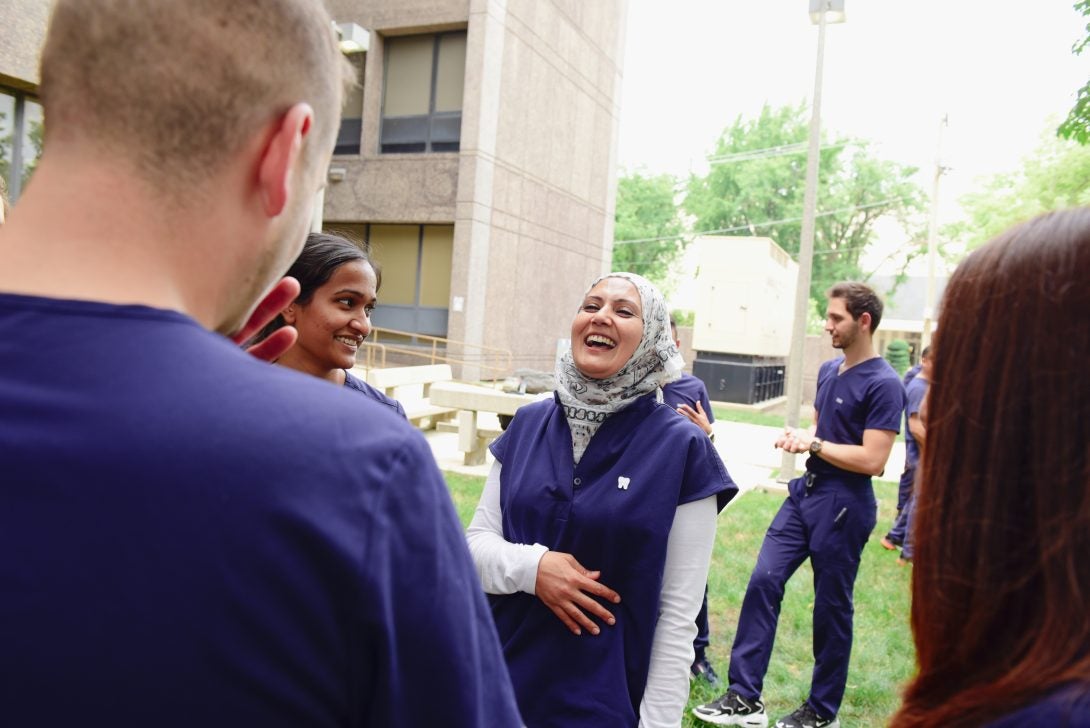 The College of Dentistry and UIC offer many services to support students' academic and personal growth.
The UIC College of Dentistry strives to familiarize students with the many programs and services designed to enrich the experience as a dental student. We encourage you to take advantage of the many activities and opportunities that are provided. The Diversity Advisory Committee also provides resources for our dynamic student body.
The Office of Student and Diversity Affairs coordinates a Supplemental Education Program. Students seeking supplemental educational assistance must complete a supplemental educational assistance request form and agreement–forms are available in the Office of Student and Diversity Affairs, room 104.
The Mentors Program introduces students to dental professionals who are members of organized dentistry. The Mentors Program is a joint collaboration between the University of Illinois at Chicago Dental Alumni Association, the University of Illinois at Chicago College of Dentistry, and the Chicago Dental Society. Mentors are also available through College of Dentistry partnerships with organizations such as the National Dental Association and the Hispanic Dental Association.
My mentor instilled a lot of confidence in me during our conversations. He is always there for answering questions. A great resource!
Library
You are strongly encouraged to explore the UIC Library to learn about the many valuable resources available to you as a student, including this dentistry research guide.
Academic Center for Excellence
The ACE offers study tips, workshops and resources for ESL students, and other services designed to improve your study habits and academic efficiency.
Maps
Download a UIC campus map or visit the College's Directions page, which also includes a list of nearby accommodations.
Housing
While living arrangements are the responsibility of the student, UIC is here to help. UIC's housing website offers information about on-campus housing options, as well as helpful guides for coordinating off-campus accommodations.
I-Cards
Please visit the Office of the Vice Chancellor for Student Affairs website for information about the campus I-Card, including how to replace one if lost. If you are having trouble with building access within COD, please contact Elnora Cunningham in room 301.
U-Pass & Campus Transportation
As a full-time student, you are provided with a U-Pass which offers unlimited use of CTA trains and buses. The Vice Chancellor for Student Affairs provides information about the U-Pass, including when and where you can pick it up and what to do if you lose it. Other transportation services are available through UIC Facilities Management. Please visit their website for a list of services and to reserve vehicles.
Parking
The University Parking Office oversees parking rates and lot assignments.  Students are encouraged to use public transportation when possible as parking on campus is limited and costly.
International Student Resources
UIC's Office of International Services is available to provide information and support to our diverse international student population. Find out about visas, housing options, social events, and more.
Office of Access & Equity
UIC's Office for Access & Equity, as part of the Office of the Chancellor, strives to increase access to employment, programs, and services in an environment free of unlawful discrimination and harrassment. Contact this office if you have issues regarding sexual harrassment, equal employment opportunities, or if you are looking for dispute resolution services.
Student Wellness Campus Care
All UIC students are required to be covered under a health insurance plan. All students are automatically charged CampusCare fees unless proof of other insurance is submitted. Please visit the CampusCare website to obtain waiver forms, understand CampusCare benefits, find local pharmacies, and more.
Counseling Center
If you are in need of counseling services, please visit UIC's Counseling Center. Offering services ranging from stress management workshops to individual and couples therapy, the Counseling Center supports individuals' emotional development in order to achieve their academic goals.
Disability Resource Center
UIC works hard to make sure every student has the tools necessary to successfully complete his or her education, regardless of ability. Please visit the Disability Resource Center for more information.
Family Medicine Centers
Two family medical centers are located on the UIC campus to provide many preventative outpatient services. Please visit UIC's Family Medicine website for more information.
Recreation Facilities
Stay active in UIC's extensive recreation facilities.
Financial Aid
Information about how to fund your education can be found at the UIC Office of Financial Aid. If you have questions about making payments, receiving refunds, or how to budget during your time at UIC, please visit the University Student Financial Services website. Click here for information regarding the 2016 Financial Aid Exit Interview.
ADEA PASS Letter/Letter of Recommendation
Letters of recommendation are required for acceptance to the vast majority of post – graduate programs.  Often applicants must provide three or more letters.  While requirements differ by institution, program and concentration, generally speaking, successful academic recommendations should:
Provide testimony to your aptitude, curiosity and industriousness
Demonstrate your maturity and seriousness of purpose
Speak to your leadership ability
Paint you as "well rounded"
Compliment your character
Include other pertinent information about you– things not readily apparent from admission test scores or transcripts
If you will be seeking a letter of recommendation from the Office of Academic Affairs (Dean's Letter), in lieu of a CV, please use the Letter of Recommendation Table to input information about yourself that will help us individualize your letter appropriately and make it more personal.  You may simply fill in the blanks and submit it to Andrea Magallon at amagal3@uic.edu with your letter request.
For more information on Student Services and Resources, please contact the College of Dentistry's Office of Student and Diversity Affairs:
Contact

Dr. Darryl D. Pendleton
Associate Dean for Student and Diversity Affairs
801 South Paulina Street, Room 102GD
312-355-1670

Dr. Rhonna Cohen
Associate Professor, Director and Advisor of Pre-Dental Undergraduate Program
801 South Paulina Street, Room 104

Dr. Sheela Raja
Director of Resilience Center
801 S. Paulina Street, Room 104
312-413-0559

Ms. Carolyn Feller
Director of Student and Diversity Affairs
801 South Paulina Street, Room 104A
312-996-2873

Ms. Braulia Espinosa
Director of Student and Diversity Affairs
801 South Paulina Street, Room 104B
312-355-0320

Ms. Meah Rogers
Assistant Director of Student and Diversity Affairs
801 South Paulina Street, Room 104C
312-355-1327

Ms. Millie Mendez
Student Advocate
801 South Paulina Street, Room 104

Ms. Laura Macias
Extra Help