Department of Periodontics
Education, Clinical Expertise and Research in Periodontology and Dental Implantology Heading link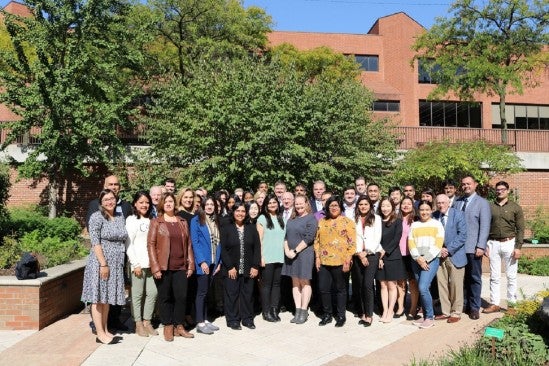 The Department of Periodontics is actively engaged in the educational, research, and service missions of the College. Our curriculum includes pre-doctoral, post-graduate (residency), and continuing education programs with a focus on evidence-based periodontics and implant dentistry. Clinical training emphasizes the understanding of periodontal and peri-implant health and treatment of associated diseases, and is supported by departmental research activities. Faculty members actively participate in pre-clinical (basic), translational, and clinical investigation and provide students instruction and guidance in research. Our research program is broad and encompasses the areas of wound healing, immunology, inflammation, cancer biology, virology, diabetes, periodontal disease, dental implants, peri-implant disease, biomaterials and technologies, advanced imaging, and educational enhancement.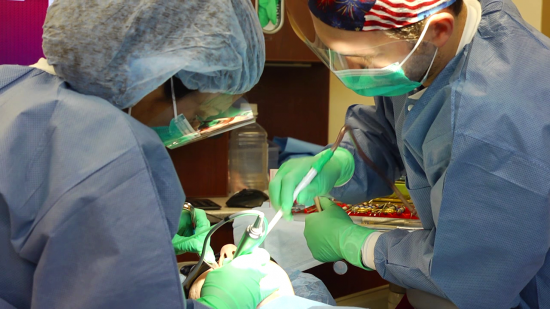 Postdoctoral Periodontics Program
Our Postdoctoral Periodontics Program is a 34-month clinical specialty training agenda leading to a Certificate of Advanced Specialty in Periodontics combined with research experience leading to either a MS, MPH or PhD degree. The Departmental goal is to provide the pre-doctoral and postdoctoral student with a strong educational foundation in periodontology for their future careers in Dentistry and to contribute new knowledge through basic and clinical research in Periodontics.
Learn more about the Postdoctoral Periodontics Program
Advanced Periodontics and Implantology Fellowship Program
The Advanced Periodontics and Implantology Fellowship Program is designed to develop an in-depth appreciation and understanding of an advanced periodontics curriculum.  This program provides a unique opportunity to gain advanced knowledge in many aspects of periodontics and surgical implantology. The Fellow will participate in academic and continuing education courses, review of the scientific literature, hands-on laboratory experiences, and intense observation of diverse clinical procedures within the graduate periodontics clinic.  The program offers flexible durations of 3, 6, 9, or 12 months.
Learn more about the Advanced Periodontics and Implantology Fellowship Program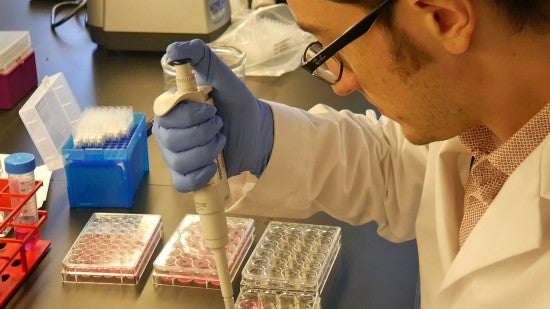 Periodontal Disease
Periodontal disease is an oral inflammatory disease affecting the supporting structures of teeth that affects millions of Americans. It is linked to many other chronic disease conditions, from diabetes to cardiovascular disease. Our research teams are advancing the understanding of the connections between periodontal disease and its risk factors using innovative approaches in preclinical (basic), translational, and clinical investigations. Our faculty mentors provide students and residents instruction and guidance to incorporate the latest research into their training. Our laboratories are conducting and collaborating on research projects in the areas of wound healing, immunology, inflammation, cancer biology, virology, diabetes, periodontal disease, dental implants, peri-implant disease, biomaterials and technologies, advanced imaging, and educational enhancement.
Immunology
Immunology research focuses on the biology, transmission and pathogenesis of viruses and bacteria, as well as on the fundamental immune mechanisms that contribute to both health and disease. UIC College of Dentistry researchers study issues of autoimmunity, emerging pathogens, bacterial and viral pathogenesis, and molecular microbiology, as it relates to auto-immune and infectious diseases of the mouth, including oral cancer and early detection of cancerous and pre-cancerous lesions.
Salvador Nares is the principal investigator of research grants funded by the NIDCR and the American Academy of Implant Dentistry Research Foundation. His primary translational research focus is on the post-transcriptional modulation of mucosal immunity by microRNA and the role of antigen-presenting cells in the inflammatory response to periodontal pathogens. His clinical research interests include the histological and molecular characterization of early bone healing after dental implant placement and piezotome ultrasonic instrumentation.
Luisa A. DiPietro is Director of the UIC Center for Wound Healing and Tissue Regeneration and a Professor in the Department of Periodontics, and Associate Vice Chancellor for Research at UIC.  Her research focuses on the regulation of inflammation, angiogenesis and scar formation at sites of injury.  This research compares wound healing mechanisms between the oral mucosa and the skin as the intellectual basis for the development of rapid, non-scarring wound healing tools for mucosal and skin wounds.  Dr. DiPietro is a world-wide recognized leader in the wound healing field.  She organizes the widely acclaimed Regenerative Sciences Seminar every Fall semester.  Her CV includes more than 100 publications to her credit and she has been continuously funded by the NIH since 1993.  Dr. DiPietro has mentored countless junior faculty members, postdoctoral fellows, PhD and undergraduate students, and she continues to be an exemplary academic leader and role model for many of us.
Keiko Watanabe's lab team is studying the effects of periodontitis on prediabetes and T2DM and, early detection of oral cancer.
Learn more about our research areas
Meet our researchers
Explore our department directory at the College of Dentistry
Periodontists at UIC College of Dentistry are experts in treating periodontal-related conditions and diseases and in replacement of missing teeth with dental implants. We offer a wide range of periodontal therapy including: non-surgical treatments,  bone and gum grafting surgery, regenerative procedures, dental crown lengthening, dental implants, and pocket reduction procedures. New patients receive a free initial consultation that includes a brief examination and an initial estimated cost of treatment.
For Appointments
(312) 996-7374
periodontics@uic.edu