New Students
DMDAS Class of 2022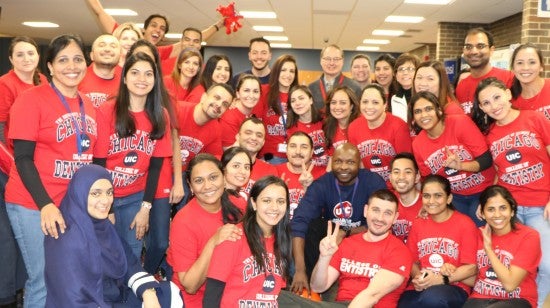 The College of Dentistry is excited for the arrival of the DMDAS  Class of 2022 orientation week.  On this page you will find critical information regarding the orientation week.
Orientation will begin on Wednesday, January 8, 2020 at 8:00 AM and the day will end around 5:30PM.  Please expect a similar schedule for the remainder of the week.
Below is a checklist to help you prepare for your upcoming orientation week. To ensure a smooth transition during orientation, please try to accomplish all tasks on the checklist. Feel free to reach out to the Office of Student and Diversity Affairs with any questions or concerns regarding your quickly approaching orientation.
DMDAS Class of 2022 Orientation Checklist:
Please bring (2) combination locks with you on the first day of orientation. You will be assigned lockers for your personal belonging/school supplies.
The attire for the week is business professional or UIC College of Dentistry navy scrubs purchased from the UIC Medical Bookstore.
Once you have registered with UIC you are able to retrieve your UIC identification card (I-Card). You are required to retrieve your UIC I-Card before your orientation week. Your I-Card will provide you with building access and axium access. To obtain your UIC I-Card you may visit Student Center West located at 828 S. Wolcott in room 231.  Please be sure to bring your I-Card with you on the first day of orientation.  Please be sure to bring your I-Card with you on the first day of orientation.
If you are planning on driving the first day of orientation you will need to visit the UIC Parking Services Office before your orientation. The Parking Services Office is located in the Student Center West Building, 828 South Wolcott Avenue, in room B51. Please note you will need your UIC I-card before you can register for campus parking.
Review the posted student services presentations and complete corresponding quizzes on your UIC Blackboard page.
Create your ADEA DLOC account.

To access the Dental Loan Organizer, go to aamc.org/GoDental 
Follow the simple instructions on the home page
Upload current federal loans from  NSLDS.ed.gov (including any federal loans prior to dental school) and manually enter anticipated borrowing for future years in dental school to ensure more accurate repayment and forgiveness estimates

Complete your FERPA tutorial quiz: https://registrar.uic.edu/ferpa/

Complete the tutorial
Take the quiz
Contact
For more information on New Students at the College of Dentistry:
Contact

Dr. Darryl D. Pendleton
Associate Dean for Student and Diversity Affairs
801 South Paulina Street, Room 102GD
312-355-1670

Dr. Rhonna Cohen
Associate Professor, Director and Advisor of Pre-Dental Undergraduate Program
801 South Paulina Street, Room 104

Dr. Sheela Raja
Director of Resilience Center
801 S. Paulina Street, Room 104
312-413-0559

Ms. Carolyn Feller
Director of Student and Diversity Affairs
801 South Paulina Street, Room 104A
312-996-2873

Ms. Braulia Espinosa
Director of Student and Diversity Affairs
801 South Paulina Street, Room 104B
312-355-0320

Ms. Meah Rogers
Assistant Director of Student and Diversity Affairs
801 South Paulina Street, Room 104C
312-355-1327

Ms. Hannah Bonecutter
Program Coordinator
801 South Paulina Street, Room 104D
312-996-1021

Ms. Millie Mendez
Student Advocate
801 South Paulina Street, Room 104

Ms. Laura Macias
Extra Help