The Value of Preventive Oral Health Care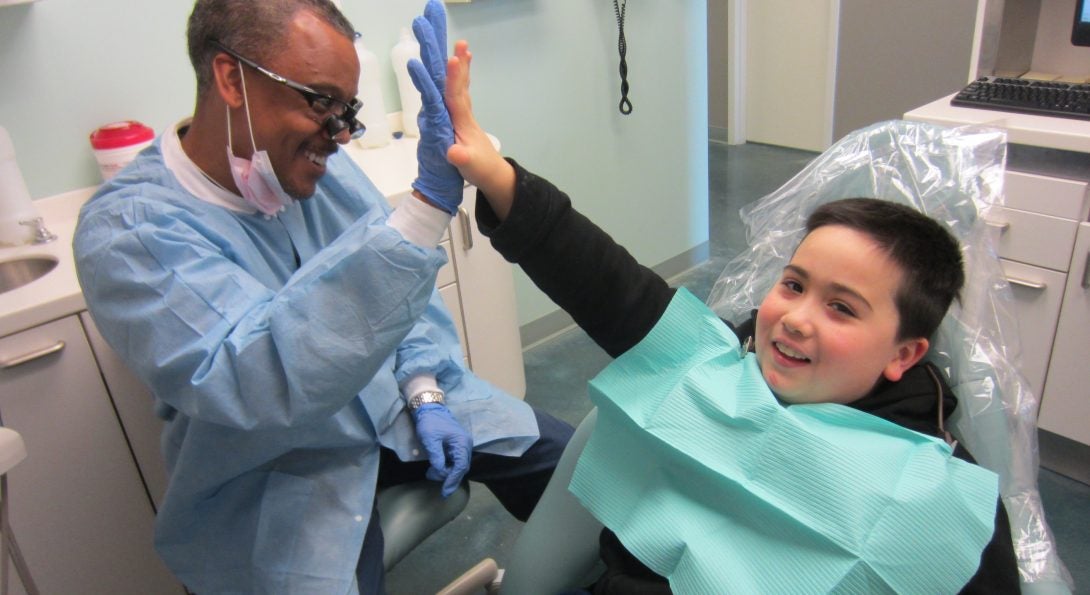 Oral health is often taken for granted, but it is an essential part of our everyday lives.
Good oral health enhances our ability to speak, smile, eat, and show our emotions through facial expressions. 1  And preventive oral health habits -- such as regular dental care and good oral hygiene -- developed early in life can lead to better overall oral health throughout a person's life.  While oral health in America has improved overall over the past several decades, a sizable number of Americans still go without basic dental care, which leads to greater rates of oral diseases.  Oral diseases, from tooth decay to gum disease and oral cancer, still cause significant pain and hardship for many adults and children in the US, particularly those lacking access to care and preventive services. One in four American adults still has untreated tooth decay. 2 This equates to almost 2.5 million adults in Illinois suffering from various oral diseases.
Access to affordable preventive dental care  helps decrease disparities in oral health in these communities of need. In particular, early prevention and early intervention in early childhood and adolescent years are important because losing teeth has a lot of implications on a person's overall well-being that continues throughout their life.
Dental care remains an unmet need 
Dental care also remains as one of children's most prevalent unmet health needs.3  For instance, cavities (tooth decay) are still the most common chronic health problems of childhood in the US -- it is 5 times more common than asthma and 7 times more common than hay fever. 
Poor children suffer twice as much dental caries as their more affluent peers, and their disease is more likely to be untreated
Almost half of children 11 years and under have cavities. In Chicago, 65 percent of third graders have cavities, and more than half go untreated. 4
The elevated prevalence of tooth decay among under-served children has even more negative impacts on family's quality of life given the potentially long-term impact  on speech, nutrition, and school effectiveness. And, children and adolescents with special health care needs have a particularly high risk of dental caries, yet even higher unmet needs. 
The impacts start at childhood, and last a lifetime
Untreated cavities can lead to real effects on a child's health, and for the whole family--from severe pain and health issues to impacts on school attendance and performance, as well as great financial expense. And, the burden is worse for lower-income families because those children do not get timely treatment for cavities. 5
Many Americans are at higher risk of being uninsured, lacking access to care, and experiencing worse health outcomes, including people of color and low-income individuals. For instance, Hispanics, Blacks, American Indians/Alaska Natives, and low-income individuals are more likely to be uninsured relative to Whites and those with higher incomes, which is a key reason they have limited access care, receive poorer quality care, and experience worse health outcomes.
Lack of insurance (and increased cost) is a significant barrier
Not having insurance (and increased costs of healthcare) is a significant barrier to good oral health --and puts a strain on our healthcare system.
In 2010, more than 132 million US children and adults lacked dental insurance, and only about one-third of U.S. dentists accept Medicaid. 7  In fact, for every person without medical insurance, almost three people are without dental insurance.8  As a result, dental care is one of the first health-related services that people have to delay without adequate benefits to help with the costs.
Lack of access to oral health care in particular can have serious consequences, including progressive dental disease, costly hospital use, and missed days at school or work. And preventive care is key because people who receive regular preventive dental care and develop good habits as children tend to have better oral health over their lifetime.
Another consequence of insufficient dental insurance is wasteful emergency room visits for
preventable dental conditions. Emergency hospital visits for preventable oral health conditions have risen dramatically over the past decade--most of these visits were by young and low-income adults.  Most emergency rooms (ER) do not have dentists on staff to provide dental treatment so patients are typically prescribed painkillers or antibiotics. This does not treat the underlying cause of the problem, and 39% of these patients return to the ER. 9
In 2013, there were 2 million visits every year to hospital emergency rooms for dental pain.
Additionally, poor oral health can have a real impact on a child's ability to learn. Oral diseases such as cavities can cause decreased appetite, depression, and inability to focus attention – all of which can lead to lower school attendance and learning performance. On average, a child with poor oral health will miss another day of school per year. Children in low-income families with limited access to preventive care will miss 3 times as many school days due to oral health problems.10 
And, inadequate preventive care and untreated oral disease have long-standing consequences. Over time, teeth and gums can become seriously diseased and require costly treatment or worse – lead to multiple or complete loss of teeth. Adopting good oral hygiene habits early in life combined with preventive care helps to maintain optimal oral health into old age and ensures you live not only a longer life, but also one free from the physical pain and often emotional suffering caused by oral disease.11
Why preventive oral health care is important
Access to preventive oral health care is particularly important for two reasons.
First, many oral disease conditions are indeed preventable with early treatment. For instance, dental sealants can prevent 80% of cavities in children.
Second, preventive dental care practices-- including early and routine treatment at the dentist, combined with good home care (brushing and flossing)-- can save families money in the long-run.  These savings can be greatest for low-income families because they have less disposal income, and more preventable oral disease. Studies have shown that for every dollar spent on preventive dental care - $8 to $50 can be saved in restorative and emergency treatments – and potentially more in additional types of medical treatment.12
Chicagoans living in high economic hardship have 40% more dental related emergency room visits than the city average. 13
The value of dental sealants
One great example of good preventive practice is dental sealants, thin, plastic coatings painted on the chewing surfaces to form a shield and seal out decay. Not only have sealants been shown to have a big effect on cavity prevention, the Centers for Disease Control and Prevention (CDC) has found that the cost savings from future cavities and productivity losses from parents leaving work to take their child to the dentist outweighed the costs of running school-based dental sealant programs.14 The CDC reports that "school-age children without sealants have almost 3 times more cavities than those with sealants."  15
What We Are Doing at UIC College of Dentistry
Affordable Access to Care
University of Illinois at Chicago College of Dentistry is Illinois's largest dental care provider. We have 530+ faculty, students and residents serving over 26 thousand patients annually in our clinics and through community health partnerships.  We provide comprehensive dental care at affordable rates, with strength in preventive care for children and adults, and specialty care for even the most complex needs. Our student dental clinics operate on reduced fees and accept Medicaid, along with several other payment methods. We help remove the barriers that limit access to dental care through affordable care, education and outreach.
Learn more about our Patient care services
Pediatric & Special Needs Care
Our Pediatric Dentistry specialty dental care practice  offers a full spectrum of services for all children at every stage of their lives from infancy through adolescence including those with special and complex oral health needs, and patients with special developmental and behavioral care needs. Our general dentists and Pediatric Dentistry specialists provide comprehensive oral health examinations, teeth cleaning, fluoride treatments, sealants, restorative procedures (fillings, crowns, etc.), extractions and minor surgical procedures, space-maintainers, athletic mouth guard, teeth whitening (for adolescents), interceptive orthodontic when applicable, and urgent care (Trauma, infection, etc.). These services can be completed using inhalation sedation (Nitrous oxide), moderate sedation, and general anesthesia.
Learn more about our Pediatric Dentistry services 
Education & Community Health Outreach
We are addressing the need for new generations of dental care providers by training and graduating 225 new dentists each year, most of which go on to practice in the state of IL and Chicago area. Additionally, we educate the public on the importance of good oral health everyday – through the dental care we provide in our clinics – and through our community service-learning which embeds our students in area schools and community health centers as part of their training. We demonstrate practical ways to adopt good oral health habits, and how to avoid risk factors such as high-sugar diets, tobacco, and the connections of oral disease to other conditions such as heart disease and stroke, cancer, chronic respiratory diseases and diabetes.
Learn more about our Academic Programs
Research
We have 40+ researchers collaborating with clinicians in our own clinics, as well as scientists and practitioners spanning multiple disciplines to generate new scientific knowledge to solve the biggest challenges in oral health across the world. Through basic, translational and community-based discoveries, we want to transform oral health care practice and outcomes for the benefit of our local communities, as well as global society.
Learn more about our Research areas
Public Health
One way to improve a child's oral health is to improve the health of the whole family. Through a new outreach program, called CO-OP Chicago, UIC dentists and researchers are working to reduce cavities in Chicago's low-income and minority infants and toddlers. The program brings together a team of clinical pediatricians and dentists, researchers, health psychologists, and policy experts to rigorously test the ability of an oral health promotion intervention to improve child and family oral health. The program will emphasize family-focused education and support from community health workers in a range of settings (at home and in health centers) to find the best methods of reaching people and changing behaviors. Pediatric dentists in the College of Dentistry are developing a training curriculum for community health workers to educate some 1,500 families in Chicago, and evaluate their overall oral health and the incidence of cavities in the children. CO-OP Chicago is funded by a grant from the National Institutes of Health.
Learn more about our Community Health programs
Sources