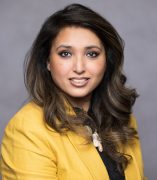 Sobia Bilal, BDS, MSc, PhD
Associate Professor
Division of Prevention and Public Health Sciences
Department of Pediatric Dentistry
Contact
Address:
801 S. Paulina St., Chicago, IL 60612
Email:
About
Dr. Bilal joined the Division of Prevention and Public Health Sciences, College of Dentistry, UIC as full-time Associate Professor in December 2021. She will contribute to the College's teaching, research, and service efforts in dental public health, interprofessional education, and evidence-based dentistry. She received her dental degree from Baqai Medical University (Pakistan), her MSc in Dental Public Health from the University of London (UK), and her PhD in Dental Public Health from the University of Malaya (Malaysia). She was nominated for 'WHO – Fellowship Program in Tobacco Control, WPRO'. Most recently, Dr. Bilal served as Head of the Division of Clinical Oral Health Sciences, School of Dentistry, International Medical University (Kuala Lumpur, Malaysia).  In addition, she was leading the Smoking Cessation Clinic and Community Engagement at her aforementioned work place and initiated various oral health promotion outreach programs for refugee children, special needs group, elderly and poor urban communities. She has experience of curriculum development, innovative teaching methods such as interactive large and small group formats, team/case/problem-based learning, and online distance learning and research supervision for undergraduate, Masters and PhD students. As a researcher, she has keen interest in mixed-methodology and passionate about qualitative research. She has contributed in securing various grants and awards. Her scholarly activities include her contributions in dental literature, facilitations in workshops, participation and presentation at conferences, reviewer in various journals, development of technology enhanced teaching and learning resources and advocating oral health. She previously held academic appointments at Dow University of Health Sciences (Karachi, Pakistan) and Altamash Institute of Dental Medicine (Karachi, Pakistan).
Selected Publications
Babar MG, Andiesta NS, Bilal S, Yusof ZYM, Doss JG, Pau A (2022) A randomized controlled trial of 6-month dental home visits on 24-month caries incidence in preschool children. Community Dentistry and Oral Epidemiology. https://doi.org/10.1111/cdoe.12710
Bilal, S., Abdulla, A.M., Andiesta, N.S. et al. (2021) Role of family functioning and health-related quality of life in pre-school children with dental caries: a cross-sectional study. Health Qual Life Outcomes 19, 192. https://doi.org/10.1186/s12955-021-01828-3
Babar MG, Bilal S, Yusof ZYM, Chinna K, Doss JG, Pau A.(2021) Cross-cultural adaptation of the General Functioning Subscale of the McMaster Family Assessment Device. IeJSME.15(3): 46-56.
Gill KK, van der Moolen S, Bilal S. (2021) A Phenomenological Insight of the Motivational Factors towards Quit Smoking attempts. Journal of Substance Abuse Treatment. DOI: https://doi.org/10.1016/j.jsat.2021.108583
Daood U, Malik AA, Ilyas MS, Ahmed A, Qasim SSB, Banavar SR, Khan A S, Kuan ES, Bilal S, Matinlinna J, & Seow LL. (2021). Antimicrobial and self-crosslinking potential of experimentally developed dioctadecyldimethyl ammonium bromide and riboflavin dentin adhesive. Journal of Biomedical Materials Research Part A, 1– 15. https://doi.org/10.1002/jbm.a.37221
Daood U, Bijle MN, Mahdi SS, Omar H, Bilal S. (2021) Salivary biochemical assessments to determine smoking cessation under smoking cessation program. Vibrational Spectroscopy 103235, ISSN 0924-2031. https://doi.org/10.1016/j.vibspec.2021.103235.
Omar H & Bilal S. (2020) Development and implementation of an e‐tutorial to provide tobacco cessation training for dental students. J Den Edu https://doi.org/10.1002/jdd.12520
Li Nga JD, Hakim SL & Bilal S. (2020) Comparison of End Tidal Carbon Monoxide Levels between Conventional Cigarette, Electronic Cigarette and Heated Tobacco Product among Asiatic Smokers, Substance Use & Misuse, 55:12, 1943 1948, DOI: 10.1080/10826084.2020.1781180
Gunjal S, Pateel DG, Yang Y, Doss JG, Bilal S, Maling TH, Mehrotra R, Ching CS, Zain R (2020) An overview of betel quid and areca nut practice and control in selected Asian and South East Asian countries. J Substance Use and Misuse. 2020;55(9):1533-1544. doi: 10.1080/10826084.2019.1657149.
Irfan B, Zahid I, Khan MS, Aziz OA, Zaidi S, Awan S, Bilal S, Irfan O. (2019) Current State of Knowledge of Basic Life Support in Health Professionals of the Largest City in Pakistan: A Cross-sectional Study. BMC Health Services Research. doi.org/10.1186/s12913-019-4676-y
Bilal S, Doss J, Cella D, Rogers S.(2015) Quality of Life associated factors in head and neck cancer patients in a developing country using the FACT-H&N. J Cran Maxillofacial Surg. DOI:10.1016/j.jcms.2014.11.024.
Bilal S, Doss JG, Rogers SN. (2014) The use of the FACT-H&N (v4) in clinical settings within a developing country: a mixed method study. J Cran Maxillofacial Surg. DOI: 10.1016/j.jcms.2014.04.015.
Dawani N, Afaq A, Bilal S. (2013) Oral Health Knowledge, Attitude and Practices Amongst Teachers of Public School Set-up of Karach, Pakistan. J Dow Uni Health Sci 7(1): 15-19.
Syed S, Bilal S, Davani N (2013) "Dental Anxiety among adult patients and its correlation with their self-assessed dental status and treatment needs" JPMA 63: 614-618.
Education
• Baqai Medical University, College of Dentistry, Pakistan. BDS, 2014
• Queen Mary University of London, Institute of Dentistry, United Kingdom. MSc Dental Public Health, 2008
• University of Malaya, Faculty of Dentistry, Malaysia. PhD in Dental Public Health, 2014
• Fellowship in Tobacco Control by WHO – Western Pacific Region, Hong Kong. 2019
• Dr. Ishrat-ul-Ebad Khan Institute of Oral Health Sciences, Dow University of Health Sciences Karachi, Pakistan. Assistant Professor, Head of Department, Program Coordinator MDS, Community Dentistry. 2006 – 2013.
• International Medical University, Kuala Lumpur, Malaysia. Lecturer, 2014 – 2017; Assistant Professor; 2017 – 2021; Head of Division, Clinical Oral Health Sciences, School of Dentistry. 2021.
Licensures and Certifications
International Association for Dental Research. Member, 2014 – 2022; Evidence Based Dentistry Group, 2022.
American Dental Education Association. Member, 2022.
Qualitative Research Association of Malaysia, Member, 2016 – to date.
South East Asia Association of Dental Education. Member, 2014 – 2021.
Oral Cancer Research and Collaborating Center, Malaysia. Member, 2011-2021.
Registered Dental Practitioner, Pakistan Medical and Dental Association, Pakistan. 2004 – 2022.
Temporary Certificate of Practice, Malaysian Dental Association, Malaysia. 2014 – 2021.
Research Currently in Progress
Dr. Bilal's research focuses on areas of investigation:
Oral health promotion and disease prevention
Effective public health interventions in reducing caries increment
Effect of family functioning on oral health
Oral health-related quality of life
Questionnaire validations
Smoking cessation measures and outcomes
Dental education innovations
Mixed-methodology and qualitative research