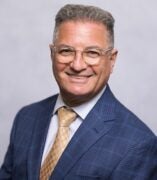 Scott Tomar, DMD, DrPH
Associate Dean for Prevention and Public Health Sciences, Professor - Department of Pediatric Dentistry
Pediatric Dentistry
Contact
Building & Room:
Room 102GB
Address:
College of Dentistry 801 S. Paulina Street, IL 60612
Email:
About
Dr. Scott Tomar is Professor and Associate Dean for Prevention and Public Sciences at the College of Dentistry.  He has served as President of the American Board of Dental Public Health, the Oral Health Section of the American Public Health Association, the American Association of Public Health Dentistry, and the Behavioral, Epidemiologic and Health Services Research Group of the International Association for Dental Research. Dr. Tomar is a former editor of Journal of Public Health Dentistry and Journal of Evidence-Based Dental Practice.  He served as an Epidemic Intelligence Service Officer in the Centers for Disease Control and Prevention (CDC) and is a Diplomate of the American Board of Dental Public Health.
Selected Publications
Dr. Tomar has published about 180 journal articles and book chapters, and contributed to seven reports of the US Surgeon General.  Recent publications include:
Macek MD, Zavras A, Tomar SL, Cappelli D, McKernan S, Timothé P, Okunseri C. American Board of Dental Public Health Diplomate Survey, 2021: Competency Domains and Practice. J Public Health Dent Public Health Dent. 2023;83(1):78-86. PMID: 36513618
Smith PD, Noorullah K, Syed S, Iqbal L, Tomar SL. Foreign-trained dentists' reflections on access to care after participating in a community-based dental education curriculum. Front Oral Health 2022; 3:996624. doi: 10.3389/froh.2022.996624
Ma S, Serban N, Dehghanian A, Tomar SL. The impact of dentists' availability in delivering preventive dental care in Florida elementary schools. J Public Health Dent 2023;83(1):60-68.
Owens H, Beckstead J, Walker K, Thompson EL, Tomar SL, Griner S, Desch J, Daley EM. Dental patients' communication preferences for learning about HPV-related topics. General Dentistry 2023;71(1):38-43.
Tranby EP, Heaton LJ, Tomar SL, Kelly AL, Fager GL, Backley M, Frantsve-Hawley J. Oral cancer prevalence, mortality, and costs in Medicaid and commercial insurance claims data. Cancer Epidemiol Biomarkers Prev 2022 2022 Sep 2;31(9):1849-1857
Quiñonez C, Jones JA, Vujicic M, Tomar SL, Lee JY. The 2021 report on oral health in America: Directions for the future of dental public health and the oral health care system. J Public Health Dent 2022; 82(2):133–7.
Tomar S. Periodontal diseases and cancers of the oral cavity, head, and neck. In: Teutsch SM, Geller AB, Mead AM, eds. Premium Cigars: Patterns of Use, Marketing, and Health Effects. A consensus study report of the National Academies of Sciences, Engineering, and Medicine. Washington, DC: The National Academies Press; 2022. Available at: https://www.nap.edu/catalog/26421/premium-cigars-patterns-of-use-marketing-and-health-effects
Shenkman E, Mistry KB, Davis D, Manning D, Tomar SL, Amundson C, Chalmers N, Snyder A. Stakeholder engagement: bridging research and policy to improve measurement and dental care for children in Medicaid. Acad Pediatr 2022;22(3S):S65–S67.
Ben-Elazar K, Dávila ME, Tomar SL. Caries incidence on primary molars after glass ionomer sealant placement. Revista Odontológica de Los Andes 2022;17(1):56–64.
Song J, Kim JN, Tomar S, Wong LN. The impact of the Affordable Care Act on dental care: an integrative literature review. Int J Environ Res Public Health 2021;18(15):7865.
Tomar SL. A commentary on: Periodontal disease and medical maladies: What do we really know?. PracticeUpdate website. Available at: https://www.practiceupdate.com/content/the-end-goal-of-periodontal-therapy-is-improvement-of-oral-health-and-quality-of-life-through-preservation-of-the-dentition/131203/65/23/1. Accessed February 15, 2022
Garcia BA, Acosta NC, Tomar SL, Roesch LFW, Lemos JA, Mugayar LCF, Abranches J. Association of Streptococcus mutans harboring bona-fide collagen binding proteins and Candida albicans with early childhood caries recurrence. Sci Rep. 2021;11(1):10802. PMID: 34031498.
Epidemic Intelligence Service Officers Past and Present. Open Letter by Epidemic Intelligence Service Officers Past and Present – in Support of CDC. Epimonitor 2020; 41(10): 12–18. PMID: 33345259
Smith PD, Noorullah K, Iqbal L, Tomar SL. Dental students' comfort discussing nutrition and obesity prevention with parents and caregivers. J Dent Educ 2021;85(6):828–34. PMID: 33624303.
Song J, Tomar S, Duncan PR, Fogarty K, Johns T, Kim JN. The health care utilization model: application to dental care use for Black and Hispanic children. J Public Health Dent. 2021;81:188–97. PMID: 33263212
Khan H, Tomar SL. Geographic distribution of pediatric dentists and community characteristics of their locations in Florida. J Dent Child 2021;88(2):101–7.
Complete list of publications available at:
https://www.ncbi.nlm.nih.gov/myncbi/1DurADX1lmBAJ/bibliography/public/?sortby=pubDate&sdirection=descending
Notable Honors
2019, Jack Hein Public Service Award, American Association for Dental Research
2017, Presidential Oral Health Hero Award, Florida Dental Hygienists' Association
2011, H. Trendley Dean Distinguished Scientist Award, International Association for Dental Research
2010, Fellow, American College of Dentists
2006, Member, Omicron Kappa Upsilon Honor Dental Society
Education
BA (Sociology), Temple University, 1980
DMD, Temple University Kornberg School of Dentistry, 1984
MPH, Columbia University Mailman School of Public Health, 1989
Dental Public Health Residency, University of Michigan School of Public Health,
DrPH (Oral Epidemiology), University of Michigan School of Public Health, 1993
Research Currently in Progress
Increasing access to oral health prevention and treatment services for vulnerable populations
Understanding patterns and predictors of risk factors for oral disease, including tobacco use
Behavioral interventions to improve oral health
Quality and cost-effectiveness of care in oral health