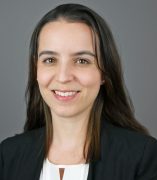 Alexandra Rodriguez, DDS
Clinical Assistant Professor, Director Pre-Doctoral Digital Dentistry Clinic
Restorative Dentistry
Contact
Address:
801 S. Paulina St., IL 60612
Email:
About
Clinical activities & specialties
As a Clinical Assistant Professor, Dr. Rodriguez teaches the pre-doctoral students and international trained dentists throughout their career at UIC- COD in the area of Restorative Dentistry. She is involved in pre-patient care courses such as:
Operative Dentistry
Digital Dentistry
Occlusion and Occlusal Appliances
Fixed Prosthodontics
Introduction to Dental Implants
She is also involved in patient care, teaching in the Comprehensive Care Clinics and in the Digital Dentistry clinic, giving students and patients advanced and up to date treatment choices. In addition, Dr Rodriguez provides dental treatment to her own patients at the Faculty Dental Practice at the UIC- COD.
Education
2013- Present- University of Illinois at Chicago- Clinical Assistant Professor
2010 – 2013 University of Michigan- Masters in Restorative Dentistry
2004- 2009 Santa Maria University, Caracas, Venezuela- DDS
Research Currently in Progress
Dr Rodriguez has been involved in research mainly related to dental materials. She did her Master Thesis on "The Effect of Exposure Time, Shades and Thickness on the Depth of Cure of Bulk Fill Composites". She is currently involved in a clinical trial, which evaluates the outcomes of pulp capping materials "Clinical Comparison of Vital Pulp Capping Restorative Protocol."
Dr Rodriguez will also be involved in research related to CAD CAM tooth supported restorations.