Commencement
College of Dentistry Virtual Graduation Celebration Saturday, May 8, 2021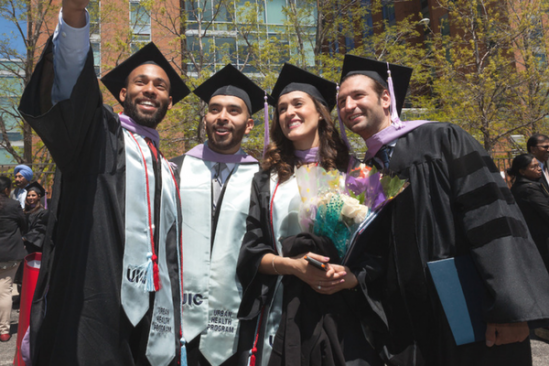 The University of Illinois at Chicago College of Dentistry Virtual Graduation Celebration will take place on Saturday, May 8, 2021.
VIRTUAL GRADUATION CELEBRATION DETAILS:
On Saturday, May 8, 2021, UIC will host virtual ceremonies for individual colleges via MarchingOrder.com. The online platform allows graduates to view speeches from administrators and keynotes and to be individually recognized for their accomplishment. UIC is proud of all of our graduates and their accomplishments, and we invite all spring 2021 graduates to celebrate with us online in May.
Graduates, please watch for an e-mail inviting you to create your personalized slide through MarchingOrder. If you would like your slide to include a reading of your name, you will need to respond by a specific date.
The UIC Commencement website provides comprehensive information .  Updates will be sent to students via email and posted on the website.
Contact
Ms. Braulia Espinosa
Director of Student and Diversity Affairs
312-355-0320
Ms. Carolyn Feller
Director of Student and Diversity Affairs
312-996-2873
Ms. Meah Rogers
Assistant Director of Student and Diversity Affairs
312-355-1327
UIC College of Dentistry
Office of Student and Diversity Affairs
801 S. Paulina St.
Room  104C
Chicago, IL 60612
For additional information you can also visit the UIC Commencement website