Externships, Clinical Observations, and Volunteer Opportunities
Externships, Clinical Observations, and Volunteer Opportunities Heading link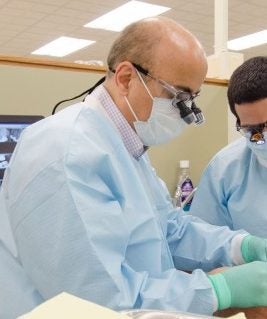 The University of Illinois Chicago College of Dentistry has exciting opportunities for individuals studying at other institutions, who are looking for externship, clinical observation, or volunteer experiences. Additionally there are limited opportunities for "behind the scenes" work such as filing and other clerical tasks. The number and cost (if applicable) of any program is determined by each department.
Note: all externships require an Institutional Affiliation Agreement between the College of Dentistry and your home institution.
How to Apply
Current UIC-COD students seeking externships within the college should complete the externship request form.
Before submitting any materials, you must secure a externship, clinical observation, volunteer or research opportunity through your department of interest.
Endodontics
Oral Medicine & Diagnostic Sciences
Oral and Maxillofacial Surgery
Orthodontics
Pediatric Dentistry
Periodontics
Prosthodontics
Once the department of interest has selected you for a externship, clinical observation or volunteer opportunity, please submit the following:
A letter of recommendation from your Dean stating that you are in good academic standing
A letter from your Dean stating that your institution will cover your professional liability insurance while you are at the University of Illinois Chicago College of Dentistry
Externship/Volunteer Request Form
A current resume
Proof of health insurance
Please submit all materials to:
Office for Clinical Affairs (MC 621)
College of Dentistry
University of Illinois Chicago
801 South Paulina Street
Chicago, Illinois 60612-7212