Urban Health Program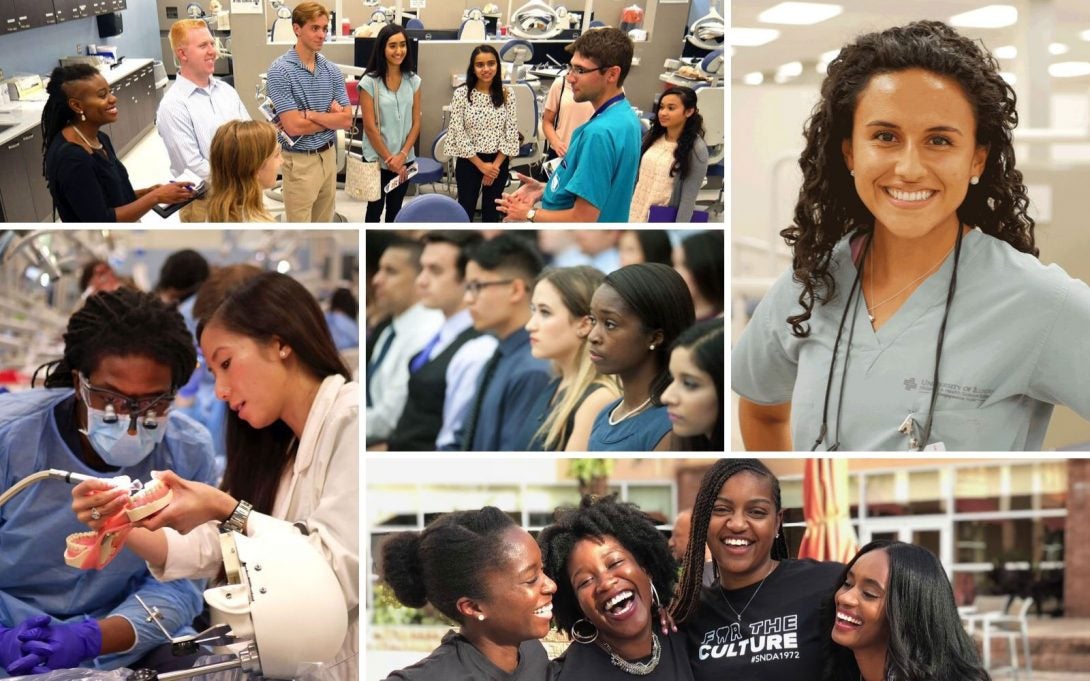 Expanding opportunities for underrepresented minority students
The mission of the University of Illinois at Chicago College of Dentistry's Urban Health Program is to recruit, retain, and graduate underrepresented racial/ethnic minority students, specifically African Americans, Latinos, and Native Americans, in the Oral Health Sciences, and to expand educational opportunities for these populations at the pre-college (K-12), undergraduate, graduate, and professional levels.
We are committed to:
Providing avenues for early exposure to the dental professions for students from traditionally underrepresented groups.
Providing academic enrichment opportunities for undergraduate, graduate, and professional students from underrepresented populations who are interested in or pursuing degrees in the Oral Health Sciences.
Supporting and participating in community health initiatives and programs, particularly those that are concerned with addressing oral health disparities and community health.
Partnering with the University's Urban Health Program and other educational institutions and organizations to establish and maintain pathways for admissions of traditionally underrepresented student groups into UIC's health colleges and degree programs.
Actively recruiting African American, Latino, and Native American undergraduate students throughout Illinois, and encouraging them to apply to dental school.
Conducting ongoing research related to underrepresented dental student experiences and outcomes, particularly for those students in the pathway programs at the University of Illinois campuses.
Encouraging urban health experiences for all students interested in and committed to practicing in dental underserved urban areas, especially in Illinois.
UIC boasts one of the most diverse student populations among colleges and universities in the nation, especially among public research universities. UIC is a federally designated minority serving institution, which covers racial, ethnic, and class backgrounds along with gender identities and sexual orientations.
The College of Dentistry prides itself on inclusion, with diversity at the core of its set of values. Academic, care and research programs are all dedicated to building a culture of excellence that is grounded in principles of equity and social justice.
"Our country (and our state) are becoming more diverse every day," said Darryl Pendleton, Associate Dean for Student and Diversity Affairs and Executive Director of the UIC Urban Health Program. "Our college is committed to training and producing healthcare professionals to serve our constituents. Patients do better when they have a comfort level with their providers who represent communities that are underserved."
Pendleton said the increase in opportunity is driving the diversity within the dental industry. "At one time, it was out of reach for so many," he said. "There's increasing awareness now, and making sure youth know that being a dentist is an option for them as a career."
The College of Dentistry Urban Health Programs are focused on providing programming, resources and support for traditionally underrepresented students, which gives them early exposure to the dental professions. The UHP hosts events that bring together current and former students that have had similar paths growing up and getting into college. The program hosts a pre-dental event where current UHP students show prospective undergrad and high school under-represented students what it is like to be in dental school. They work one-on-one with the students to help them improve important dental school skills including hand-skills and even help on writing application personal statements.
The Urban Health Programs include:
UIC College of Dentistry UHP Dental Admissions Test (DAT) Prep Program

The purpose of this program is to prepare students from underrepresented backgrounds to be competitive applicants for dental school. The core experience for program participants will be a test preparation course for the Dental Admissions Test (DAT). In addition to strengthening test-taking skills, participants will engage in different workshops designed to support them through the admissions process for dental school.  Applications now being accepted, deadline 4/8/22.

UIC College of Dentistry UHP Open House

The admissions staff in collaboration with the Hispanic Student Dental Association (HSDA) and the Student National Dental Association (SNDA) organize an annual UHP open house in the month of October. The event offers an opportunity for Underrepresented Minority (URM) Pre- Dental students to get a tour of the college, obtain admissions information and have current D1s-D4s answer questions that prospective students may have about the application process and about UIC's dental curriculum.

UIC College of Dentistry UHP Post-Baccalaureate Program

The Post-Baccalaureate Program is a collaborative effort between the College of Dentistry and the College of Medicine and provides an opportunity for an invited group of underrepresented minority (URM) students who have applied for admission to the College of Dentistry to participate in a yearlong structured rigorous academic experience. In order to be considered for the program, students must apply directly to the College of Dentistry as a traditional dental school applicant, including submitting a complete AADSAS application, letters of recommendation, a Dental Admissions Test score, and the dental school interview. The College of Dentistry Admissions committee reviews applications and considers applicants for the program. Students accepted receive a one- year deferred acceptance to dental school. A space is held in the D1 class for the following year, upon successful completion of the post-baccalaureate program.

The Post-Baccalaureate Program is structured into three (3) tiers: Tier I—Fall Semester, Tier II— Spring Semester, Tier III— Summer Pre-Matriculation Program (SPP). The goal of the program is to build on the student's biomedical science foundation through their immersion in basic and advanced medical science course work. Students enroll in graduate, medical or other academically relevant courses such as Anatomy, Biochemistry, Neuroanatomy and Physiology. Through the program, students receive a comprehensive assessment of their existing learning approaches and build academic success strategies to ensure success in coursework. Post-Baccalaureate students enter the College of Dentistry with improved self-confidence and biomedical science knowledge that is essential to be master scholars and leaders in Dental school and beyond.

UIC College of Dentistry UHP Summer Pre-Matriculation Program (SPP)

The six-week Summer Pre-Matriculation program is designed to include academic reinforcement and motivational retention activities for URM students who have been accepted to dental school and want to increase their foundational knowledge in the biomedical sciences. Participants are provided with preview courses in Biochemistry, Anatomy, Physiology and Histology as a part of SPP. Students enroll in the SPP the summer (May – July) prior to beginning dental school. The program is a collaborative effort between the College of Dentistry and the College of Medicine.
Urban Health Program Student Plans to Give Back to Chicago Neighborhood Heading link
For more information on the College of Dentistry's Urban Health Program:
Dr. Darryl D. Pendleton
Associate Dean for Student and Diversity Affairs
801 South Paulina Street, Room 102GD
312-355-1670
Ms. Braulia Espinosa
Director of Student and Diversity Affairs
801 South Paulina Street, Room 104B
312-355-0320
Ms. Meah Rogers
Assistant Director of Student and Diversity Affairs
801 South Paulina Street, Room 104C
312-355-1327