Why Dental Students Choose UIC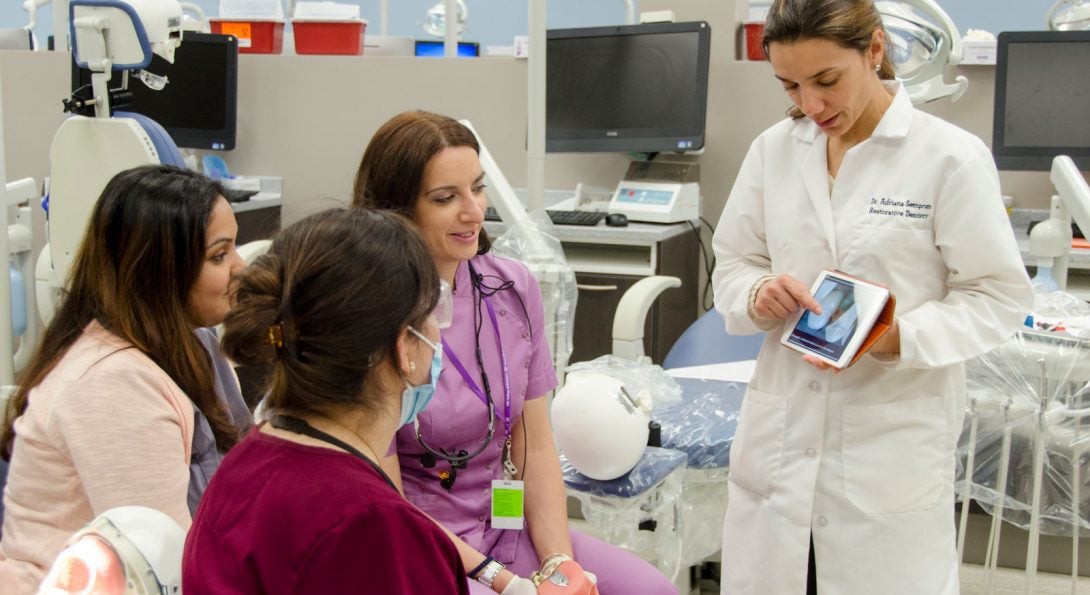 Why do dental students choose UIC?
Because, we're training the next generation of leaders that will be changing the future of oral health.
Our students are not only training to be excellent clinicians and oral health scientists -- they are preparing to be the next generation of oral health leaders. We offer an outstanding, innovative curriculum that is patient-centered, problem-focused, and evidence-based. Our college community is woven by a richly diverse fabric of cultural and professional backgrounds. They engage in a number of extracurricular service-learning activities that enrich their dental school experience.  From US and international extramural clinic rotations, or running a volunteer dental clinic that serves the homeless; to advocating policy change in organized dentistry, and mentoring peers through student organization events -- our students are learning while giving back to our communities of need. 
The College of Dentistry at the University of Illinois at Chicago is located at the heart of a world-class medical education and research complex. Our excellence in academics, faculty, service-learning and research and clinical services, all within a convenient urban setting set us apart from other oral health colleges.
Dental students at UIC College of Dentistry are changing the future of oral health
Through excellence in oral health education, patient care and research powered by innovation and community. 
Along with our outstanding faculty and staff, our students share a commitment to the promise of public education, the advancement of knowledge, and the imperatives of doing good and giving back.
Innovative Curriculum
Patient centered. Problem focused. Innovation and community driven. This is how our curriculum is changing the future of oral health.  
Our curriculum is continuously improved through innovation and student-centered. Our facilities are newly renovated and incorporate the latest in oral health and digital dentistry. Our curriculum features easy-to-use digital education resources.  A problem-based model guides our DMD curriculum, allowing students to experience a diagnostic process very early in their education.
The College of Dentistry offers comprehensive and advanced dental education and research opportunities, powered by innovative methods and cutting-edge technology, and enriched by a diverse and collaborative community of faculty, staff and students. Curriculum innovations have resulted in the College receiving the prestigious William J. Gies Award from the American Dental Education Association. Additionally, the College has implemented a sequence of improvements in clinical education to prepare students to provide oral health care to traditionally underserved patients, and to advocate for universal oral health care for all Americans.
Collaborative and Patient-Centered
Students appreciate our curriculum because it is highly collaborative, patient-centered, and medically comprehensive in nature, including behavioral science education, evidence-based dentistry, and implant dentistry. They also appreciate the rich diversity represented across the student body, and in our patient population. And, while our patients will be the first to agree that dental education is rigorous and challenging - especially given all of the new
biomedical and clinical discoveries advancing the profession - they also appreciate why the College re-invented our educational programs, moving from static lectures (that are often outdated) to a dynamic, interactive, team-based learning (or Small Group Learning/SGL), placing the student and patient
at the center of the educational experience. 
Integrated and Evidenced-Based
Students learn in an integrated way that brings together several key aspects of scientific and medical knowledge. This includes a strong foundation in the basic scientific principles pertaining to all relevant human biological systems such as musculoskeletal, immune and nervous systems, cardiovascular. Students will learn how these systems work together and relate to oral health on a physiological and molecular level. Additionally, students will explore aspects of infections and pharmacology to understand how medications interact with these systems.
In addition to developing up-to-date scientific and clinical skills, students also gain enhanced critical thinking and analytical skills through our innovative learning format called small group learning (SGL). This innovative approach integrates scientific and clinical knowledge with team-based cases designed to improve students' ability to  apply the latest evidence to solve real-world patient care problems. The interdisciplinary case scenarios emphasize the relationship between systemic and oral diseases, health and prevention, family and community context, disease diagnosis and evidence based practice. The SGL curriculum structure offers students several benefits:
Increased capacity to find and apply information relevant to clinical cases
Improved higher-order reasoning
Enhanced communication and collaboration
The DMD curriculum offers a variety of learning formats that integrate basic science with real-world clinical competencies. Biomedical science courses are organized to provide comprehensive instruction into each organ system concurrently so that students can see the whole picture. Starting in their first year, students learn foundational clinical skills in pre-patient care clinics designed to simulate real-world patient care environments and scenarios.  The curriculum also emphasizes evidence based practices to build competency in finding, evaluating and applying the best available evidence to patient treatments.
"UIC's small-group learning (SGL) helped me to better discover information for myself as well as learn how to collaborate with others in my profession."
Jacqueline Wisinski, DMD Candidate, M.B.A., M.A.
Learning formats include:
Small Group Learning (SGL)
Interactive didactic sessions (lecture)
Patient simulation clinics
Patient care experience in pre-docotoral clinics
Service-learning rotations at extramural sites
Anatomy lab
Independent study
Shadowing in clinics
Ethics presentations
More on how our SGL curriculum works
Diverse and Rewarding Student Experience
Committed to Diversity
Diversity is fundamental to everything we do at the College of Dentistry (College) and we dedicate ourselves to building a culture of excellence that is grounded in principles of equity and social justice.  The College, by policies, practices and spirit, is committed to maintaining a welcoming, inclusive and culturally vibrant learning environment.  The College is a community of diverse, life-long learners who embody and embrace the richness and value of diversity.
Read more about our commitment to diversity.
Student Life and Services
The College of Dentistry and UIC offer many services to support students' academic and personal growth. The UIC College of Dentistry strives to familiarize students with the many programs and services designed to enrich the experience as a dental student. We encourage you to take advantage of the many activities and opportunities that are provided. The Diversity Affairs Committee also provides resources for our dynamic student body.  
Supplemental Education & Mentoring. The Office of Student and Diversity Affairs coordinates a Supplemental Education Program. Students seeking supplemental educational assistance must complete a supplemental educational assistance request form and agreement--forms are available in the Office of Student and Diversity Affairs, room 104. 
Student Mentoring. The Mentors Program introduces students to dental professionals who are members of organized dentistry. The Mentors Program is a joint collaboration between the University of Illinois at Chicago Dental Alumni Association, the University of Illinois at Chicago College of Dentistry, and the Chicago Dental Society. Mentors are also available through College of Dentistry partnerships with organizations such as the National Dental Association and the Hispanic Dental Association.
Student Organizations
Students at UIC College of Dentistry are very active in dental student organizations. With several Chicago area chapters of national organizations to choose from, dental students can easily find an organization that matches their passion.
Here are a few of the many student organizations UIC dental students may participate in. A full list of student organizations can be found here.
"There are so many great organizations that allow you to apply your passions. I've grown immensely as a person outside of the classroom by becoming involved."
Jasmine Liu, DMD Class of 2020
Integrating Clinical and Research Experiences
Some students opt to pursue our dual degree program, the DMD/PhD as part of the College's Multidisciplinary Oral Science Training (MOST) Program . The MOST program offers several tracks for both undergraduate and graduate / post-graduate researchers, including a PhD program and a combined DMD/PhD program, and a postdoctoral fellowship.  MOST fellows gain valuable knowledge through independent multidisciplinary research projects with close faculty mentorship combined with an innovative clinical training curriculum.
The program allows students flexibility in designing independent tracks that match their research interests.  Having this program at UIC -- a Carnegie level-1 public research university, and within the College of Dentistry -- gives students unique access to patients and state-of-the-art resources. There is also the opportunity to find mentors and collaborators, and even take classes across the entire university.
Meet Our Researchers
Looking for a mentor or just want to know more about our researchers? Check out our list of 40+ researchers and find out more about their research areas.
Video: Student Researchers in the MOST Program
In this video, faculty and students describe the advantages of being a student and researcher in the DMD/PhD Program.  
Community Engagement 
Students are immersed in Chicago's vibrant community the first day they enter the College. Community engagement is facilitated through various service projects, including clinical rotations during the fourth year of the DMD program. 
In their first three years, students are introduced to the issues that contribute to health disparities in the U.S., and lead to higher levels of poor oral health in under-served populations. Students visit local communities and community organizations to learn about such issues firsthand. Through these experiences, students provide care to the underserved urban, rural, and special needs populations including pediatric, developmentally disabled, HIV-positive, and geriatric patients. Fourth year students engage in service-learning experiences as part of a required course which involves community-based rotations at partnering health centers. Students devote a minimum of 50 days at these sites providing care to underserved urban, rural, and special-needs populations including children, developmentally disabled, HIV-positive and geriatric patients. 
More on our service-learning program 
"Being in community rotations has given me a new found respect for my education as a tool to help others, and not just something to further my own success. I now see my career more as an opportunity to help people and change their lives with treatment and education."
Jacqueline Magallanes, DMD Program
---
University of Illinois at Chicago College of Dentistry
The University of Illinois at Chicago College of Dentistry is a worldwide leader in oral health education, clinical care and research that is patient-centered and evidence-based, with a foundation in preventive and public health sciences. We are a part of UI Health and the University of Illinois at Chicago, Chicago's largest university and is one of the nation's top federally funded public research universities. Our strengths are founded in our college community, comprised of outstanding faculty, students and staff who share a commitment to the promise of public education, the advancement of knowledge, and the imperatives of doing good and giving back.
Learn more about our mission
Read our collect facts
Get Ready for Dental School
---

Get the information you need to begin your journey into an outstanding career in dentistry today!