Research Equipment
State-of-the-art laboratories and equipment to enable multi-disciplinary investigations Heading link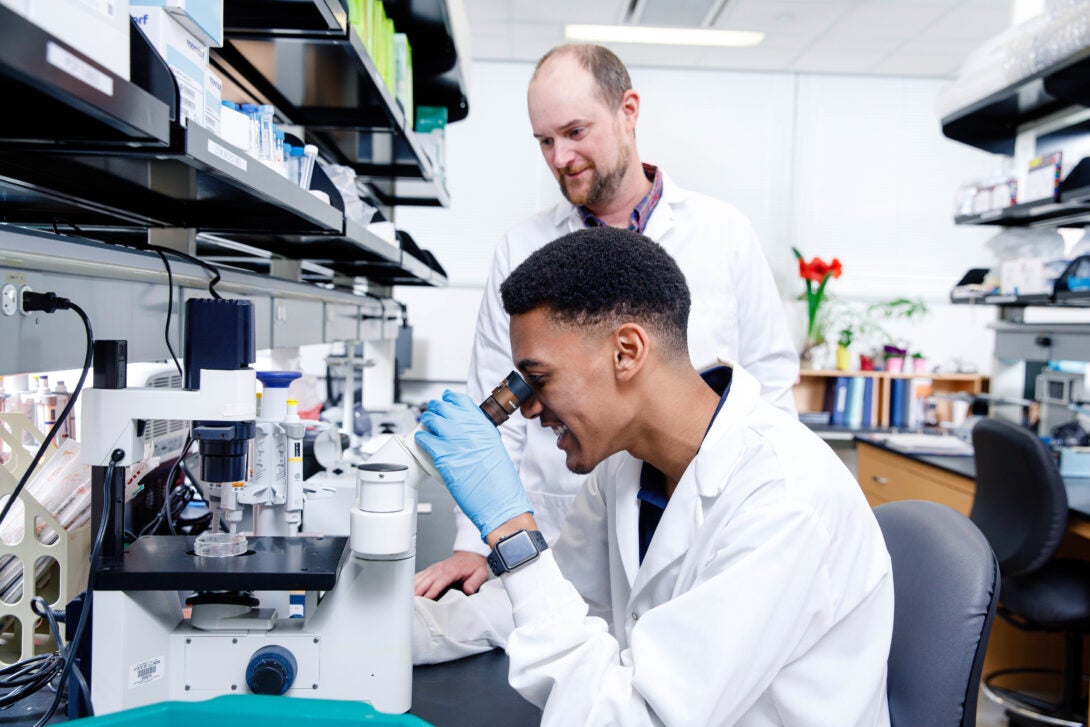 The College of Dentistry offers students, faculty and staff a wide array of core equipment, and specialized computing systems to digitally integrate basic science with clinical practice and studies to create a complete spectrum for translational research. Funded by NIH and private sources,  these resources are playing an important role in the advancement of basic, clinical and translational research to improve oral and overall health. Our core research facilities within the 801 S. Paulina building offer a broad range of recently renovated laboratory spaces, equipment and capabilities not often found in academic dental centers. Our laboratories and additional resources are designed to be shared by investigators both on campus and externally, to foster interdisciplinary scientific discovery. We welcome collaboration and can provide access to our state-of-the-art resources upon request. The Office of Research is available to aid researcher teams with access to our resources and interactions with industry.
Features
State-of-the-art clinical and translational research center
Core and shared facilities, equipment and specialized computing systems
23,000+ square feet of renovated laboratory space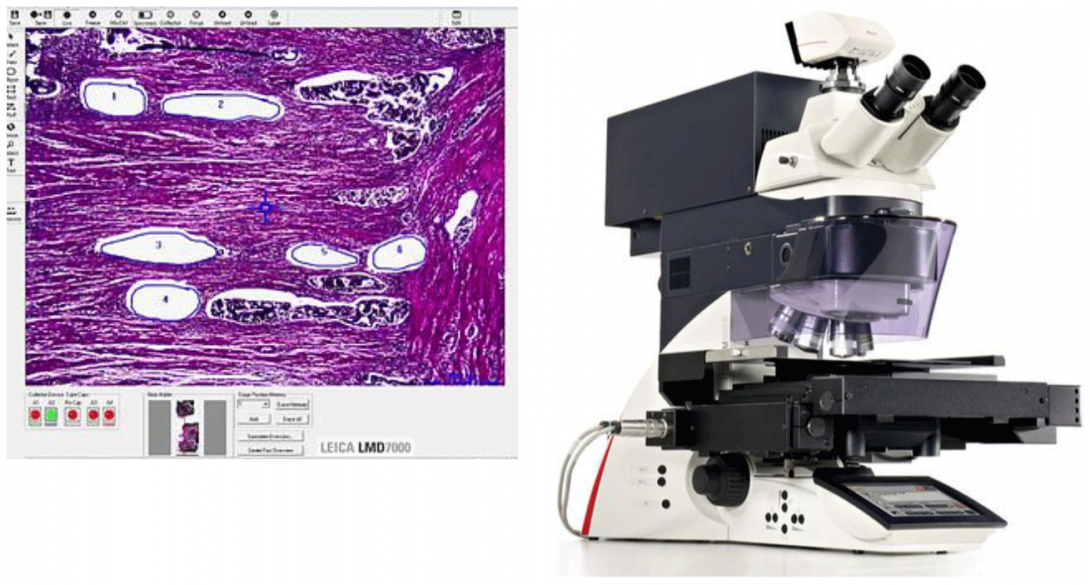 Laser Capture Microscope
Laser Microdissection (LMD) Leica LMD7000 makes it possible to distinguish between relevant and non-relevant cells or tissues. It enables the researcher to obtain homogeneous, ultra-pure samples from heterogeneous starting material. Researchers can selectively and routinely analyze regions of interest down to single cells from all kinds of tissues, even living cells from cell culture, to obtain results that are relevant, reproducible, and specific. Specimen collection by is by gravity which allows contact-free and contamination-free samples. Laser microdissection uses a laser to isolate specific microscopic regions from tissue samples. The way in which specimens of interest are transferred and collected influences the specificity and quality of the end result. Leica Microsystems uses high-precision optics to steer the laser beam using prisms along the desired cut line on the tissue. Benefits are highest possible precision and speed, direct real-time laser cutting with "Move and Cut" and the best view for convenient movie documentation. The Leica LMD7000 is the first laser microdissection system that integrates high energy per pulse, and high and adjustable repetition rates within one single system. Benefits are full control of the repetition to adapt the laser to a specific sample, high-energy per pulse for thick and hard specimens, high repetition rates for narrow cuttings and high speed and control of all laser parameters including laser aperture to achieve an optimal cutting line. Laser microdissection from normal glass slides is possible with the Draw + Scan or directly live with the Move + Cut mode. This kind of application is called laser ablation or dot scan dissection. Laser microdissected samples can be easily collected by gravity to all common molecular biology reaction devices caps like 0.2 or 0.5 ml tubes. This method is efficient and time-saving – no additional transfer steps are needed. Collection devices can be dry or with reaction buffer. No expensive special consumables are needed for collection.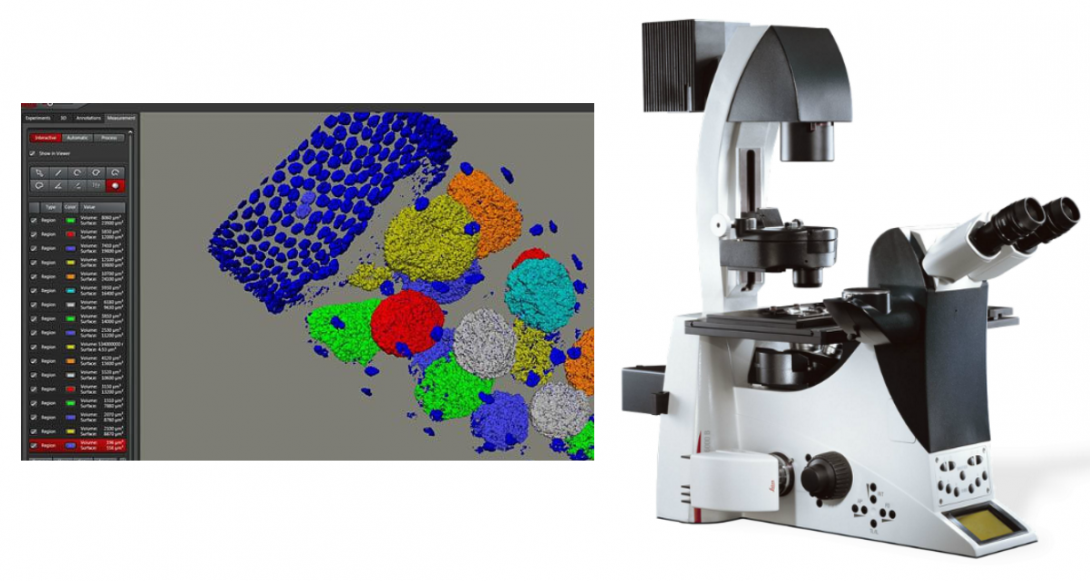 Leica DMI6000 B Inverted Microscope
The Leica DMI6000 B inverted microscope for biomedical research offers Differential Interference Contrast (DIC) for relief imaging of specimens with varying indices of refraction. The intuitive, automated Leica DMI6000 B is ideal for fluorescence, live cell, time-lapse imaging, high-speed multi-fluorescence optical sectioning, and micromanipulation.
The system features an automated contrast and illumination manager, motorized Z focus, parfocality function, automatic brightness and diaphragm adjustment, and many other automated functions that provide convenience and reproducible results. Combination contrast allows the combination of one transmitted light contrast technique with fluorescence (PH/FLUO or DIC/FLUO). Both axes can be controlled independently.
Leica Microsystems offers a wide range of Wollaston prisms, excellent DIC quality for different types of specimens, and different shearing for contrast and resolution optimization for either thick or thin samples. Contrast Manager and Light Manager work together to automatically adjust the light intensity, field diaphragm, and aperture diaphragm for the best image quality without additional continuous adjustments.
Molecular Dynamics Storm 860 Molecular Imager Gel and Blot Imaging System
The Molecular Dynamics Storm 860 Molecular Imager Gel and Blot Imaging Systemoffers filmless autoradiography fluorescence and chemifluorescence imaging. The Storm 860 Molecular Imager Gel and Blot Imaging System delivers proven PhosphorImager capability for autoradiography direct fluorescence for nucleic acid and protein gel analysis and chemifluorescence for fast blot analysis. Storm uses storage phosphor screens instead of film to deliver high-resolution imaging and accurate quantification of 14C, 3H, 125I, 32P, 33P, 35S, and other sources of ionizing radiation. The Storm 860 Molecular Imager wide exposure range and accurate signal quantification yield publication-quality images on the first exposure. Storage phosphor screens are reusable and are not degraded by repeated exposure to laboratory levels of radioactivity. To reuse simply expose a screen to the extra-bright light of ImageEraser light box (included with Storm systems). With direct fluorescence the Storm 860 Molecular Imager enables visualization and analysis of nucleic acid and protein gels just minutes after electrophoresis is complete. Gels are soaked in dye solution and then placed in the scanner for analysis. Molecules labelled with Cy5 can also be directly detected. For chemifluorescence-based methods the Storm 860 Molecular Imager reads blots in minutes without exposure to film. Quantification is simplified because unlike film Storm exhibits a linear response to fluorescent signal intensities. Storm 860 Molecular Imager scans gels blots or mounted and unmounted storage phosphor screens up to 35-43 cm. All Storm systems come with ImageQuant TL. The STORM 860 phosphorimager/fluorimager has three image detection modes:
Phosphor Screen Mode
Red/Blue Fluorescence
Chemifluorescence
You can use screens for 14C, 32P, 33P, 35S, 1251, and 3H sensitive screens can also be purchased. The Storm 860 Molecular Imager is also a two-color (blue and red excitation) fluorescence imager which opens up many new possibilities for quantitative analyses:
Quantitative westerns by chemifluorescence
Nonradioactive gel mobility shift experiments in which two different species can both be separately detected and quantified
Fluorescent dyes for quantitative versions of coomassie staining
Software provided with the Storm 860 Molecular Imager
Qiacube System
The Qiacube system allows for fully automated sample prep using QIAGEN spin-column kits
Automation of trusted QIAGEN spin-column kits
Elimination of manual processing steps
Purification of DNA, RNA, or proteins
More free time with affordable automated processing
Standardized results and increased productivity
The innovative QIAcube uses advanced technology to process QIAGEN spin columns, enabling seamless integration of automated, low-throughput sample prep into the laboratory workflow. No change of purification chemistry is required, assuring fast startup and immediate results. All steps in the purification procedure are fully automated — up to 12 samples can be processed per run. The QIAcube together with the QIAprep Spin Miniprep Kit enables fully automated purification of up to 20 µg molecular biology grade plasmid DNA. The fully automated purification procedure — including lysis — provides yields of plasmid DNA comparable to the manual procedure. Purified DNA is suitable for use in routine molecular biology applications, such as fluorescent sequencing, cloning, or transfection of robust cells. Using the QIAamp DNA Blood Kit, the QIAcube enables purification of reproducible yields of highly pure genomic DNA. DNA purified using the QIAcube performs well in sensitive PCR even when large amounts of eluate are used, demonstrating the high purity of the DNA. The QIAcube together with the QIAamp MinElute Virus Spin Kit enables efficient purification of viral nucleic acids. Together with the QIAcube, the RNeasy Mini Kit enables efficient automated purification of total RNA from animal cells, demonstrated by consistent RNA yields. The quality of RNA purified using the QIAcube is comparable to the manual procedure. The QIAcube and Ni-NTA Spin Kit provide reliable purification of highly pure 6xHis-tagged proteins. Purified proteins are suitable for many applications, including functional investigations, crystallization pre-studies for determination of three-dimensional structure, assays involving protein–protein and protein–DNA interactions, and immunization to produce antibodies. The QIAcube makes DNA cleanup easier than ever. Proven QIAquick technology together with optimized protocols enables direct purification of double- or single-stranded DNA fragments, from 100 bp to 10 kb. Primers, nucleotides, enzymes, and other impurities are efficiently removed and recovery of DNA is comparable to the manual procedure.
Principle
The QIAcube enables continued use of well-established QIAGEN spin-column kits and eliminates the need for tedious manual steps. The innovative QIAcube controls integrated components including a centrifuge, heated shaker, pipetting system, and robotic gripper. This enables the QIAcube to fully automate more than 40 QIAGEN spin-column kits. The QIAcube is preinstalled with a variety of protocols for purification of RNA, genomic DNA, plasmid DNA, viral nucleic acids, and proteins, plus DNA and RNA cleanup. All standard protocols in the expanding range can also be downloaded free of charge. In addition, customized protocols tailored to meet specific application demands can also be requested.
Procedure
The QIAcube enables purification of highly pure nucleic acids or proteins using a simple lyse, bind, wash, elute procedure. Over 40 QIAGEN spin-column kits can be automated on the QIAcube. The QIAcube takes ease of use to a new level. No external PC is required, saving valuable laboratory space. An integrated touch screen simplifies protocol selection, and clear on-screen messages guide the user through worktable setup. For increased ease of use and high process safety, labware and accessories fit onto the worktable only in the correct orientation. In addition, a fully automated load check helps to ensure that samples, reagents, and labware are correctly loaded. Dedicated QIAcube Kits further simplify automated spin preps on the QIAcube and increase convenience. Kits are currently available for purification of RNA, genomic DNA, and viral RNA. Rotor-adapters supplied with the kits are preloaded with spin columns and elution tubes, delivering greater convenience and time savings. Furthermore, ease of use is increased and user errors minimized. Waste is reduced as the content of the dedicated kits is tailored to purification on the QIAcube and tubes required for the manual procedure are not included. The VICTOR X5 microplate reader includes Luminescence, Fluorescence Intensity (both top and bottom reading), UV-absorbance (UV-VIS), Time-Resolved Fluorescence and Fluorescence Polarization technologies. Blue Photomultiplier tube comes standard for optimal luminescence performance.  New WorkOut 2.5 software also comes standard for data analysis.
VICTOR X5 Microplate Reader
VICTOR X5 includes an enhanced software package that features:
Improved "Start Wizard" for easier creation of new protocols
Application-based example protocols for off-the-shelf use
Intuitive live-display with "real-time kinetic curve"
Improved kinetics support (more replicates) for enhanced cellular and enzyme assays
Additional hardware features incorporated into the VICTOR X5 includes:
Enhanced chassis design to facilitate repair, maintenance and upgrading
Expanded Temperature Control up to +50°C for broader control of assay conditions
Extended absorbance wavelength up to 1000 nm to enable wider spectrum analysis
Additional 8-position excitation filter wheel for more flexible and versatile use of filters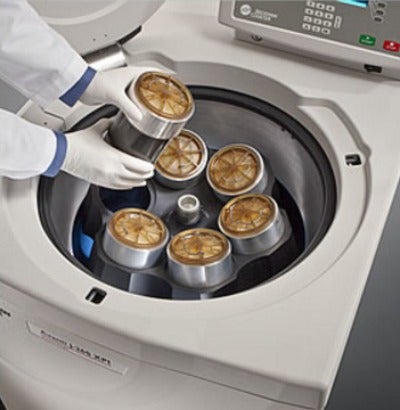 Avanti J-26XP
The Avanti J- 26XP is a fast, efficient centrifugation solution uniquely designed to process up to 6 liters in less than 10 minutes. Teamed with a full range of rotors, adaptors and sample carriers, this system delivers the versatility and efficiency. The centrifuge reduce hands-on sample handling with HarvestLine System Liners, offering convenient easy to use improvements in biosafety and prolonged storage.
Approximate Acceleration Time: Maximum, slow, or timed (1 to 10 min from 0 to 500 rpm)
Approximate Deceleration Time: Maximum, slow, timed (1 to 10 min from 500 to 0 rpm), or off
Drive Cooling: Air Cooled
Drive Type: SR* Drive
Friction Reduction System (FRS): A mechanical rotary vane pump reduces chamber pressure to 0.25 ATM (190 mm [7.5 in] Hg)
Max Capacity Volume Range: 6 liters
Max Speed: 26,000 rpm
Maximum Heat Dissipation into Room under Steady-State Conditions: 2.0 kW (6,900 Btu/hr)
Noise Level 0.91 meters (3 feet) in Front of Centrifuge: < 57 dbA
Refrigeration System: Non-CFC, non-ozone depleting refrigerant
Rotor ID: Manual
Set Temperature: -10° C to +40° C (in 1° C increments)
Set Time: 1 Min – 3 Hours, Hold
Speed Control: ± rpm of set speed or 0.1%, whichever is greater
Speed Range: 100 to 26,000 rpm or equivalent RCF; 0 to 5,000 rpm for elutriation
Temperature Control: ± 2° C of set temperature (after equilibration)
Zonal Capability: No
Single Tube Sample Volume Range: 1.5 – 1,000 mL
Ambient Temperature Range: 15° C to 40° C
Clearances Required: 7.6 cm (3.0 in) sides; 16.0 cm (6.25 in) rear
Door: 6.1 cm (2.4 in) thick structural foam with steel plate
Humidity Restrictions: < 95% (noncondensing)
Pollution Degree: 2
Rotor Chamber Diameter: 51.3 cm (20 in)
Time — Actual Display: Indicates run time remaining (timed run) or elapsed time (hold run)
Maximum Force at r max (g): 82,000 x g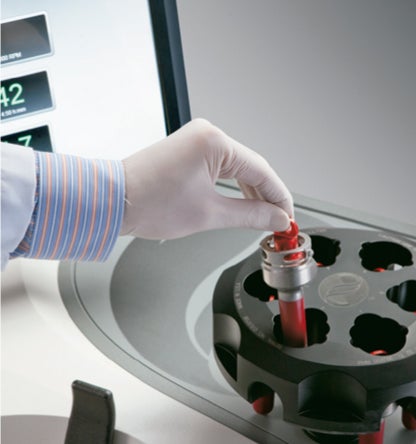 Optima XE Ultracentrifuge
The Optima XE ultracentrifuge offers large touch-screen display to display more data. Regenerative braking returns energy to local circuit reducing utility costs. Highly efficient thermoelectric cooling results in lower power consumption. The ultracentrifuge uses the same amount of power as a 60-watt light bulb while idling. The Optima XE, its rotors and its labware are designed, manufactured, and tested as an integrated system to ensure optimal performance and safety. The intuitive, graphical step-by-step interface simplifies workflow. The software includes nine languages for error-free operation. The ultracentrifuge maintains runs during power fluctuations and handles a wider tolerated range of 180 VAC to 264 VAC. The Optima XE tracks power interruption data to convey if parameters remained within an acceptable range. The Optima XE is designed for lowest drive noise and operates at less than 51 dBA. The software features context-sensitive on-screen help.
Approximate Acceleration Time: 10 acceleration profiles
Approximate Deceleration Time: 11 deceleration profiles
Drive Cooling: Air-cooled
Electrical Requirements: 200–240V, 30 A, 50/60 Hz
g Force: 694,000 x g
Max Speed: 90,000 rpm
Maximum Heat Dissipation into Room under Steady-State Conditions: 3400 BTU/hr (1.0 kW)
Noise Level 1 Meter in Front of Centrifuge: <51 dBa
Refrigeration System: Thermoelectric—no CFCs, ODCs
Set Speed: 1,000 to 90,000 rpm in 100-rpm increments
Set Temperature: 0 to 40° C in 1° C increments
Set Time: Up to 999 hours, 59 minutes
Speed Control: ±2 rpm of set speed (above 1,000 rpm)
Temperature Control: ±0.5° C of set temperature
±0.8° C when using SW 32 swinging bucket rotor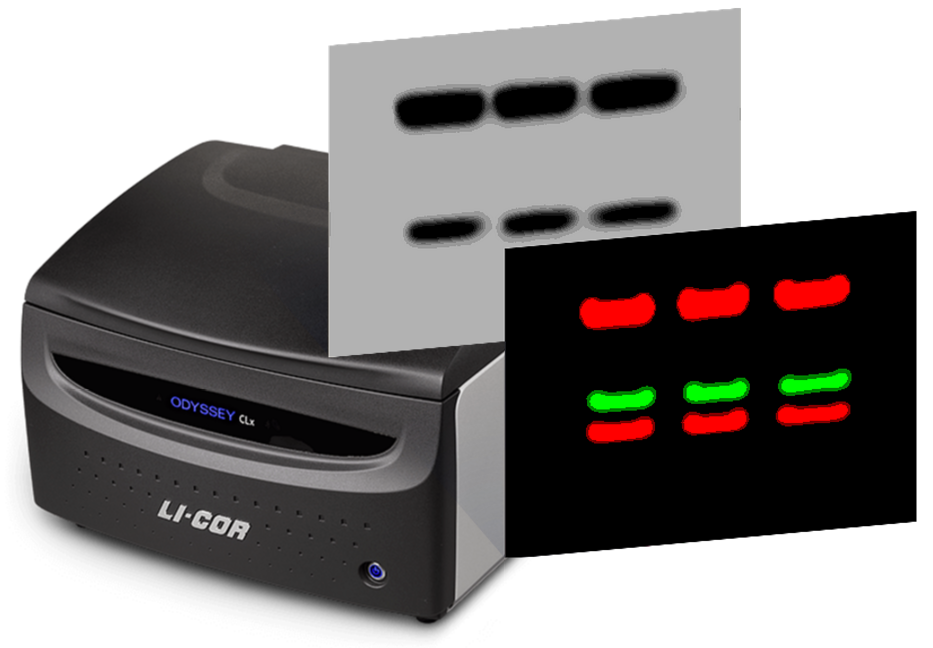 Odyssey CLx Infrared Imaging System
The Odyssey CLx infrared imaging system accurately detect strong and weak signals over a broad linear dynamic range. Near-infrared fluorescence provides sensitivity equal or better than chemiluminescence giving low background, high signal-to-noise, multiplexed detection, and the sensitivity of any fluorescent system. This function results in a dynamic range of greater than six logs, with minimized saturation. No film, a darkroom, plastic wrap, or substrates are needed. IRDye signals on membranes are stable indefinitely if stored properly. The system allows detection of two targets simultaneously on the same membrane to increase the accuracy of quantification and comparison.
The Odyssey CLx System can be used for many applications, including Western blot analysis, EMSA, protein arrays, In-Cell Western™ Assays, On-Cell Westerns, in vivo imaging, Coomassie gel documentation, DNA gel documentation, and tissue section analysis. The system can be combined with the Pearl Impulse Small Animal Imaging System for a complete Molecular Imaging Workstation.
StepOnePlus™ Real-Time PCR System
The StepOnePlus™ Real-Time PCR System is a 96-well Real-Time PCR instrument perfect for both first-time and experienced users. The StepOnePlus™ Real-Time PCR System can be setup in a variety of configurations and comes ready to use, out of the box, with intuitive data analysis and instrument control software. Utilizing robust LED based 4-color optical recording, the StepOnePlus™ Real-Time PCR System is designed to deliver precise, quantitative Real-Time PCR results for a variety of genomic research applications.
The StepOne™ Software v2.2.1 included with the StepOnePlus™ Real-Time PCR System runs on Windows® XP, Windows Vista®, and Windows® 7 operating systems and provides instrument control, data collection, and data analysis capabilities. This latest version includes capabilities to collect melt curve data for High Resolution Melt (HRM) applications and the option to export in Real-Time PCR Data Markup Language (RDML) for compatibility with MIQE guidelines.
The Real-Time PCR system is designed with an LCD touchscreen and a user-friendly interface that brings the power of genetic studies to researchers new to Real-Time PCR. The intuitive software and protocol wizards help guide new users through their Real-Time PCR experiments. The StepOnePlus™ Real-Time PCR System also includes a quick-start setup.
The StepOnePlus™ Real-Time PCR System utilizes a long-life LED-based optical system that can record fluorescence from FAM™⁄SYBR® Green, VIC®⁄JOE™, NED™⁄TAMRA™, and ROX™ dyes. This cost-effective, 4-color, 96-well system delivers precise, quantitative Real-Time PCR results and saves data from all filters in every run without depending on a computer or plate setup. It can discriminate between 2 populations of 5,000 and 10,000 template copies of a TaqMan® assay with 99.7% confidence.
The StepOnePlus™ System supports many Real-Time PCR applications, including the following:
SNP Genotyping
Gene Expression Analysis
MicroRNA Expression
Protein Expression
Translocation Analysis
Gene Detection
Viral Load Analysis
The included StepOne™ Software supports a variety of analysis methods, including the following:
Standard Curve (absolute quantitation)
Relative Standard Curve
Comparative Ct (ΔΔCt) (relative quantitation)
Genotyping and Presence⁄Absence
Melt Curve Analysis (as a stand alone application)
High Resolution Melting (as a stand alone application)
The advanced software provided with the StepOnePlus™ Real-Time PCR System now includes the powerful Gene Expression Study Package. This software package allows for greater flexibility and accuracy in your gene expression assays through:
Analysis of an unlimited number of plates in one study
Sorting of data by biological or technical replicate group
Use of multiple endogenous controls
Assay efficiency correction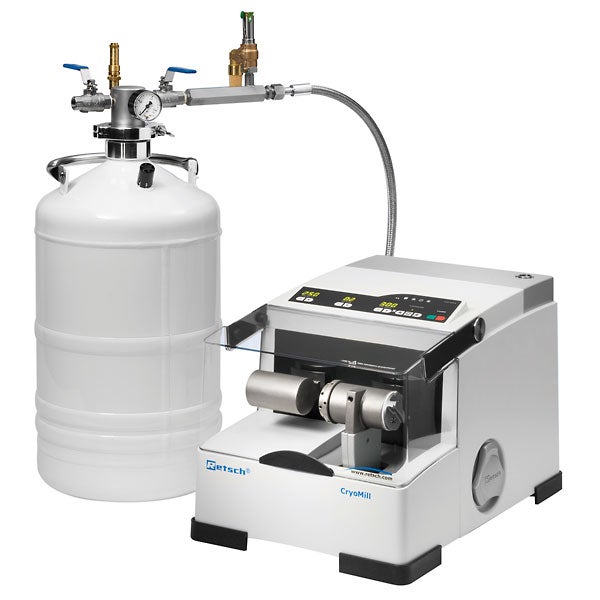 Retsch CryoMill
The Retsch CryoMill is tailored for cryogenic grinding. The grinding jar is continually cooled with liquid nitrogen from the integrated cooling system before and during the grinding process. Thus the sample is embrittled and volatile components are preserved. The liquid nitrogen circulates through the system and is continually replenished from an Autofill system in the exact amount which is required to keep the temperature at -196 °C. Powerful impact ball milling results in a perfect grinding efficiency. The Autofill system avoids direct contact with LN2 and makes the operation very safe. Its versatility (cryogenic, wet and dry grinding at room temperature) makes the CryoMill the ideal grinder for quantities up to 20 ml.
powerful cryogenic grinding by impact and friction, up to 30 Hz
3 different grinding modes (cryogenic, dry or wet at ambient temperature)
closed LN2-system (autofill) for enhanced safety, avoids any contact of the user with LN2
screw-top grinding jars for convenient, leak-proof operation
wide range of accessories including various LN2 feeding systems, jar and ball sizes, adapter racks, materials
low LN2-consumption
clearly structured user interface, memory for 9 SOPs
programmable cooling and grinding cycles (10 s to 99 min)