Good Oral Health: Parents and Kids Learning Together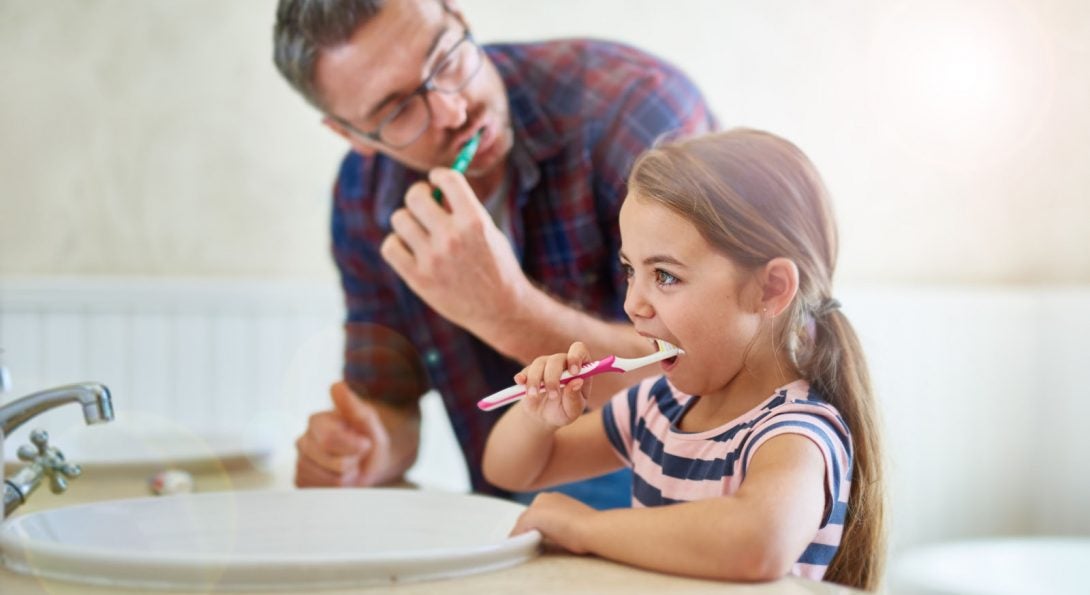 Parents sometimes have a hard time convincing their kids to take good care of their teeth. Still, some have found clever ways to instill those important early habits.
"The hardest part for us has been helping her brush," says Adriana's mother. Adriana is 3 years old now, and she's at the UIC College of Dentistry's pediatric specialty clinic for a cavity. "She wants to brush, but she won't let me help her do it the right way. She wants to feel like she's a grown-up."
Despite the difficulties, Adriana's parents have found little ways to convince her of the importance of good oral hygiene, from an early age.
"What has worked for us, is brushing our teeth together side-by-side and by showing her how we do it. We try to make it like a fun little game. And, it's even better when her nephew (who is about the same age) comes over. They compete to see who can brush better."
Adriana is lucky because some parents don't know all they need to know about helping their kids adopt the right habits for good oral health. The biggest reasons for this include not having a good 'dental home', i.e. a regular family dentist for treatment and education. Parents may not be able to afford the necessary dental care because of cost and lack of dental insurance.
That is why UIC is working with community partners to help parents teach children how to build essential early oral health habits that last a lifetime.
Continuing challenges with dental care in America
Many Americans continue to face challenges when it comes to dental care access, including economically disadvantaged families, racial and ethnic minorities, and the sick and elderly. Children of these groups also have the highest rates of oral disease.
"The truth is that dentists aren't really lining up to practice in low income communities the way they are in more affluent areas, for several reasons," says Patrick Smith, DMD, MPH, Clinical Assistant Professor at the UIC College of Dentistry. How dentists get paid by Medicaid is part of the problem, according to Dr. Smith. "Medicaid reimbursement has traditionally been significantly lower than average fees for routing services, and most states either offer no or minimal adult coverage."
The American Dental Association found that 1 out of 5 survey respondents reported not being able to afford dental care [1]. Another study found that among seven reasons for skipping a dental visit, the main reason was "couldn't afford/no insurance [1]."
This is part of the reason why there are still significant oral health inequities in many areas of the country -- including Chicago.  According to a 2011 study by Heartland Alliance, 65% of third graders in Chicago have cavities, and more than half go untreated [2].  And, poor children suffer twice as much dental caries as their more affluent peers – half of their cavities go untreated, which compounds the negative impacts on the whole family's quality of life given the potentially long-term impact  on speech, nutrition, and school effectiveness. 
Schools getting involved in cavity prevention
Many primary and secondary schools across the US (and in some other countries) require students to have a dental exam from a dentist before they finish certain grade levels. Locally, Illinois has mandated dental exams for children in kindergarten, 2nd and 6th grades [3]. The school mandates are meant to find and prevent tooth decay-related problems, which can have a real impact on a student's ability to focus on school activities. In Illinois for instance, more time is lost when students miss school because of toothaches. An estimated 51 million school hours per year are lost due to dental related illness [4]. Overall, children with good oral health spend more time in school learning.
All the kids at Adriana's school brush their teeth after meals, which really helps us teach her why it's important. It really helps encourage her to brush her teeth when she's at home," says Adriana's mother.
How kids' teeth develop
Although newborns are famous for their adorable toothless grins, they actually have a set of 20 baby (primary) teeth that just haven't erupted yet. These primary (baby) teeth start forming before birth.
Read more - What Every Parent Needs to Know About Baby Teeth
Quick facts about baby teeth:
Babies aren't actually born without teeth; in fact, they are born with 20 baby (primary) teeth that just haven't appeared (erupted) yet.
The first teeth start to break through the gums at around 4 to 7 months of age. Teething continue to 3 years of age. Usually, the first teeth to erupt are the bottom front teeth (incisors).
Between the age of 6 and 12 children have a combination of baby and adult teeth, as their baby teeth are gradually replaced by 32 adult teeth. The front baby teeth (incisors) are usually lost between 6 to 8 years of age, and the back teeth (canines and molars) are not lost until ages 9 to 13.
Enamel, which is the strong layer that protects your teeth, is thinner in baby teeth as compared to adult teeth. This makes them more prone to cavities.
Spacing between baby teeth is normal and allows space for adult teeth to erupt.
Baby teeth eruption charts
Teeth vary in size, shape and their location in the jaws. These differences enable teeth to work together to help you chew, speak and smile. They also help give your face its shape and form. At birth people usually have 20 baby (primary) teeth, which start to come in (erupt) at about 6 months of age. They fall out (shed) at various times throughout childhood. By age 21, all 32 of the permanent teeth have usually erupted.
Starting early with good habits
Although a child's baby teeth will eventually all fall out, it's not a free pass when it comes to their care. Neglecting them can result in early tooth decay, which is becoming more of a prevalent problem, especially in low income families.
Starting early with good tooth care habits will pay off throughout your child's life. This begins as early as infancy, where you can establish a dental hygiene routine.
 "Children need their teeth for a variety of reasons including tooth development, space maintenance, digestion, and speech development," explains Dr. Smith. "The expectation of getting preventive messages and habits to children early is that they'll develop a life-long commitment to maintaining their oral health."
UIC program to improve oral health literacy
Access to oral health care and education remains a top priority for the ADA, AAPD, and educational institutions like the University of Illinois at Chicago. UIC is working to improve oral health literacy and prevent oral disease in children in nearby communities with the greatest need.
 "Small Mouths, Big Challenges" is a new program that is educating dental students regarding the oral health needs of children ages 0-5 so that they in turn can assist and educate parents. The program, funded by a $1 million grant from the .U.S. Department of Health presents a unique opportunity to dissect risk factors which lead to early childhood cavities.
Dental students at UIC will rotate in several community health centers and schools across Chicagoland to deliver dental care and education for pre-school aged kids and their parents. As part of their training, they provide dietary and nutritional guidance for parents and advice on oral disease prevention for their children. The program places emphasis on serving undeserved, rural and special needs populations that are the most vulnerable to oral disease.
Few dentists—and few dental schools, "have this age cohort in their curriculum, so the students graduate not being comfortable with that age group," explained Caswell Evans, DDS, MPH, Associate Dean for Prevention and Public Health Sciences. "This program is intended to give students experience in treating this age group, and it also is in this group that we can begin to dissect the risk factors that lead to early childhood caries [cavities]."
Educating expecting moms about oral health
This new initiative will also focus on expecting parents in the prenatal program at UI Health. The goal is to encourage them to consider oral health as part of their baby's overall health.
"While most babies see a doctor by the age of 1, very few will see a dentist by the same age," says Dr. Smith. "Teething starts at 6 months, so it's important for parents to start thinking about their baby's dental health even before birth. We're training our students how to have motivating discussions with these parents who may lack the basic knowledge. This includes easy, yet effective ways to prevent early decay, such as wiping the baby's gums to wash away the sugars from milk, and not leaving a baby with a bottle during sleep times. Students work with parents using models and educational materials to show them what early decay looks like, so they know what to look for. It's also helpful for parents to be able distinguish baby teeth vs. adult teeth, especially the permanent molars," adds Dr. Smith.
Baby teeth: Do you know the myths vs. facts?
Myths and misunderstandings are some of the major causes of the rise of oral disease rates among children. Below are some of the common myths that often get in the way of proper dental care for families:
Myth #1 – "Baby teeth don't need as much care"
Actually, decay can happen as soon as teeth first appear – even baby teeth. So, as soon as the first baby teeth appear, it's time to start brushing…twice daily—in the morning and before bed.
Myth #2 – "I can wait to take my child to the dentist"
You should be visiting the dentist as soon as your child's first teeth erupt. Follow the "First Visit by First Birthday" recommendation of the American Academy of Pediatric Dentistry. 
Myth #3 – "It's okay to let my child sleep with their bottle"
A particularly harmful practice that can result in early cavity formation is allowing babies to sleep with their bottle. It can also make your baby dependent on having a bottle to sleep. No spill cups with sugar drinks are equally harmful.
Dr. Ian W. Marion DDS MS
Clinical Assistant Professor, Pediatric Dentistry
UIC College of Dentistry
Simple steps to motivate your kids
Many parents understand the importance of oral care but struggle with keeping their children motivated to brush on a consistent basis. It can be challenging to get them to sacrifice a few minutes out of their playtime, but some simple steps can help:
Let them watch you –  Dr. Marion recommends setting a good example. "A great way to encourage children to take care of their own teeth, and to help them brush and floss, is have them watch you do it as well." 
Help young children brush and floss – "Be available to help them until at least 6 years of age. Even after that, it's a good idea to conduct fresh-breath checks to make sure your child is keeping their smile healthy!"
Play a song while brushing – Make brushing more fun and less of a chore by playing one of their favorite songs. You can find a song that ends at around 2 minutes or just set a timer.
Reward them for brushing consistently – Track their consistency on a chart with stickers or a calendar, and reward them with a gift, outing or prize each month for brushing twice a day without missing a day.
Let them pick the toothpaste flavor – Let your children decide what toothpaste flavor they want to use, and try out new flavors if they haven't found one they like yet.  
"Parents should not ease up until they fully trust that their kids can brush," adds Dr. Marion. "It doesn't take much to clean your child's teeth. Until you're confident that your child can brush on his or her own, continue to brush your child's teeth twice a day with a child-size toothbrush. If your child is 3 or younger, use a smear of toothpaste (about the size of a grain of rice). For children 3 or older, a pea-sized amount of fluoride toothpaste will do."
References
University of Illinois at Chicago (UIC) College of Dentistry
We provide comprehensive, personalized and preventive dental care and education - for the whole family - to protect and improve oral health. 
Through regular examination, cleanings and preventative treatments,  our goal is to develop a comprehensive treatment plan to  resolve dental issues in the early stages. We provide a wide range of general dental treatments for the whole family. 
More about our comprehensive general family dental care services in Chicago