The True Story of Why You Get Cavities, According to a Billion Microbes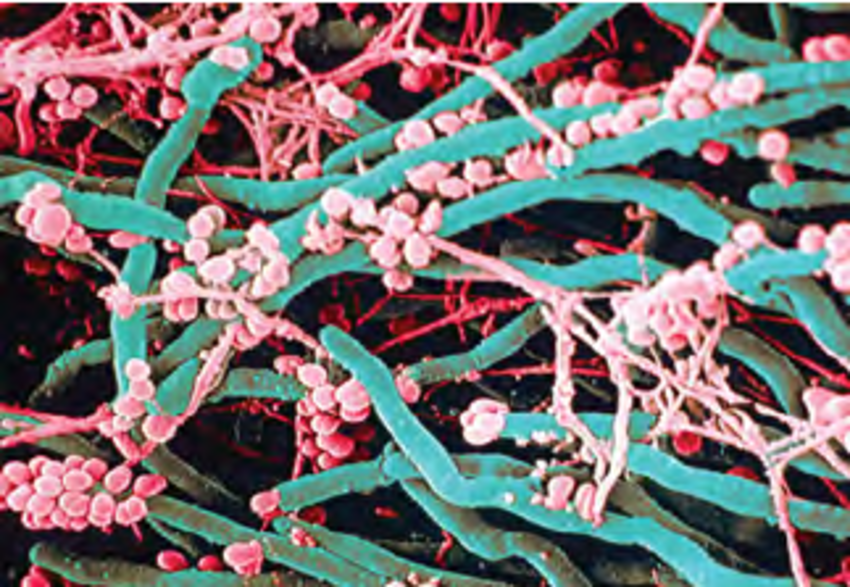 Most bacteria in our bodies are harmless; some are even beneficial. Then there are the bacteria that cause oral diseases such as tooth decay, or cavities, and periodontal disease. These bacteria are microscopic--only 1/500th of a human hair in width – yet cause big problems because there are so many of them. There are an estimated 300 different species of bacteria living inside our mouths, totaling a billion or more at any given time.
Bacteria in the mouth: little recycling machines
Did you know your mouth is actually home to entire communities of microorganisms that are recycling your food and drinks? Bacteria are living beings. This means they move, eat, grow, reproduce and discharge waste matter. And, that's how they cause tooth decay in our mouths – by feeding on the sugars in the foods and drinks we consume to grow – then leaving behind the waste, in the form of a biofilm known as dental plaque. This plaque allows all those little recyclers to stick around your teeth longer, until eventually they make acids, which wear down the tooth enamel and cause cavities. The bacteria in the plaque that forms near the gums also produce toxic products that enter the gum tissues, causing gingivitis. If untreated, gingivitis may become periodontitis, a more serious disease where there is bone and tissue loss around the teeth.
Many of the foods you eat cause the bacteria in your mouth to produce acids. Sugary foods are obvious sources of plaque, but there are others that you might not realize can cause harm. Starches—such as bread, crackers, and cereal—also cause acids to form. The dental plaque created from bacteria also produces substances that irritate the gums, making them red, sensitive, and susceptible to bleeding. This can lead to gum disease, in which gums pull away from the teeth and form pockets that fill with bacteria and pus. If the gums are not treated, the bone around the teeth can be destroyed and teeth may become loose or have to be removed.
Did you know tooth decay is actually an infectious disease?
And, these bacteria that cause tooth decay are spreadable. According to the science journal Microbiome , an otherwise innocent ten-second kiss can spread 80 million bacteria between mouths!
These are the bacteria we need to manage through good oral hygiene practices, healthy diet and dental checkups. Brushing after meals, using antimicrobial mouthwash, and flossing at least once per day helps to keep these disease causing bacteria from reproducing in your mouth, and causing tooth decay. And, healthy diets that minimize sugary and starchy foods also helps to keep those bad bacterial under control.
Fun facts about bacteria:
(photo credit: 2006.National Escherichia, Shigella, Vibrio Reference Unit at CDC)
How do I get rid of dental plaque?
The best way to remove plaque is by brushing and cleaning between your teeth every day.  Brushing removes plaque from the tooth surfaces. Brush your teeth twice per day with a soft-bristled brush. The size and shape of your toothbrush should fit your mouth and allow you to reach all areas easily. Use an antimicrobial toothpaste containing fluoride, which helps protect your teeth from decay. Clean between the teeth once a day with floss or interdental cleaners to remove plaque from between the teeth, where the toothbrush can't reach. Flossing is essential to prevent gum disease.
The American Dental Association recommends the following techniques for brushing and flossing your teeth:
Brushing
Place your toothbrush at a 45-degree angle against the gums.
Move the brush back and forth gently in short (tooth-wide) strokes.
Brush the outer tooth surfaces, the inner tooth surfaces, and the chewing surfaces of the teeth.
Use the tip of the brush to clean the inside surfaces of the front teeth, using a gentle up-and-down stroke.
Brush your tongue to remove bacteria and freshen your breath.
Flossing
Break off about 18 inches of floss and wind it around the middle fingers of each hand. Hold the floss tightly between your thumbs and forefingers.
Guide the floss between your teeth using a gentle rubbing motion.
When the floss reaches the gum line, curve it into a C shape against one tooth. Gently slide it into the space between the gum and the tooth.
Bring the floss back toward the contact point between the teeth and move the floss up or down the other side, conforming the floss to the shape of the tooth.
Hold the floss tightly against the tooth. Gently rub the side of the tooth, moving the floss away from the gum with up-and-down motions.
Repeat this method on the rest of your teeth.
Mouth Rinsing
A mouth rinse, in addition to daily brushing and flossing, can increase the cleanliness of your mouth. Antimicrobial mouth rinses reduce bacteria and plaque activity, which cause gingivitis and gum disease. Fluoride mouth rinses also help reduce and prevent tooth decay. Always talk to your dentist about any new products you are interested in trying. Not everyone should use a fluoride mouth rinse. For instance, fluoride rinses are not recommended for children ages 6 or younger because they may swallow them. Always check the manufacturer's label for precautions and age recommendations  and talk with your dentist about the use of fluoride mouth rinse.
University of Illinois at Chicago (UIC) College of Dentistry
We provide comprehensive, personalized and preventive dental care and education - for the whole family - to protect and improve oral health. 
Through regular examination, cleanings and preventative treatments,  our goal is to develop a comprehensive treatment plan to  resolve dental issues in the early stages. We provide a wide range of general dental treatments for the whole family. 
Exams and preventative care
Regular dental exams are important for detection and prevention of oral diseases. During the dental exam, we will ask you about any health problems you have or medications you're taking and discuss how they might affect your oral health. If you have diabetes, for example, you're at increased risk of gum disease. We verify stability of fillings or other restorations, and evaluate your risk of tooth decay, root decay, and gum or bone disease. We will evaluate need for tooth restoration or tooth replacement, and check your bite and jaw for problems. During the dental exam, we will also look for signs of oral cancer in the mouth and throat areas. We may also take digital X-rays, or perform additional diagnostic procedures to develop a comprehensive treatment plan, which will be reviewed with you at the completion of the exam. Note: more than one visit may be needed to provide a full evaluation and comprehensive treatment plan.
Regular exams allow our dentists to keep your mouth in good shape and monitor conditions that may get worse or lead to problems elsewhere in your body. We can also share recommendations for good nutrition and oral hygiene, and provide counseling on special oral health care needs, such as tobacco cessation.
Regular cleanings help in removing the buildup of plaque and tartar, both of which can lead to cavities and gum diseases like gingivitis or periodontitis. Our hygienists will remove any stains or deposits on your teeth, and provide instruction on proper brushing and flossing. In addition to the cleaning, we can also provide a fluoride treatment to strengthen the tooth enamel against decay and reduce enamel demineralization.
More about our comprehensive general family dental care services in Chicago