The Surprising Connections Between Oral Health and Well Being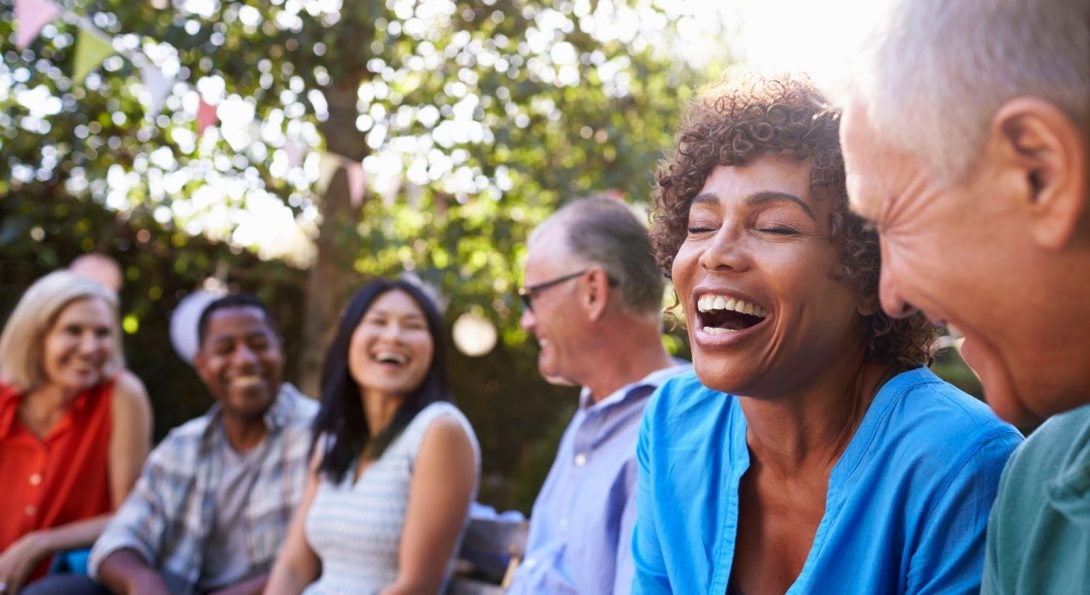 You might be surprised to know that the benefits of maintaining good dental health extend far beyond just your mouth.
In fact your oral health—the health of your teeth and gums—has a major impact on overall health, medical costs, and quality of life. "The significance of the mouth as part of our health is often overlooked and underappreciated," says Dr. Caswell Evans, Associate Dean for Prevention and Public Health Sciences, UIC College of Dentistry. "Our vision of ourselves, how we are seen by others, and even our employment are influenced by our oral appearance," says Evans, who has written extensively on the burdens that poor oral health can place on public health.
The  UIC College of Dentistry's Division of Prevention and Public Health Sciences, which he has led for 15 years, oversees programs aimed at reducing these burdens through community based oral health education. "Our goal is to prepare an oral health care workforce that is competent and committed to addressing the oral health needs of vulnerable and underserved populations," adds Evans.
Oral health is a leading health indicator
Healthy People 2020 identified oral health as one of the 10 leading health indicators, along with other indicators such as access to health, nutrition, cancer, HIV and heart disease. Good oral health not only enables you to functionally perform as a human being (i.e. speaking, smiling, smelling, eating), it is also important for communication, human relationships and financial prosperity. Poor dental health has serious consequences, including painful, disabling, and costly health conditions.
This is especially the case for those who have the biggest obstacles in getting access to dental care – rural and lower income households. According to the ADA's Health Policy Institute surveys of the U.S. population, one in five low income adults say their mouth and teeth are in poor condition – and one in three of them say the condition of their mouth and teeth affects their ability to interview for a job.
Many of the determinants that impact our oral health, such as diet and hygiene are controllable with the right habits.  Tooth decay (cavities) is the most common chronic childhood disease, yet it is preventable through healthy diet choices and good hygiene habits. However, without these healthy choices and habits, plaque buildup eventually leads to cavities, gingivitis or severe gum disease that puts teeth and gums at risk – and even other parts of your body. 
The connection between Alzheimer's and dental health
A growing body of research has identified a connection between oral health and chronic diseases such as Alzheimer's, diabetes and other serious conditions affecting millions of people. Recent research at the UIC College of Dentistry is helping to unveil some of the mystery behind the onset of Alzheimer's Disease to pave the way for new treatments and bridge the "gap" that has traditionally separated the medical and dental professions. The goal is to use these findings to lowering the risk of diseases such as Alzheimer's Disease and diabetes, especially as you age.
Alzheimer's Disease (AD) is a devastating neurodegenerative disease that affects 1 in 10 adults over the age of 65. It leads to dementia, memory loss, and a steady decline in a person's ability to function independently. The two major forms of AD are familial (early onset) AD which constitutes less than 5% of AD cases and sporadic (late onset) AD which constitutes over 95% of all AD. Early onset AD results primarily from mutation of genes that are involved in the formation of amyloid or senile plaques.  Sporadic AD has a relatively late onset (60-65 years of age) but its etiology and molecular mechanisms are largely unknown.
Dr. Keiko Watanabe is a Professor of Periodontics and researcher at the UIC College of Dentistry. Her research focuses on the connection between oral and systemic health, a research area that is critical in overall patient care.
In a recent study, Dr. Watanabe and colleague Dr. Vladimir Ilievski found that mice that were orally exposed to periodontal disease (gum disease) bacteria developed neuroinflammation, neurodegeneration, and senile plaque formation that were similar to AD in humans. Control animals did not show this pathology. Furthermore, they identified the presence of a periodontal pathogen/product within the neurons in the brains of experimental mice.
Another important finding is that the mice used in their experiments were young wild-type animals. Historically, transgenic mice were used to study AD since wild-type young mice are not thought to develop senile plaque. This suggests that chronic oral bacterial infection or the presence of bacteria/product in the brain may influence the development of senile plaque and hence chronic bacterial infection may be a risk factor for the Sporadic form of AD. 
Dr. Watanabe's study is the first ever to show that exposure to periodontal bacteria can initiate the formation of senile plaques that are found in Alzheimer's patients.
The results were surprising even to Dr. Watanabe and serve as a breakthrough in our understanding of Alzheimer's. "We did not expect that the periodontal pathogen would have this much influence on the brain, or that the effects would so thoroughly resemble Alzheimer's Disease," Watanabe said.
Dr. Watanabe's research has established a clear animal model correlation between periodontitis and AD that serves as a basis to explore exciting new clinical research areas and therapeutic targets. The use of mice also presents clarity in the findings because animal models don't have the confounding factors that can affect human studies, such as varying diets, obesity and exercise levels.
"These things are all controlled using the animal system…To me, it's the clearest model system," she explained.
Studying the brain to fight periodontitis
The effects of periodontitis are far reaching, and we have only touched the surface of our understanding.  Dr. Watanabe has also previously discovered that periodontitis can even affect the brain's metabolism along with the liver and heart.
"We did a metabolomic analysis of mouse brain tissues, that shows a change in metabolism -- the metabolites in the brain – that results from oral exposure to a periodontal pathogen. The metabolomic analysis shows there's a decrease in glucose availability, which is significant since the brain needs glucose for energy."
What this means for those suffering from Alzheimer's remains to be seen until further research clarifies the connection between the illness and periodontitis in humans. However, other researchers have found periodontal pathogens in post-mortem human brains.
The link between periodontal disease and your overall health 
There are many factors that lead to or increase the risk of periodontal disease. Genetics, unhealthy diet, unhealthy habits such as smoking, and poor oral hygiene all play a part in creating the conditions that may lead to periodontal disease.
Genetics, and other health related factors also play a part in influencing how our bodies respond to the disease and treatment methods. For instance, research studies have identified an association between periodontitis, obesity and type 2 diabetes. And, we know that obesity is a risk factor for several chronic diseases, most notably hypertension, type 2 diabetes, dyslipidemia and coronary heart disease. 
Links between periodontal (gum) disease and pre-diabetes
Dr. Watanabe has also linked exposure to periodontal bacteria and the development of pre-diabetes in mice.
Prediabetes is a pre-diagnosis of diabetes, and is an indication that you could develop type 2 diabetes. Prediabetes occurs when blood glucose level (blood sugar level) is higher than normal, but it is not high enough to be considered diabetes.
Periodontitis, or gum disease, also has potentially serious health ramifications. About half of all American adults 30 and older – nearly 65 million of them – suffer from periodontitis. While gum disease is common, it is also preventable.
Dr. Watanabe and her team examined how periodontitis affected pancreatic and liver cells in a way that could lead to prediabetes/diabetes. "The periodontal pathogen that we introduced into the mouth of the mice or a product from this pathogen influences the pancreatic alpha and the beta cells, and also the liver's Kupffer cells," Watanabe said. "And those two organs are very critical in the development of prediabetes/diabetes and maintaining health."
Dr. Watanabe's research team demonstrated that mice with prolonged exposure to periodontal bacteria also developed insulin resistance and glucose intolerance – major signs of prediabetes.  They have also shown that rats with a mutation that makes them prone to obesity develop diabetes and its onset was accelerated in the presence of periodontitis.
The changing landscape of dental care
Despite the scientific knowledge we now have, there remains a well-recognized "gap" between the medical and dental professions, and the delivery of care across them. The oral health workforce has historically been concentrated in private practice settings where dentists lead teams comprised of dental hygienists, assistants, lab technicians and office personnel. The majority of these practices continue to operate independently of most primary health practices and health systems.
Progress at the system level remains a challenge. Separate insurance systems, incompatible electronic health records, and a lack of education continue to be major obstacles in the coordination of care provide by dentists, physicians and other providers.
However, the landscape of dental care delivery is still changing. The private practice model is shifting to more integrated models, such as seen in dental service organizations (DSOs) and community based health centers (FQHCs). There are several community based initiatives in the US to expand access to dental care, especially among the most vulnerable. Some of the more notable programs include Give Kids a Smile, Missions for Mercy, and school-based dental sealant programs. Many are making great strides in integrating oral health with primary care or providing dental services in everyday settings such as schools.
Interprofessional education (IPE)
Interprofessional education (IPE) programs are also helping to close the gap. IPE creates learning environments where students from different fields can interact and learn in ways that prepare them for the seamless teamwork of collaborative practice necessary for coordinated care delivery. It is this collaboration and coordination of care that is a hallmark of the future vision for patient care experiences. Coordinated care benefits providers and payers through operational efficiencies and cost savings. Patients appreciate the ease of navigating options to get the affordable care they need from the best providers.
At University of Illinois at Chicago for instance, the Interprofessional Education (IPE) & Collaborative Practice focuses on developing collaborative competence across the continuum of health profession education including pre-professional students, students in health professions programs and practicing professionals.
Recently, the Institute for Healthcare Improvement (IHI) opened a school student chapter at UIC. This is an interprofessional student organization focused on developing the skills, competencies, teamwork and leadership of UIC health professions students to tackle the quality and safety issues that impact our patients, health professions, and healthcare systems.
Photo courtesy of  UIC Office of the Vice Chancellor for Health Affairs
And continuing research on the connections between oral and systemic diseases help to shed light on the importance of understanding the connections between oral health and well being. Results from Dr. Watanabe's research suggest the importance of at-home dental care, regular check-ups, and heightened oral health awareness for everyone, especially those with a family history of potentially associated illnesses, such as Alzheimer's and pre-diabetes / diabetes.
University of Illinois at Chicago College of Dentistry
At UIC, we help our patients take control of their oral health through regular checkups, treatments, and providing them with the information to make their best decisions. Need help taking control of your oral health? Schedule an appointment today!