AAOF Provides Research Award for Bone Regeneration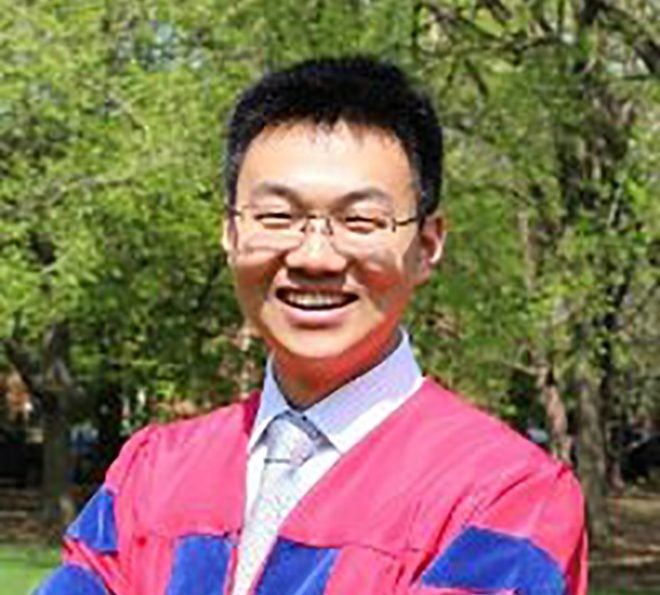 The American Association of Orthodontics Foundation has provided a Research Aid Award of $5,000 for a project at the College, "Characterization of a Biomimetically Enhanced Bio-OSS for Bone Regeneration Applications."
Dr. Xuanyu Lu, Graduate Clinical Assistant, Orthodontics, is leading the research. Dr. Lu's research supervisor is Dr. Sriram Ravindran, Assistant Professor, Oral Biology. Dr. Praveen Gajendrareddy, Associate Professor, Periodontics, also is collaborating.
"This project is using a biomimetic approach via human bone marrow stem cells to modify the current most commonly used bone grafting material, anorganic bone matrix—Bio-Oss," Dr. Lu said. "We plan to characterize the Bio-Oss coated with 3-D pro-osteogenic extracellular matrix [ECM] by a series of in vitro and in vivo experiments."
The team plans on generating and characterizing the biomemetically enhanced (BE) Bio-Oss in vitro. Following an in vivo experiment, the team will examine the BE Bio-Oss by using a rat critical-size calvarial defect model. The regeneration rate and quality of new bone will be evaluated by micro-CT and histology.
"We are expecting that BE Bio-Oss could promote greater cell attachment, proliferation, and differentiation of mesenchymal stem cells and eventually promote bone healing and better bone quality," Dr. Lu said.
The current "gold standard" of treatment for cleft lip and palate is autografting of bone harvest from the iliac crest or ribs, "which has several major limitations," Dr. Lu said. "So the tissue engineering is an alternative approach. Our biomimetic strategies could impart osteoinductivity into Bio-Oss partials to augment bone regeneration potentials ultimately to benefit those congenital critical bone defect patients."
Dr. Lu expressed gratitude to his mentors, Dr. Xianghong Luan, Associate Professor, Oral Biology, and former faculty Dr. Thomas Diekwisch and Dr. Carla Evans, for their help "during my eight year journey in the College of Dentistry since 2009, during which I received my PhD in Oral Sciences." He currently is in the Orthodontic specialty program.
The AAOF award "will also allow me to strengthen my research background, which is vital for me to achieve my career goal of becoming an independent investigator and hopefully an outstanding educator in Orthodontics in the future," Dr. Lu concluded.
Photo: Dr. Xuanyu Lu