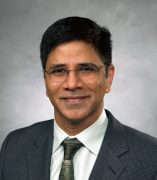 Satish Alapati, PhD, DDS
Associate Professor
Endodontics
Contact
Address:
UIC College of Dentistry 801 S. Paulina St., IL 60612
Email:
About
Scholarly interests
Core Research focus: Cell-Cell and Biomaterials Interface for Craniofacial Tissue Engineering
Cell-Tissue Bio Mechanical Properties at the Interface and Bio-Mineralization
Developmental and Regenerative Biology – Dental Pulp and Therapeutic Approaches
Nickel-Titanium Metallurgy and Development of Rotary Endodontic Instrumentation
Biomechanical Root Canal Preparation Techniques
Selected Publications
Strojny C, Boyle M, Bartholomew A, Sundivakkam P, Alapati SB, Interferon-gamma treated dental pulp stem cells promote human mesenchymal stem cell migration, in vitro. J Endod.2015; 41(6):145-4
Jones TD, Naimipour H, Sun S, Cho M, Alapati SB, Mechanical changes in human dental pulp stem cells during early odontogenic differentiation. J Endod.2015; 41(1):50-5.
Jones TD, Kefi A, S. Sun, M. Cho, Alapati SB, "An Optimized Injectable Hydrogel Scaffold Supports Human Dental Pulp Stem Cell Viability and Spreading," Advances in Medicine, vol. 2016, Article ID 7363579, 8 pages, 2016. doi:10.1155/2016/7363579
Boyle M, Chelsee S, Crystal C, Bartholomew AM, Sundivakkam P, Alapati SB, Chronic inflammation and mitogen-induced signaling axis impairs differentiation of dental-pulp stem cells. Plos One. 2014 26; 9(11).
Education
Certificate – Endodontics Residency Program, University of Illinois at Chicago, 2011
PhD -Oral Biology (Biomaterials), Ohio State University, 2006
MS - Dental Materials Science, Ohio State University, 2003
GPR-Certificate, UMKC School of Dentistry, Kansas City, MO, 1998
BDS-Dental Surgery, Bapuji Dental College and Hospital, Karnataka, India, 1996
Research Currently in Progress
My lab focuses on translational research for innovative therapeutic scaffolds using 3D Bioprinting technology to construct scaffolds/ECM that will facilitate regeneration of the pulp-dentin complex, resulting in formation of new dentin and promote a positive long-term prognosis for the tooth. Currently, we are developing bioactive obturation technique for root canal systems. We believe that this will advance the field of regenerative endodontic research by addressing the role of inflammation or hypoxia-induced endothelial dysfunction and the ensuing release of micro vesicles in attributing dental-pulp regeneration, impaired energy metabolism, regulation of Ca2+entry channels for generating a stable, highly competent biomimetic scaffold from multi-layered cell types. Additionally, integration of drugs specific to surmount mitogenic signaling will promote bioactive environment. We believe that this enduring approach will indeed facilitate regenerative endodontic procedures (REP), as a treatment of choice for immature teeth with chronic inflammatory and necrosis conditions.
As a clinician and research scientist my research areas are very diverse including dental biomaterials and development/characterization of advanced nickel-titanium (NiTi) alloys used in manufacture of endodontic rotary instruments to prepare root canal space. This is key clinical procedure during conventional root canal treatment for diseased/infected teeth. Overall, my multi-disciplinary research contributing to twenty-eight peer-reviewed publications, along with several conference papers, presentations and research grants from both NIH and private foundations.