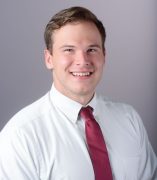 Stephen T. Treacy, D.D.S.
Orthodontic Resident
Orthodontics
Contact
Building & Room:
Room 131
Address:
801 S. Paulina Street, Chicago, IL 60612
Email:
About
Dr. Stephen T. Treacy was born and raised in Hartford, Connecticut. He then attended the University of Notre Dame, where he earned a Bachelor of Science-Business. During his summers while attending Notre Dame, Dr. Treacy split his time between working at an orthodontic office in his home town, and pursuing business internships at a number of companies, including Under Armour.
Dr. Treacy then attended the University of North Carolina at Chapel Hill, where he earned his Doctor of Dental Surgery (D.D.S) degree. While at UNC, Dr. Treacy was the first-ever recipient of the UNC Business Essentials scholarship, and earned a Certificate in Business from the UNC Kenan-Flagler Business School. Additionally, he was an executive board member for the Student Entrepreneurs in Dentistry, and a co-founder of the Dental ReStore - a non-profit organization focused on providing mission groups and local community clinics with dental equipment.
During his free time, Dr. Treacy enjoys everything sports (especially Notre Dame football), reading about history, making and eating baked goods, listening to 2000's pop-punk music, and spending time with family and friends. Upon graduation, Dr. Treacy plans to become board certified and enter private practice.