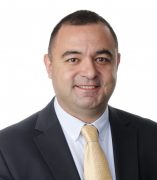 Tolga Tozum, DDS, PhD
Associate Professor
Periodontics
Contact
Address:
801 S. Paulina St, Chicago, IL 60612
Email:
About
Dr. Tozum is a dental graduate from Gazi University in Ankara, Turkey and completed an integrated post-graduate clinical education program in periodontics at Hacettepe University in Ankara, Turkey and Ph.D. training in bone metabolism from the University of Michigan. Dr. Tozum went on to earn a Certificate in Periodontics from the University of Illinois at Chicago. Prior to joining UIC, Dr. Tozum served as Professor of Periodontics and Associate Dean of Dentistry at Hacettepe University. Tozum serves as a faculty member in the Advisory Board and Teaching Committee of PhD course in Bio-Engineering Applied to Medical Sciences at University of Messina, Messina, Italy.
Dr. Tozum is the recipient of three international awards in implant dentistry including the Platinum Award at the 24th World Congress-International Congress of Oral Implantologists, the Best Article published at ACTA Odontologica Scandinavia related to bone grafting and the Travel Award for the International Association for Dental Research Continental European Division Meeting. Dr. Tozum is a Fellow of both the Academy of Osseointegration (AO) and the International Congress of Oral Implantologists (ICOI). He is a Diplomate and Honorary Member of the Meffert Implant Institute and serves as Committee Member for the Academy of Osseointegration's Research Grant, Web Site Education and Newsletter committees. Dr. Tozum has been invited to over 50 national/international scientific meetings as an invited or keynote speaker, has published 6 book chapters, over 100 scientific manuscripts and 75 presentations related to advanced periodontics and implant dentistry. He has also been serving as an Editorial Board Member of 20 leading clinical journals, including Clinical Oral Implants Research, Clinical Implant Dentistry and Related Research, Implant Dentistry, the Journal of Implant and Advanced Clinical Dentistry, Journal of Contemporary Dental Practice (Associate Editor), and the Journal of Oral & Maxillofacial Research.
Selected Publications
Kulkarni V, Uttamani JR, Asar NV, Nares S, Tözüm TF. Evidence-based clinical outcomes of immediate and early loading of short endosseous dental implants: A meta-analysis. Int J Oral Maxillofac Implants 2021; 36: 59-67.
Tözüm MD, Ataman-Duruel ET, Duruel O, Nares S, Tözüm TF. Association between ridge morphology and complexity of implant placement planning in the posterior mandible. J Prosthet Dent 2021; Feb 13:S0022-3913(20)30601-6.
Duruel O, Ataman-Duruel ET, Tözüm TF. Treatment of excessive gingival display by using botulinum toxin-a targeting yonsei points and zygomatic major muscles. J Craniofac Surg 2020 ; Sep 15. doi: 10.1097/SCS.0000000000007051.
Ataman-Duruel ET, Duruel O, Nares S, Stanford C, Tözüm TF. Quantity and quality of intraoral autogenous block graft donor sites with cone beam computed tomography. Int J Oral Maxillofac Implants 2020; 35: 782-788.
Cicciù M, Tozum T, Stacchi C. Oral immunological profile impact on local and systemic disease. Biomed Res Int 2020; 2020:5273046. doi: 10.1155/2020/5273046.
Duruel O, Erduran NE, Tözüm TF. A modification for treatment of excessive gingival display: tooth-based lip-repositioning technique. Int J Periodontics Restorative Dent 2020; 40:457-461.
Kutlu HB, Goyushov S, Tözüm TF. An alternative treatment for hopeless implants: Coronal resection. J Oral Biol Craniofac Res 2020; 10: 104-109.
Kulkarni V, Duruel O, Ataman-Duruel ET, Tözüm MD, Nares S, Tözüm TF. In-depth morphological evaluation of tooth anatomic lengths with root canal configurations using cone beam computed tomography in North American population. J Appl Oral Sci 2020; 28:e20190103. doi: 10.1590/1678-7757-2019-0103.
Fiorillo L, Cervino G, Laino L, D'Amico C, Mauceri R, Tozum TF, Gaeta M, Cicciù M. Porphyromonas gingivalis, periodontal and systemic implications: A systematic review. Dent J (Basel) 2019; 7:114. doi: 10.3390/dj7040114.
Goyushov S, Dursun E, Tözüm TF. Mandibular cortical indices and their relation to gender and age in the cone-beam computed tomography. Dentomaxillofac Radiol 2020; 49:20190210. doi: 10.1259/dmfr.20190210.
Education
Gazi University, Ankara, Turkey (Dentistry), 1998
Hacettepe University, Ankara, Turkey (Periodontology), 2002
Hacettepe University, Ankara, Turkey and University of Michigan, PhD (Health Sciences), 2002
University of Illinois at Chicago, Advanced Education in Periodontics, 2017
Hypnosis Motivation Institute, (Hypnotherapy), 2020
Research Currently in Progress
Dr. Tözüm was the primary- and co-investigator of many research activities including periodontal and peri-implant health and disease (inflammatory markers of periodontal crevicular fluid and peri-implant sulcus fluid), comparative soft tissue grafting surgeries, regenerative procedures related to hard tissue applications, evaluation of sinus hard tissue regenerative grafting by histomorhometry and micro-tomography. His studies also included understanding the stability and mobility values of immediate/early/delayed loaded dental implants and the impact of different kinds of prosthetic loading of implants in health and disease, evaluation of bone quality and quantity of jaw bones in spiral/medical tomography and cone beam/dental computed tomography as well as the association between bone density and stability evaluations of dental implants, esthetic analysis of endosseous implants, understanding the vital anatomic structures and landmarks of jaws.