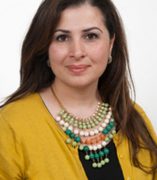 Sahar Alrayyes, DDS, MS
Clinical Associate Professor
Pediatric Dentistry
Contact
Address:
College of Dentistry 801 S. Paulina, IL 60612
Email:
About
Scholarly interests
Dr. Alrayyes's scholarly interests include behavior management, dental trauma, postgraduate education, and special patient care.
Special Interest
Dr. Alrayyes has lead several dental mission trips abroad providing dental treatment to the underserved and special needs children.
Selected Publications
Alrayyes S, Baghdan D, Haddad RY, Compton AA, Mohama S, Goreishi R, Kawar N. Sickle cell disease: An overview of the disease and its systemic effects. Dis Mon 2018. pii: S0011-5029(17)30204-3.
Kawar N, Alrayyes S, Aljewari H. Sickle cell disease: An overview of orofacial and dental manifestations. Dis Mon 2018. pii: S0011-5029(17)30205-5.
Alrayyes S, Compton AA, Kawar N. Oral health considerations for pediatric patients with sickle cell disease. Dis Mon 2018. pii: S0011-5029(17)30207-9.
Alrayyes SM, Garrett AM, LeHew CW, Compton AA. Where Do Pediatric Dental Residents Intend to Practice? Exploring the Influence of Loan Repayment Programs and Other Factors. J Dent Educ 2019;83(5):497-503.
Isayev A,  Alrayyes S, Hejazin N,  Qattan M, Alawami J,  Daralsheikh M, Kawar N. Oral Manifestations of Tuberous  Sclerosis Complex in a Young  Patient during Orthodontic Treatment. J Dent Oral Health 2019; 6: 1-5.
Gordon LA, Miller SF, Caplin J, Galang-Boquiren MT, Alrayyes S, Nicholas CL. Childhood obesity may accelerate timing of human facial growth. Arch Oral Biol 2020, 121:104964.
Kawar NI, Alrayyes SM, Khuzam M, Haddad JR, Tilwani SK. Gingival Sculpting-A Simple Gingival Depigmentation Technique using Bur Abrasion and Scalpel Combined: A Case Report. Clin Adv Periodontics 2021. doi: 10.1002/cap.10148.
Alrayyes, S, Horn, A, Kratunova, E, Koerber, A. Evaluation of Near-infrared Light Transillumination Device for Primary Molar Interproximal Caries Detection. J Dent Child (accepted for publication 2021).
Kratunova, E, Cordell, S, Alrayyes, S, Marion, I, Alapati, S. A Randomized Controlled Trial Comparing the Success of Mineral Trioxide Aggregate and Ferric Sulfate as Pulpotomy Medicaments for Primary Molars. J Dent Child (Accepted for publication 2021).
Alrayyes S, Capezio N, Kratunova E, Le Hew C, Alapati S. Moderate Sedation Attendance at a University-based Pediatric Dental Clinic: A retrospective cross-sectional study. Journal of Dental Education (Accepted for publication 2021).
Cardona Salazar, DK, Caplin, J, Whyms, P, Alrayyes, S,  Nikita, E, Galang-Boquiren, MT, Truskoski, Naqvi, A, Nicholas, C. "Nutrition, Obesity, and Dental Development in Young Adolescents in Chicago." American Journal of Human Biology, 2022, pp. e23721–e23721, https://doi.org/10.1002/ajhb.23721.
Education
Northeastern University, Boston, BS
Northwestern University Dental School, DDS
University of Illinois at Chicago College of Dentistry, MS
University of Illinois at Chicago College of Dentistry, Certificate in Pediatric Dentistry
Professional Memberships
Diplomate, American Board of Pediatric Dentistry
Member, Oral Examination Committee, American Board of Pediatric Dentistry
Member, Vice-President and President, Omicron Kappa Upsilon Honorary Dental Society, Sigma chapter
Counselor, Former President, President elect and Secretary, the American Dental Education Association, Pediatric Dentistry section