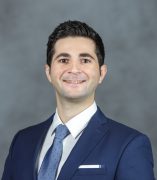 Mohamad Altakriti
Periodontics Resident
Periodontics
Contact
Address:
Periodontics Department 801 S. Paulina St, IL 60612
Email:
About
Dr. Mohamad Altakriti is from Damascus, Syria, where he grew up playing different sports including swimming, soccer, and even horseback riding. He also enjoyed the beautiful surrounding countryside and beaches on the Mediterranean Sea in addition to his home city. As war in Syria coincided with his time in dental school at Damascus University, causes supporting those affected are near and dear to his heart. He participated in several community-based dental outreach programs like Syrian Smiles and Your Laugh is Ours, where he and his colleagues lent their skills to the displacement centers and SOS Children's Villages to care for their dental needs.
Since coming to the United States, Dr. Altakriti has volunteered helping patients from many walks of life in several community healthcare and dental centers, such as the Shifa Clinic and Ibn Sina Foundation. He also served as Clinical Research Coordinator for the McGuire Institute (iMc), a practice-based clinical research network, where he managed several randomized clinical trials in the realm of periodontal tissue regeneration and minimally invasive surgical therapies. Under the mentorship of Dr. Michael McGuire and Dr. Todd Scheyer at Perio Health Professionals, he grew in his enthusiasm and aptitude for the field of periodontology. Additionally, Dr. Altakriti recently had the opportunity to present his research poster in the Osteology Research Forum on implant placement under dynamic navigation.
In his free time, Mohamad enjoys outdoor activities like hiking and exploring nature along with experiencing Chicago and the great food in this amazing city!