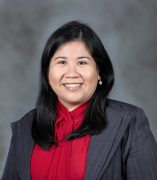 Maria Therese Galang-Boquiren, DMD, MS
Director, Predoctoral Orthodontics, Professor of Orthodontics
Orthodontics
Contact
Address:
UIC College of Dentistry 801 S. Paulina Street, IL 60612
Email:
About
Dr. Maria Therese Galang-Boquiren graduated with a DMD from the University of the Philippines in Manila in 2000, and was ranked tenth of almost 800 who passed the licensure examination given that year. After a year of private general practice in her home country, she went to the University of Illinois at Chicago, finishing an MS in Oral Sciences. She went on to obtain a Certificate in Orthodontics and an Advanced Standing DDS degree at the same institution in 2007 and 2009, respectively.
Dr. Galang-Boquiren is a Professor and Director of Predoctoral Orthodontics at the Department of Orthodontics of University of Illinois at Chicago.  Her experience in academia is complemented with private clinical practice and a hospital appointment as Consultant Orthodontist at the John H Stroger Jr Hospital of Cook County, Division of Oral and Maxillofacial Surgery. She is a diplomate of the American Board of Orthodontics.
She has received numerous awards from both Philippine- and American-based institutions. Among these awards was a Certificate of Distinction from the Philippine Professional Regulation Commission and a Certificate of Appreciation from the Association of Philippine Orthodontists. In 2010 she received an NRSA Training Grant from the University of Washington Summer Institute in Clinical Dental Research Methods. Dr. Galang-Boquiren is an accomplished academician, as evidenced by her receiving the Teaching Recognition Award from the University of Illinois at Chicago's Council for Excellence in Teaching and Learning in 2011. In the same year, she received a $50,000 grant for research in sleep apnea. She has mentored over 40 dental students and orthodontic residents and has helped them with numerous research projects which were eventually presented in scientific meetings and published in peer-reviewed journals, a number of which won awards.
Because of her successful collaboration with the UIC Colleges of Nursing and Medicine in the field of dental sleep medicine, she has recently been appointed as one of the directors of the Illinois Sleep Society. She also reviews articles for the World Journal of Orthodontics (now Orthodontics: The Art and Practice of Dentofacial Enhancement) and Journal of Dental Education. Dr. Galang-Boquiren has been invited to present in conferences locally and internationally, speaking in Taiwan, Australia, the Philippines, and the United States.
Scholarly interests
Dental sleep medicine, dental (orthodontic) education, orthodontic treatment outcome.
Selected Publications
1. Galang, MT. A comparison of the mean arch dimensions of selected Filipinos with normal occlusion and the Unitek Arch Symmetry Chart.  J Philipp Dent Assoc. 2001; 53: 3-11.
2. Galang MT, Yuan JC, Lee DJ, Barao VA, Shyamsunder N, Sukotjo C. Factors influencing publication rates of abstracts presented at the ADEA annual session & exhibition. J Dent Educ. 2011 Apr;75(4):549-56
3. Ligas BB, Galang, MT, BeGole E, Evans C, Klasser G, Greene C.  Phantom bite: a survey of U.S. orthodontists.  Orthodontics: The Art and Practice of Dentofacial Enhancement. 12: 38-47, 2011.
4. Yuan JC, Galang MT, Lee DJ, Barao VA, Shyamsunder N, Sukotjo C. Differences between abstracts and full-length publications from ADEA annual meetings. J Dent Educ. 75:1476-81, 2011.
5. Galang MT, Yuan JC, Lee DJ, Sukotjo C. Applicant Selection Procedures For U.S. Orthodontic Specialty Programs: A Survey Of Program Directors. Am J Orthod Dentofacial Orthop. 2011 Dec;140:822-827.
6. Dragstrem K, Yuan JC, Sukotjo C, Lee DJ, and Galang MT. Gender Equality in Orthodontic Literature and Leadership. Orthodontics (Chic.). 2012;13(1):176-183.
7. Bartilotta, BY, Galang-Boquiren, MT, Greene, CS. Non-painful phantom sensations in dentistry: an update of etiologic concepts. Gen Dent. 2014 Sep-Oct;62(5):19-21.
8. Weaver TE, Calik MW, Farabi SS, Fink AM, Galang-Boquiren MT, Kapella MC, Prasad B, Carley DW. Innovative treatments for adults with obstructive sleep apnea. Nat Sci Sleep. 2014 Nov 18;6:137-47. doi: 10.2147/NSS.S46818. eCollection 2014. Review.
9. Dada DM, Galang-Boquiren MT, Viana GC, Obrez A, Kusnoto B. Treatment effects of Forsus fatigue resistant device on class II malocclusion cases: A cephalometric evaluation. J World Fed Orthod. 2015 Mar 4;1:14-17.
10. Kusnoto B, Kaur P, Salem A, Zhang Z, Galang-Boquiren MT, Viana G, Evans CA, Manasse R, Monahan R, BeGole E, Abood A, Han X, Sidky E, Pan X. Implementation of ultra-low dose CBCT for routine 2D orthodontic diagnostic radiographs: cephalometric landmark identification and image quality assessment. Semin Orthod 2015; 21:233–247.
11. Obaisi NA, Galang-Boquiren MT, Evans CA, Tsay TP, Viana MG, Berzins D, Megremis S. Comparison of the Transformation Temperatures of Heat-Activated Nickel-Titanium Orthodontic Archwires by Two Different Techniques. Submitted, Dental Materials.