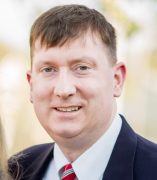 Laurence Golden, DDS, MSD
Clinical Assistant Professor of Orthodontics
Orthodontics
Contact
Address:
College of Dentistry 801 S. Paulina Street, IL 60612
Email:
About
Dr. Golden grew up on the Northwest Side of Chicago, is an Eagle Scout of the Boy Scouts of America and enjoyed coaching competitive swimming. He is a graduate of Marquette University (Milwaukee, WI) with a Bachelor of Science (Chemistry with a minor in Biology) in 1994.  While in Dental School, he performed three years of bone biology research for the internationally renown Bone Biologist and truly wonderful person, Paula H. Stern, Ph.D. Dr. Golden graduated among the top of his class from Northwestern University Dental School (Chicago, IL) in 1998. He is proud that his class scored 2nd in the U.S. on the National Board Part I exam! Upon graduation, Dr. Golden was awarded the American Association of Orthodontists Award as well as the American Association of Oral Biologists Award. He completed a hospital dental residency program in Anesthesiology, Emergency Room Medicine, Internal Medicine, Pediatric Dentistry, Oral & Maxillofacial Surgery and prosthodontics at the University of Illinois at Chicago and the University of Chicago in 1999. Dr. Golden completed his orthodontic residency at Case Western Reserve University (Cleveland, OH) with a Master of Science in Dentistry and Certificate in Orthodontics in 2003. Upon graduation, Dr. Golden was awarded the residency's highest honor, the 'Clinical Excellence Award.' Dr. Golden subsequently achieved board certification from the American Board of Orthodontics in 2005. Unknown to Dr. Golden, his Department Chairman of Orthodontics, Mark G. Hans, DDS, MS wrote a letter to the Chairman of Orthodontics at University of Illinois at Chicago, Carla A. Evans, DDS, DMSc recommending Dr. Golden to teach orthodontics. Dr. Golden has been in the full-time practice of orthodontics Tuesday through Saturday in Wheaton, Illinois, since 2003. Dr. Golden was overjoyed to join the Department of Orthodontics at the University of Illinois at Chicago Faculty as a Clinical Assistant Professor in 2005. Dr. Golden was the President of the Wheaton Dental Society from 2005 - 2010. Dr. Golden loves making beautiful smiles, teaching young orthodontists and being a husband and father.
Scholarly interests
Esthetics, Emerging technology, Invisalign, Early Treatment Growth Modification, Class II and Class III treatment, Interdisciplinary Treatment and Surgical Orthodontics.
Selected Publications
Huang PH, Golden LA, Stern PH.  Insulin-like growth factor-I mediates the anabolic effects of thyroid hormone on bone.  J Bone Miner Res 15:188-97, 2000. 2. Huang PH, Golden BK, Stern PH.  Generation of recombinant human B-Defension-3 and its microbidical activity against oral bacteria.  Master's Thesis, 2003.