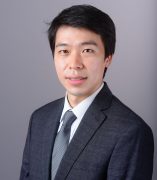 MinTae Kim, DDS
Advanced Prosthodontics Candidate
Restorative Dentistry
Contact
Address:
801 South Paulina Street Chicago IL 60612
Email:
About
Dr. MinTae Kim was born in the United States and raised in South Korea until high school years. He received his Bachelor's degree from Northwestern University and graduated with honors. He subsequently received his Doctor of Dental Surgery degree from New York University College of Dentistry, where he graduated top 10 of his class. After graduating dental school, he completed a fellowship program at University of San Francisco Oral and Maxillofacial Surgery. He is at UIC to expand his knowledge and challenge in the restorative and surgical aspects of comprehensive dentistry.
In his leisure, Dr. Kim enjoys playing golf and watching soccer.