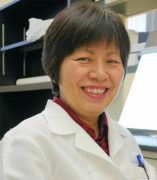 Jianchun Wu, MD, PhD
Research Associate Professor
Periodontics
Contact
Address:
801 S. Paulina St, IL 60612
Email:
About
Dr. Jianchun Wu serves as Research Associate Professor in the Department of Periodontics. Dr. Wu earned her MD, M. Sci. and PhD from Southern Medical University, Guangzhou, China and completed her Postdoctoral Training in molecular cell biology from Northwestern University, Feinberg School of Medicine.  Dr. Wu's research focuses on cancer biology, including the molecular mechanisms of tumorigenesis in head and neck cancer; DNA damage response; signal transduction; cancer stem cells; new strategies for cancer prevention; novel target/pathways for better treatment.
Selected Publications
Wu J, Crowe DL. 2021. PARP5B is requiredfor nonhomologous end joining during tumorigenesis in vivo. Molecular Carcinogenesis. 2021;1‐14.
Wu J, Crowe DL. 2020. Telomere DNA damage regulates prostate cancer tumorigenesis. Mol Cancer Res18:1326-1339 (journal cover article)
Lagunas AM, Francis M, Maniar NB, Nikolova GN, Wu J, Crowe DL. 2019. Paracrine interaction of cancer stem cell populations is regulated by the senescence associated secretory phenotype. Mol Cancer Res17:1480-1492
Wu J, Crowe DL. 2019. Molecular and cellular basis of mammary gland fibrosis and cancer risk. Int J Cancer144:2239-2253
Lagunas AM, Wu J, Crowe DL. 2017. Telomere DNA damage signaling regulates cancer stem cell evolution, epithelial mesenchymal transition, and metastasis. Oncotarget8:80139-80155 (priority research paper)
Kramer K, Wu J, Crowe DL. 2016. Tumor suppressor control of the cancer stem cell niche. Oncogene35:4165-4178
Research Currently in Progress
Head and neck cancer (HNSCC) is the sixth most prevalent cancer worldwide, affecting more than 250,000 people in the United States alone.  The incidence of HNSCC has increased dramatically in recent years.  The 5 year survival rate of 50% in HNSCC remains poor. My research studies the roles of the newly identified C53/RCAD protein complex in normal animal development and cancers.  The C53/RCAD protein complex has been recently shown to function as a pivotal regulator of multiple cell signaling pathways, including the DNA damage response, NF-kB signaling and cell cycle progression.  Its role in tumorigenesis and metastasis has also been investigated in head and neck carcinomas. We use various techniques including knockout mice, gene profiling and proteomics. Our findings may facilitate the development of a novel diagnostic biomarker and therapeutic target for cancer treatment.
Recently, in the Dr. David Crowe lab, my studies extend to cancer stem cells and telomere research.  Extensive telomere dysfunction is associated with aggressive HNSCC phenotypes such as metastasis and increased radioresistance.  High levels of telomerase activity correlate with advanced clinical stage, recurrent disease, and decreased overall survival.  Using a variety of transgenic models and patient tumor tissues, our laboratory is engaged in understanding how stem cells regulate their telomere length and how disrupted telomere maintenance can lead to tumor formation and metastasis.