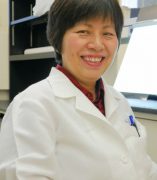 Jianchun Wu, MD, PhD
Visiting Research Assistant Professor
Periodontics
Contact
Address:
UIC College of Dentistry 801 S. Paulina St, IL 60612
Office Phone:
Email:
Selected Publications
Kramer K, Wu J, Crowe DL. Tumor suppressor control of the cancer stem cell niche. Oncogene 2015 Dec 21. Epub ahead of print.
Zhang M, Zhu X, Zhang Y, Cai Y, Chen J, Sivaprakasam S, Gurav A, Pi W, Makala L, Wu J, Pace B, Tuan-Lo D, Ganapathy V, Singh N, Li H. RCAD/Ufl1, a Ufm1 E3 ligase, is essential for hematopoietic stem cell function and murine hematopoiesis. Cell Death Differ. 2015 Dec; 22(12):1922-34.
Cai Y, Pi W, Sivaprakasam S, Zhu X, Zhang M, Chen J, Makala L, Lu C, Wu J, Teng Y, Pace B, Tuan D, Singh N, Li H. UFBP1, a Key Component of the Ufm1 Conjugation System, Is Essential for Ufmylation-Mediated Regulation of Erythroid Development. PLoS Genet. 2015 Nov 6;11(11):e1005643.
Wu J, Crowe DL. The histone methyltransferase EZH2 promotes mammary stem and luminal progenitor cell expansion, metastasis, and inhibits estrogen receptor positive cellular differentiation in a model of basal breast cancer. Oncol Rep, 2015Jul,34(1):455-60.
Wu J, Jiang H, Luo S, Zhang M, Zhang Y, Sun F, Huang S, Li H.Caspase-mediated cleavage of C53/LZAP protein causes abnormal microtubule bundling and rupture of the nuclear envelope. Cell Res. 2013 May;23(5):691-704.
Wan R, Wu J, Baloue KK, Crowe DL. Regulation of the Nijmegen breakage syndrome 1 gene NBS1 by c-myc, p53 and coactivators mediates estrogen protection from DNA damage in breast cancer cells. Int J Oncol. 2013 Feb, 42(2): 712-720
Bojovic B, Ho H-Y, Wu J, Crowe DL. Stem Cell expansion during carcinogenesis in stem cell-depleted conditional telomeric repeat factor 2 null mutant mice. Oncogene 2013, 32:5156-5166
Zhang Y, Zhang M, Wu J, Lei G, Li H.   Transcriptional regulation of the       Ufm1 conjugation system in response to disturbance of the endoplasmic reticulum homeostasis and inhibition of vesicle trafficking. PLoS One. 2012;7(11):e48587.
Wu J, Lei G, Mei M, Tang Y, Li H. A novel C53/LZAP-interacting protein regulates stability of C53/LZAP and DDRGK-domain containing protein 1 (DDRGK1) and modulates NF-kappaB signaling. J Biol Chem. 2010 May 14; 285(20):15126-15136
Jiang H*, Wu J*, He C, Yang W, Li H. A tumor suppressor C53 protein.     antagonizes checkpoint kinases to promote cyclin-dependent kinase 1 activation. Cell Research, 2009 Feb 17;19:458-468(*Equal contribution)
Research Currently in Progress
Head and neck cancer (HNSCC) is the sixth most prevalent cancer worldwide, affecting more than 250,000 people in the United States alone.  The incidence of HNSCC has increased dramatically in recent years.  The 5 year survival rate of 50% in HNSCC remains poor. My research studies the roles of the newly identified C53/RCAD protein complex in normal animal development and cancers.  The C53/RCAD protein complex has been recently shown to function as a pivotal regulator of multiple cell signaling pathways, including the DNA damage response, NF-kB signaling and cell cycle progression.  Its role in tumorigenesis and metastasis has also been investigated in head and neck carcinomas. We use various techniques including knockout mice, gene profiling and proteomics. Our findings may facilitate the development of a novel diagnostic biomarker and therapeutic target for cancer treatment.
In recent 5 years, worked in Dr. Crowe lab, my studies extend to cancer stem cells and telomere research.  Extensive telomere dysfunction is associated with aggressive HNSCC phenotypes such as metastasis and increased radioresistance.  High levels of telomerase activity correlate with advanced clinical stage, recurrent disease, and decreased overall survival.  Using a variety of transgenic models and patient tumor tissues, our laboratory is engaged in understanding how stem cells regulate their telomere length and how disrupted telomere maintenance can lead to tumor formation and metastasis.