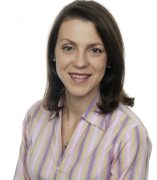 Evelina Kratunova, MDS (U.Sof.), MFD(RCSI), D.Ch.Dent.(U.Dubl.), FFD(RCSI)
Clinical Associate Professor
Pediatric Dentistry
Contact
Address:
College of Dentistry 801 S. Paulina, IL 60612
Email:
About
Dr. Evelina Kratunova is a Diplomate of the American Board of Pediatric Dentistry. She holds a clinical doctorate in Pediatric Dentistry from Trinity College Dublin, Ireland, and a specialist fellowship degree in Pediatric Dentistry from the Faculty of Dentistry of the Royal College of Surgeons. Dr. Kratunova has over 15 years of clinical experience working with children in the community, private practice, hospital and University settings. She entered academe by teaching clinical Pediatric Dentistry in Dublin Dental University Hospital. She joined the College of Dentistry at UIC in August 2015 and became part of the UI Health Craniofacial team in November 2015. Her professional responsibilities include provision of direct patient care, supervising resident and dental student training and education, involvement in scholarly activity, performing basic and clinical research, collaborating with other UIC departments.
Selected Publications
Kratunova E, O'Connell AC. A randomized clinical trial investigating the performance of two commercially available posterior pediatric preveneered stainless steel crowns: a continuation study. Pediatr Dent 2014 Nov-Dec; 36(7): 494-8.
O'Connell AC, Kratunova E, Leith R. Posterior preveneered stainless steel crowns: clinical performance after three years. Pediatr Dent 2014;36(3):254-8.
Kratunova E, O'Connell AC. Chairside repair of preveneered primary molar stainless-steel crowns: a pilot study. Pediatr Dent 2015; 37(1): 46-50.
Bo H, Avenetti D, Kratunova E. Dental Management Considerations in a Pediatric Patient with Moyamoya Disease. J Dent Child 2017;84(2):100-105.
Kratunova E, Silva D. Pulp therapy for primary and immature permanent teeth: an overview. Gen Dent 2018;66(6):30-38.
Pham CL, Kratunova E, Marion I, da Fonseca MA, Alapati SB. Effect of Overlying
Material on Final Setting of Biodentine ® in Primary Molar Pulpotomies. Pediatr Dent. 2019;41(2):140-145.
Dinkova A, Atanasov A, Kratunova E, Kuzmanov H, Kanazirska P: Aggressive Fibromatosis in the Mandible of a Child: A Rare Case Report; Journal of Dentistry for Children, 2019;86(2):3-9.
 Brar KA, Kratunova E, Avenetti D, da Fonseca MA, Marion I, Alapati S. Success of Biodentine and Ferric Sulfate as Pulpotomy Materials in Primary Molars: A Retrospective Study. J Clin Pediatr Dent 2021;45(1):22-28.
Kratunova E, Zhang I, da Fonseca MA. Dental considerations in patients with Loeys-Dietz Syndrome: A review of the literature and case report. Journal of Clinical Pediatric Dentistry 45(3):193-8, 2021.
Cordell S, Kratunova E, Marion I., Alrayyes S., Alapati S. Randomized Controlled Clinical Trial Comparing the Success of Two Pulpotomy Agents for Primary Molars –  (accepted for publication J Dent Child 2021)
Alrayyes S, Horn A, Kratunova E, Koerber A. Comparison of DEXIS CariVu to Digital Bitewing Radiography for Diagnosis of Interproximal Caries in Primary Molars (accepted for publication Journal of Dentistry for Children 2021)
Zhang I, Kratunova E, da Fonseca MC, Marion I, Han M. Articaine Infiltration versus Lidocaine Inferior Alveolar Nerve Block for Anesthetizing Primary Mandibular Molars: A Randomized, Controlled, Single-blind Pilot Study (accepted for publication Pediatr Dent)
Vorwaller R, Kratunova E, da Fonseca MA, Hill BJ, Alapati S, Stanford C. Developmental dental anomalies in children: Prevalence and association with health status. Pediatric Dentistry (Accepted for publication 2021)
Alrayyes S, Capezio N, Kratunova E, Le Hew C, Alapati S. Moderate Sedation Attendance at a University-based Pediatric Dental Clinic: A retrospective cross-sectional study. Journal of Dental Education (Accepted for publication 2021)
Book Chapters
Kratunova E, da Fonseca MA. Common Oral Conditions in Children with Special Health Needs. In: Nelson TM, Webb JR, Eds. Dental Care for Children with Special Needs: A Clinical Guide. Cham, Switzerland: Springer, 2019, pp. 167-93.
da Fonseca MA, Kratunova E. Medically Compromised Children. In: Cameron AC, Widmer RP, Eds. Handbook of Pediatric Dentistry. 5th Ed. Sydney: Mosby-Elsevier, 2021 (In press)
Education
American Board of Pediatric Dentistry – Board certified Pediatric Dentist
Faculty of Dentistry, Royal College of Surgeons – Specialist Fellowship Diploma in Pediatric Dentistry
Royal College of Surgeons, Ireland: Membership Diploma of the Faculty of Dentistry (MFD)
Yale University, School of Management - Certificate in Healthcare Management
Sofia Medical University – Master of Dental Science, General Dentistry
College of Management and IT, Ireland – Diploma in Child Psychology
American Academy for Academic Leadership and American Dental Education Association – Certificate of Completion of Institute for Teaching and Learning
Research Currently in Progress
Specific areas of research interests include: Pulp Therapy and Restorative Dental Materials for Primary Teeth, Dental Trauma, Local Anesthesia in Children, Behavior Management, Developmental Dental Anomalies