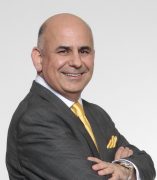 Diyari Abdah, DDS, DDS,MSc ImpDent, MBA
Adjunct Faculty
Periodontics
Contact
Address:
801 S. Paulina, IL 60612
About
Dr. Diyari Abdah is a cosmetic and Implant expert in Private practice in Cambridge – UK. He is passionate about research and innovations, especially in the fields of Implantology and 3D imaging. He deals with all aspects of Implantology and grafting techniques, and has been actively promoting and teaching Implantology to GDPs worldwide for over 20 years through lecturing, workshops, articles and mentoring programs. He is a visiting academic at the University of Warwick Medical School (UK) and runs a successful mentoring programon avoiding and solving problems in Implantology. He is also the course director on the Dental CBCT Training.com. Currently on the editorial board of several dental publications. He is a two times Best Selling Author and an Emmy Award nominee for his humanitarian documentary Armonia.
Selected Publications
2005 – Present – Over 20 articles on Implant Dentistry and CBCT in various dental publications
2013 – Book chapter –  Dental Implant Complications (Mind The Gap) – Book title: The New Dentist Survival Manual". Published in Canada and distributed to various Dental Schools in Canada and The US.
2013 – 2014 A regular article series published in Implant Dentistry Today UK publication titled: "Dental Implant Complications" How to Diagnose, Treat and Avoid Complications". Emphasizing the importance of a solid education in treating patients with implants.
2015 – Present   A series of articles on the use and importance of utlizing 3D CBCT imaging in Implantology to aid best practice – Published in various UK & European dental publications.
2004   Mind The Gap. Avoiding pitfalls in Dental Implants. Al-Waseet publication. Syria. Middle East Edition.
Education
Faculty of Stomatology University of Bucharest Romania, DDS September 1987
Faculty of Dentistry University of Gothenburg Sweden, DDS September 1994
Swedish National Board Exam, Board Certificate 1995
Faculty of Medicine University of Warwick United kingdom, Certificate in Augmentation & Grafting March 2004
Faculty of Medicine University of Warwick United kingdom, Diploma (Implant dent) October 2005
Faculty of Medicine University of Warwick United kingdom, MSc ImpDent January 2007
Faculty of Law University of Cardiff United Kingdom, Certificate in Expert Witness Law
Anglia Ruskin University Cambridge – United Kingdom, MBA
Professional Memberships
British Dental Association
Pankey Institute Alumni Association
The Association of Dental Implantology UK
American Academy of Implant Dentistry
Osteology Foundation
International Team for Implantology ITI
American Academy of Anti Aging Medicine
Research Currently in Progress
Bone preservation through atraumatic extraction using piezosurgey techniques