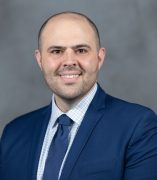 David Avenetti, DDS, MSD, MPH
Clinical Associate Professor, Post-Graduate Program Director
Pediatric Dentistry
Contact
Address:
College of Dentistry 801 S. Paulina, IL 60612
Email:
About
As a full-time faculty member, Dr. Avenetti is actively involved in clinical and didactic teaching, administration, research, and service; he provides direct patient care in an extramural practice one day per week. Dr. Avenetti is actively involved in the American Academy of Pediatric Dentistry, where is also a national spokesperson.
Clinical activities & specialties
Dr. Avenetti serves as the residency Program Director. His didactic responsibilities include coordination and/or instruction in Orthodontics & Growth and Development, Pulp Therapy and Dental Materials, Advocacy, and Journal Club/Post-Graduate Seminars. He also provides lectures in the pre-doctoral curriculum, select courses in the certificate and MS curricula, and Continuing Education courses.
Dr. Avenetti's clinical responsibilities include serving as an attending in the post-graduate clinic and at the UI Hospital. In the hospital setting, Dr Avenetti supervises residents for general anesthesia cases, consults, and call. He facilitates the collaborative "Mixed Dentition Clinic" with the Department of Orthodontics.
Selected Publications
da Fonseca MA, Avenetti D. Social Determinants of Pediatric Oral Health. Dent Clin N Amer 2017;61(3):519-32.
Bo H, Avenetti, D, Kratunova, E. Dental Management Considerations in a Pediatric Patient with Moyamoya Disease. J Dent Child 2017;84(2):100-105.
Martin MA, Lee HH, Landa J, Minier M, Avenetti D, Sandoval A. Formative research implications on design of a randomized controlled trial for oral health promotion in children. Pilot Feasibility Stud 2018;4(1):155.
Lee, HH, Lehew, CW, Avenetti D, Buscemi, J, Koerber A. Understanding Oral Health Behaviors Among Children Treated for Caries Under General Anesthesia. J Dent Child 2019;86(2): 101-108.
Martin M, Rosales G, Sandoval A. Lee H, Pugach O, Avenetti D Alvarez G, Diaz A. What really happens in the home: a comparison of parent-reported and observed tooth brushing behaviors for young children. BMC Oral Health 2019;19(1):35.
Martin M, Pugach O, Avenetti D, Lee H, Salazar S, Rosales G, Songthangtham N. Oral Health Behaviors in Very Young Children in Low-Income Urban Areas in Chicago, Illinois, 2018-2019. Prev Chronic Dis 2020;17:E152.
Avenetti D, Lee HH, Pugach O, Rosales G, Sandoval A, Martin M. Tooth Brushing Behaviors and Fluoridated Toothpaste Use among Children Younger than Three Years Old in Chicago. J Dent Child 2020;87(1): 31-38.
Martin MA, Zimmerman LJ, Rosales GF, Lee HH, Songthangtham N, Pugach O, Sandoval AS, Avenetti D, Alvarez G, Gansky SA. Design and sample characteristics of Coordinated Oral health Promotion (CO-OP) Chicago: A cluster-randomized controlled trial. Contemp Clin Trials 2020;92:105919.
Brar K, Kratunova E, Avenetti DM, da Fonseca MA, Marion I. Success of Biodentine® and Ferric Sulfate as Pulpotomy Materials in Primary Molars: A Retrospective Study. J Clin Pediatr Dent 2021;45(1):22-28.
Lee HH, LeHew CW, Avenetti D, Cory M, Buscemi J, Koerber, A. A qualitative analysis of caregiver perceptions of pediatric dental surgery under general anesthesia. Int J Paediatric Dent 2021;31(3):311-317.
Avenetti D, Lee H, Mehta N, Raja S, LeHew C. General Anesthesia versus Moderate Sedation: Factors Affecting Caregivers' Decisions for Children's Dental Treatment. J Dent Child (accepted for publication 2021).
Education
University of Southern California, Bachelor of Science in Health Promotion and Disease Prevention Studies
University of California Los Angeles, Doctor of Dental Surgery, Omicron Kappa Upsilon
University of Washington and Seattle Children's Hospital, Advanced Program in Pediatric Dentistry
University of Washington, Master of Science in Dentistry
University of Washington, Master of Public Health (Health Services) and Certificate in Maternal and Child Health
Professional Memberships
American Board of Pediatric Dentistry, Board Certified Pediatric Dentist
American Academy of Pediatric Dentistry, Fellow
Research Currently in Progress
Dr. Avenetti's research and grant activities are supported by NIDCR, HRSA, and institutional funding. Current funded research activities include:
Oral health promotion and reducing oral health disparities (NIDCR)
Leadership and professional development in pediatric dentistry (HRSA)
Outcomes of general anesthesia for oral rehabilitation
Additional interests include: access to care and oral health services, social determinants of oral health, interprofessional and dental education, and application of business principles in the dental setting, among others.