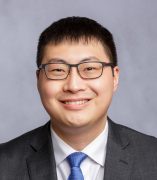 Evan Chwa
Orthodontic Resident
Orthodontics
Contact
Building & Room:
Room 131
Address:
801 S. Paulina Street, Chicago, IL 60612
Office Phone:
Email:
About
Dr. Evan Chwa grew up in Morton Grove and Northbrook, Illinois where he attended Glenbrook North High School. He later attended Loyola University Chicago earning a Bachelor of Science in Biology and a Minor in Anthropology in 2018. There he was awarded the Mulcahy Scholarship which funded his research in dental microwear which was published in the American Journal of Physical Anthropology titled, "Artificial Resynthesis Technology for the experimental formation of dental microwear textures" (doi: 10.1002/ajpa.24395).
Loyal to Chicago, Dr. Chwa continued his education at the University of Illinois at Chicago College of Dentistry earning his Doctor of Dental Medicine. While in dental school he was granted the Dr. Jerry F. Balaty Award in recognition of excellence in diagnosis and treatment planning in operative dentistry. Dr. Evan joined the field of orthodontics because it intersects with his skill set and passion for treatment planning, oral health education, developmental growth, and anthropology. He looks forward to further investigate the clinical intersection of anthropology and orthodontics.
In his spare time, Dr. Chwa loves to hike, try new restaurants, play tons of video games, and find new posters to hang up. After graduating, he plans to join his father's orthodontic practice in Northbrook, Illinois.