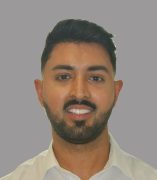 Neil Chandok
Orthodontic Resident
Orthodontics
Contact
Building & Room:
Room 131
Address:
801 S. Paulina Street, Chicago, IL 60612
Office Phone:
Email:
About
Dr. Neil Singh Chandok was born and raised in Racine, Wisconsin. He then attended the University of Wisconsin-Madison and graduated with a degree in Zoology. He was inspired to enter the dental profession after working at a non-profit pediatric dental clinic.
Dr. Chandok attended Arizona School of Dentistry & Oral Health earning a combined Doctor of Dental Medicine (D.M.D) and Master in Public Health (MPH) degree. While at Arizona School of Dentistry, Dr. Chandok was the recipient of the A.T. Still University Research Fellowship and served as a student representative on the research committee. He was the student author of the ADEA (American Dental Education Association) policy research report published in 2022 and presented at ADEA's annual convention. Upon graduation he was selected for the Pierre Fauchard Academy Senior Student Award of Merit and the Jack Dillenberg & Jamie Moret Future Dental Educator Award.
In his free time Dr. Chandok enjoys playing and watching sports, running, viewing documentaries, architecture, trying new cuisines, traveling and exploring various types of music. He intends to become board certified and dedicate time between dental education and practicing orthodontics for the underserved.