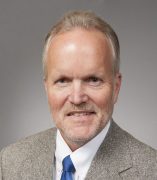 Bradford R. Johnson, DDS, MHPE
Department Head, Director of Postdoctoral Endodontics, Professor
Endodontics
Contact
Address:
UIC College of Dentistry 801 S. Paulina St., IL 60612
Email:
About
Scholarly interests
Dr. Johnson's scholarly interests include: evaluation of new technology and materials in endodontics, clinical decision-making, dental education, and clinical outcomes research.
Clinical activities & specialties
Dr. Johnson maintains a part-time clinical practice limited to endodontics.
Selected Publications
-Fayad MI, Johnson BR (editors). 3D Imaging in Endodontics – A New Era in Diagnosis andTreatment. Springer International Publishing AG (In Press: 2016)
-Johnson BR, Epstein JB. Management Considerations for the Medically Complex Endodontic Patient. Chapter 31. Ingle's Endodontics, eds: Ingle J,  Rotstein I, 7th Edition  (In press: 2016)
-Johnson BR, Fayad MI. Periradicular Surgery. Chapter 9. Pathways of the Pulp, eds Cohen and Hargreaves, 11th edition, Mosby Elsevier, St. Louis, MO. 2016.
-Ee J, Fayad MI, Johnson BR. Comparison of Endodontic Diagnosis and Treatment Planning Decisions Using Cone Beam Volumetric Tomography (CBVT) versus Periapical Radiography. J Endod 2014;40:910-916.
-Bell L, Sukotjo C, Yuan J, Johnson BR. Applicant Selection Procedures in Endodontic Specialty Programs in the United States: Program Director's Perspective. J Endod 2014;40:797-804.
– Fayad MI, Ashkenaz PJ, Johnson BR. Different Representations of Vertical Root Fractures Detected by Cone Beam Volumetric Tomography: A case series report. J Endod 2012;38:1435-1442.
-Xie Q, Johnson BR, Wenckus CS, Fayad MI, Wu CD. Efficacy of Berberine, an Antimicrobial Plant Alkaloid, as an Endodontic Irrigant against a Mixed-Culture Biofilm in an in vitro Tooth Model. J Endod 2012;38:1114-1117.
-Prescott RS, Alsanea R, Fayad MI, Johnson BR, Wenckus CS, Hao J, John AS, George A. In vivo Generation of Dental Pulp-like Tissue Using Dental Pulp Stem Cells, a Collagen Scaffold and Dentin Matrix 1 Following Subcutaneous Transplantation in Mice. J Endod 2008; 34:421 26.
-Penesis VA, Fitzgerald PI, Fayad MI, Wenckus CS, BeGole EA, Johnson BR. Outcome of one visit and two-visit endodontic treatment of necrotic teeth with apical periodontitis: A randomized controlled trial with one year evaluation. J Endod 2008; 34:251-57.
Education
University of Colorado, BA
Virginia Commonwealth University/Medical College of Virgina, DDS
Michael Reese Hospital, general practice residency
University of Illinois at Chicago College of Dentistry, Endodontic specialty training
University of Illinois at Chicago, Master of Health Professions Education
Professional Memberships
Diplomate, American Board of Endodontics