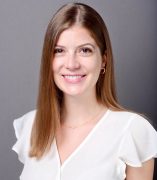 Jessica Begley, D.D.S.
Orthodontic Resident
Contact
Building & Room:
Room 131
Address:
801 S. Paulina Street, Chicago, IL 60612
Email:
About
Jessica Begley grew up in Ortonville, Michigan. She graduated from the University of Michigan in 2015 where she earned her B.S. in Biomolecular Science. Jessica then moved to New York to pursue the D.D.S. program from Columbia University College of Dental Medicine. While in dental school, she was involved in dental advocacy and lobbied with the American Student Dental Association on Capitol Hill. Jessica also participated in global outreach programs in Tanzania and the Philippines, and conducted clinical research in the Department of Orthodontics.
In her free time, Jessica enjoys cooking, with chicken piccata being her favorite dish to make. She also loves spending time outdoors, attending University of Michigan sports games, and attending live music concerts.